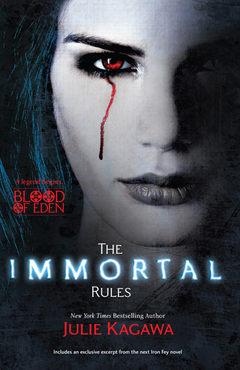 The Immortal Rules
by Julie Kagawa
Publisher: Harlequin Teen
Expected Publication: April 24, 2012
Pages: 512
Age Demographic: Young Adult
amazon | b&n


In a future world, Vampires reign. Humans are blood cattle. And one girl will search for the key to save humanity.

Allison Sekemoto survives in the Fringe, the outermost circle of a vampire city. By day, she and her crew scavenge for food. By night, any one of them could be eaten.

Some days, all that drives Allie is her hatred of them. The vampires who keep humans as blood cattle. Until the night Allie herself is attacked—and given the ultimate choice. Die… or become one of the monsters.

Faced with her own mortality, Allie becomes what she despises most. To survive, she must learn the rules of being immortal, including the most important: go long enough without human blood, and you will go mad.

Then Allie is forced to flee into the unknown, outside her city walls. There she joins a ragged band of humans who are seeking a legend—a possible cure to the disease that killed off most of humankind and created the rabids, the mindless creatures who threaten humans and vampires alike.

But it isn't easy to pass for human. Especially not around Zeke, who might see past the monster inside her. And Allie soon must decide what—and who—is worth dying for.

* Summary taken from Goodreads.
❝My Thoughts❞
The Immortal Rules is a dark and thrilling dystopian full of danger, survival, and sinister creatures that are threatening to humans and vampires. It's a terrifying world where humans are treated as blood cattle and vampires reign victoriously over them. Forced to scavenge for food and whatever few necessities they can find, most unregistered's live in fear of being caught and killed. The post-apocalyptic world that Kagawa has set-up, is brimming with danger and betrayals, thrilling adventure and subtle forbidden romance, with a smattering of fanaticism applied. Readers will definitely find themselves on the edge of their seats craving more.

The characters are fantastically developed, there's suspense and intrigue, intermingled with danger and turmoil lurking around every corner. Dark twists and turns are filled with crazy amounts of tension and terror, as they try and maneuver their way to safety. It is a world that is dark and gritty, definitely unlike any other dystopian novel in young adult fiction today. Kagawa certainly doesn't scrimp on tapping into a world of unpredictability and emotional pain, anger, and betrayal. She drives her plot home with an incredible force, hard enough to hit readers hard keeping them hooked until the end.

Allie is such an amazingly kickass character, who is attacked and almost killed one night by the very thing she despises. She soon finds herself faced with the choice of having to die or become the very thing she hates - she chooses to become immortal because she wants to live. In order to survive, she has to learn what it takes to be immortal. As she struggles with accepting the fact that she is now a "monster", she still retains a great deal of her humanity never letting it go. This makes such a fantastic heroine with a bit of originality to her. She's incredibly determined, full of strength and resilience, and never forgets who and what she really is.

Zeke is a wonderful match for Allie, almost as soon as he comes into play. He sort of balances out the darkness with light. Even though he's experienced more danger and heartache for most of his life, he still remains faithfully optimistic in a sense with a strong will to survive as much as Allie. He quickly trusts her, without really getting to know who she is, while she's busy trying to hide it from him. It may be a bit naive, but in a way he seems to keep her tethered to her humanity while she bears the brunt of keeping them protected as much as she possibly can with her strength. It's interesting to watch these two shoulder the pain, heartache, betrayal, and danger in the face of surviving long enough for them to get his group to the promised land called Eden.

There are so many possible ways this story can go and yet, the cliffhanger is enough to leave readers screaming and begging for more. It's a paranormal dystopia array of danger, highly anticipated tension filled pages containing death, destruction, crazy action, and unpredictable twists and turns. This is a book that paranormal fans will absolutely not want to miss out on. It's bold, daring, dark, and gritty. It's an endless supply of awesome that readers will want to miss out on.

{ This ARC was provided by via Media Masters Publicity and Harlequin, in exchange for an honest review which I have provided. No money exchanged hands, I review books for fun because I love to read. I am not interested in monetary gain. Any piece of this ARC that was/wasn't quoted, is not part of the finished product and should not be perceived as such and should be checked against a finished copy.}