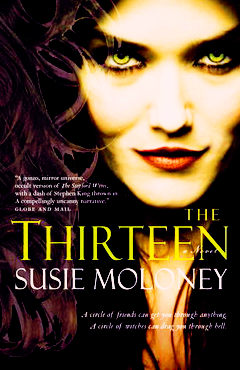 The Thirteen

by Susie Moloney

Publisher: William Morrow Paperbacks

Expected Publication: March 27, 2012

Pages: 336

Age Demographic: Adult Paranormal

amazon | b&n




The Witches of Eastwick meets Desperate Housewives in Susie Moloney's The Thirteen, a Globe and Mail Best Book.



Haven Woods is suburban heaven, a great place to raise a family. It's close to the city, quiet, with great schools and its own hospital right up the road. Property values are climbing. The streets are clean, people keep their yards really nicely. It's fairly pet friendly, though barking dogs are not welcomed. The crime rate is practically non-existent, unless you count the odd human sacrifice, dismemberment, animal attack, demon rape and blood atonement. When Paula Wittmore goes home to Haven Woods to care for a suddenly ailing mother, she brings her daughter and a pile of emotional baggage. She also brings the last chance for twelve of her mother's closest frenemies, who like to keep their numbers at thirteen. And her daughter, young, innocent, is a worthy gift to the darkness.



A circle of friends will support you through bad times. A circle of witches can drag you through hell.



* Summary taken from Goodreads.
❝My Thoughts❞
The Thirteen is a dark tantalizing paranromal filled with enjoyable characters that are realisticaly portrayed with hidden flaws of their own. Susie Moloney crafts a fascinating story full of unexpected suspenseful plot, an eeriely intriguing town that's full of drama and gossip, and the unraveling of secrets that stem from the past. It is intensely gripping, fast paced, and completely unpredictable with every twist and turn that is sure to keep readers guessing. Susie Moloney sets the tone for the novel early on with subtle eerie touches of the Stepford Wives and intermingling hints reminicent of a Stephen King novel that is sure to woo any paranormal fan and get their blood pumping in anticipation. The atmosphere of Haven Wood is unsettling in a way, showcasing how it may be a little too prim and proper within its own community.



Haven Woods has a dark eerie secret of its own, that will chill readers to their bones. It's one that's brimming with dark mischevious magic and occult sacrifice involving a coven of witches. The unraveling of these secrets, juicy plots with interesting twists, sometimes gritty violence, and delicious steam romance are sure to keep any fan of the paranormal mystery genre enticed and engaged. It's chalk full of drama, gossip, and scorching humor and brilliant sarcasm akin to any Charlaine Harris novel. The dialouge is extremely witty and cleverly written, with each turn of the page.



It is definitely a novel that's enjoyable and filled with likeable characters involving danger, mystery, and intrigue bound to keep readers invested. Susie Moloney pens the perfect blend of paranormal intrigue and contempoary sure to wow readers who mystery with a dash of supernatural thrown in the mix. The Thirteen is a highly charged and compelling novel that will keep readers on the edge of their seats with anticipation leading up to an ending they won't necessarily see coming. The mystery is in the writing itself and how the story is crafted, which is such a wonderful element that Susie Moloney brings to the table and explores with brilliant candor. Fans of Stephen King, Charlaine Harris, and other amazing authors of this fantastic paranormal genre would definitely enjoy this highly engaging and suspenseful novel.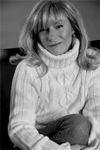 Susie Moloney is the bestselling author of Bastion Falls, A Dry Spell, and The Dwelling. She has been published in numerous countries and assorted languages. She divides her time between the wilds of Canada and the wild world of New York City. She's not a witch, except maybe a little in the morning.
Website | Twitter | Facebook



Other stops for the tour can be found here.

This book was received from William Morrow Paperbacks an imprint of HarperCollins via TLC Book Tours, in exchange for an honest review which I have provided. No money exchanged hands, I review books for fun because I love to read. I am not interested in monetary gain.