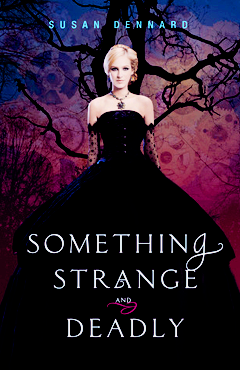 Something Strange and Deadly

by Susan Dennard

Publisher: HarperTeen

Expected Publication: July 24, 2012

Pages: 400

Age Demographic: Young Adult

amazon | b&n




There's something strange and deadly loose in Philadelphia…

Eleanor Fitt has a lot to worry about. Her brother has gone missing, her family has fallen on hard times, and her mother is determined to marry her off to any rich young man who walks by. But this is nothing compared to what she's just read in the newspaper—

The Dead are rising in Philadelphia.

And then, in a frightening attack, a zombie delivers a letter to Eleanor…from her brother.

Whoever is controlling the Dead army has taken her brother as well. If Eleanor is going to find him, she'll have to venture into the lab of the notorious Spirit-Hunters, who protect the city from supernatural forces. But as Eleanor spends more time with the Spirit-Hunters, including their maddeningly stubborn yet handsome inventor, Daniel, the situation becomes dire. And now, not only is her reputation on the line, but her very life may hang in the balance.

* Summary taken from Goodreads.
❝My Thoughts❞
Something Strange and Deadly is a beautifully written gothic paranormal romance, with subtle hints of sweet romance set in a stunningly visual steampunk atmosphere brimming with zombies. It's powerfully mysterious, suspenseful, and full of amazing colorful characters. It's the Victorian age meets zombies, with gorgeous imagery and original creativity brought to life. It's a novel that speaks for itself, in many ways. The world building is fabulously amazing, the dress attire perfectly executed, and the attention to detail is superb.

Susan Dennard pens a wonderful plot full of mystery and intrigue, with many little twists and turns, that will keep readers on their toes. The zombies represented within these pages, aren't your stereotypical flesh eating diseased variety. Instead, they are the ones being roused from their own grave dwellings and controlled by a sinister necromancer who readers will soon learn, has his own agenda. The mysteries involved and explored are riveting, engaging, and possess their own original flare. The characters add their own amazing qualities to the story being told, as well.

Eleanor is such a fantastic character. She's incredibly feisty and crazy stubborn, as far in terms of dealing with the spirit-hunters. It's nice to see a female heroine not only a little vulnerable and full of innocence and slight naivety, but one who is also brave, extremely independent, and not afraid to take risks especially during the Victorian era. Eleanor was such a delightful character to get to know, one that's written in such a way that she's likable and readers can easily connect with her. It was definitely interesting to see her interactions with the spirit-hunter's as she worked with them to find her brother and to banish the evil spirit that had sought her out and attached itself to her somehow.

Daniel is incredibly handsome and swoon worthy, in such an unpredictable way. A dashing inventor, he's written as the perfect anti-hero in this story. At times, he can be crabby and of course, unpredictable. Despite his few flaws, he's a wonderfully written realistic and honest character that readers will definitely enjoy getting to know. He has his own charm appeal that suits him quite well. Where Daniel is unpredictable in some ways, Clarence is a mystery of his own making. He's a well-to-do powerfully rich gentleman, who comes across as well put together, but there seems to be an air of regret that haunts him in some ways. As interesting as I found him to be, I personally, wanted to know more about him than the story allowed.

The sweet subtle romance addressed between Eleanor and Daniel was dealt with very nicely. It was enjoyable, watching their connection grow slowly over time, before it became deeper and gave readers a few unexpected moments between the two. The fact that it didn't overshadow the story being told was refreshing. It was nice to see it not rushed at all. It was just enough to keep readers craving for more.

While the book was well written and the story wonderfully developed with intriguing plot twists and engaging characters, there were a few minor drawbacks. It seemed like it took a little while to sink into the story and moved a little slower than I usually prefer, but then it soon picked up as the mysteries began to untangle themselves with secrets and lies looming in the shadows. Some of the things that happened towards the end might have been slightly predictable on the surface, but most of the story was highly compelling and full of amazing intrigue. There's a great deal of action, but the novel isn't overpowered by it at all. Many of the mysteries are inter-woven together in such an intricate way that makes the story Susan Dennard is telling even more enjoyable.

I would definitely recommend this to anyone who enjoys steampunk or historical novels with a slight paranormal twist to them. For those who enjoy the writing styles of Lena Renee Hieber, Kady Cross, or Scott Westerfeld, they will definitely enjoy Something Strange and Deadly by Susan Dennard.
Want to purchase Something Strange and Deadly?
You can do so by visiting my Amazon Store and adding them to your shopping cart. While you're there, feel free to look around, you might find something else you want. This is something new that I'm trying out, so thank you so much for helping me out and for supporting me and my blog. I hope you enjoyed the review and the books, if you've already read them. If you haven't, then I definitely suggest you pick up a copy for yourself or even for someone else, if you think they'll like them.

{ This ARC was provided by ATW ARC Tours, in exchange for an honest review which I have provided. No money exchanged hands, I review books for fun because I love to read. I am not interested in monetary gain. Any piece of this ARC that was or wasn't quoted, is not part of the finished product and should not be perceived as such. Instead, you should compare and check it against a finished copy once it is released.}