Silence
by Michelle Sagara
Publisher: DAW Hardcover
Expected Publication: May 1, 2012
Pages: 256
Age Demographic: Young Adult
amazon | b&n


Emma Hall is a high school student whose first (and only) boyfriend died in the summer in a car accident — before the book starts. Nathan was almost her entire world, and she's now left with the bits and pieces of life that weren't Nathan–her friends, school, her mother. She spends far too much time in the cemetery at Nathan's grave, because it's quiet there and she doesn't have to make excuses for how she feels, or how she doesn't feel.

She doesn't expect to meet people in the cemetery, but one night she does, and as a result of that disturbing meeting, she begins to see things she's never seen, and to hear things that no one else hears.

* Summary taken from Michelle Sagara's Blog.
❝My Thoughts❞
Silence is a beautifully written paranormal with intriguing mystery, charming and charismatic characters, and an enticing flare for originality. The world Michelle Sagara creates is both interesting and complex, brimming with thrilling imaginative creativity, gorgeous prose, and a brilliant and cleverly written nod to the history of necromancy. The plot is dark and driven, yet has an insanely amazing way of keeping readers on the edge of their seats with the anticipation of what's to come next. Little bits and pieces of information about whom and what Emma is and her abilities are sprinkled throughout the novel that makes it even more mysteriously compelling. The characters are strong and realistically portrayed, which make them sympathetic to readers and extremely likeable.

Emma has some admirable qualities that make her delightful to get to know. She's fiercely strong, independent, and wonderfully resilient in the face of all the heartache she's had to endure. One of her most likeable qualities is that she's incredibly selfless, choosing to put other's before herself. She's just this really amazing kind and caring person, who's had to deal with a lot in her young life and she's still determined to understand herself better and accept her gift of necromancy and what she can do with it. It's easy to connect with her in an emotional and meaningful way.

Eric and Chase have their own way of making the story more exciting and invigorating, as they bring their own intrigue adding to the suspenseful mystery. They have a great deal of knowledge and experience with necromancers and it was interesting to see that instead of killing Emma like they originally had planned, they ended up helping her instead. It's a lot of fun getting to know them, as they get to know Emma and become sort of allies to her cause once she decides what she's going to do with her gift of necromancy. One thing I actually enjoyed when they entered the picture, was that there was no love triangle involved at all. I literally found myself breathing a sigh of relief, because it was so refreshing to read a young adult paranormal book that didn't involve this aspect. I think I found it to be a little more entertaining and engaging, that they could be friends on a more platonic level rather than a romantic one.

The supporting characters were also enjoyable to get to know, like Amy who wasn't afraid to say or do whatever she felt like doing. She was super fiercely protective of her friends and that made her such a fantastic character. It was adorable to see how charming and caring Michael was, when he was playing with the children and being loyal to his friends in light of everything going on around them. But, I think my personal favorite was Margaret, the ghost who ended up referring to Emma as something else other than necromancer. She doesn't exactly explain why or what she meant, which adds an extra air of mystery and intrigue. It was definitely enough of a twist to keep readers guessing and anticipating the next book in this amazing new young adult paranormal series.

Silence is brimming with so much awesome, that readers will be captivated and unable to put it down. It's an incredibly fast paced action packed novel, brimming with danger, mysterious twists and turns, and cleverly disguised intrigue. Michelle Sagara pens an amazingly evocative novel with engaging plot twists sure to take readers on a rollercoaster ride of their life. I would definitely recommend this super fantastic novel to anyone who enjoys the Darkest Powers trilogy by Kelley Armstrong or the Katerina Trilogy by Robin Bridges.
Want to purchase Michelle Sagara's Books?
You can do so by visiting my Amazon Store and adding them to your shopping cart. While you're there, feel free to look around, you might find something else you want. This is something new that I'm trying out, so thank you so much for helping me out and for supporting me and my blog. I hope you enjoyed the review and the books, if you've already read them. If you haven't, then I definitely suggest you pick up a copy for yourself or even for someone else, if you think they'll like them.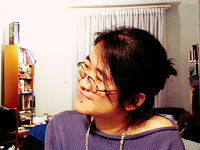 ABOUT MICHELLE SAGARA

Website || Twitter || Facebook Goodreads

She has been published underneath Michelle Sagara, Michelle Sagara West, and Michelle West. She's written and published four different adult paranormal fantasy series, written several short story e-books, and is now releasing her young adult series, The Queen of the Dead. Reading has been a life-long passion of hers and she occasionally gets paid for her opinions by writing articles for the Magazine of Fantasy and Science Fiction.
Author information taken from her personal website.
{ This copy of Silence was provided by DAW Books an imprint of Penguin, in exchange for an honest review which I have provided. No money exchanged hands, I review books for fun because I love to read. I am not interested in monetary gain. Any piece of this ARC that was or wasn't quoted, is not part of the finished product and should not be perceived as such. Instead, you should compare and check it against a finished copy once it is released.}