In April of 2011, I was contacted by Caroline Rose about participating in the Class of 2k12. At that particular time my blog was less than three month's old, however, I was thrilled with the opportunity nonetheless. So, I set to work compiling a list of questions that would be circulated between 20 different new upcoming debut author's for 2012 and 15 of them generously responded by picking between two or three of the questions and wrote their own little guest post to be posted here on my book blog, on the day their books release. The goal is to create as much buzz for these upcoming debut author's and their amazing books as bloggers can, by passing along the information and blogging about them.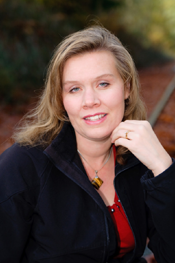 ABOUT JENNIFER SHAW WOLF

Website || Blog || Facebook || Goodreads

Jennifer Shaw Wolf grew up on a farm in the tiny town of St. Anthony, Idaho. She spent cold Idaho mornings milking cows in the dark and attended a school where Hunter's Education was part of the sixth grade curriculum. She's always been a writer, whether it was sewing together books to read to her little brothers or starting an underground newspaper in sixth grade. She met the love of her life at Ricks College, (now BYU Idaho), after he dropped her on her head. She graduated from Ricks and then Brigham Young University, Provo with a degree in Broadcast Communications. Now she lives in beautiful, green, (rainy) Lacey, Washington with her husband and four kids. She loves to produce videos, ski, ride horses, and read, but really all she has time for is chasing kids and writing.

Author information taken from her Goodreads.
Today, I am lucky enough to have the wonderful and amazingly talented Jennifer Shaw Wolf here at my blog featuring her new debut young adult novel, Breaking Beautiful. It just released today, which is exciting and amazing for her. I personally enjoyed reading the emotional, heartbreaking story she penned so beautifully. This is a book that I feel everyone would benefit from reading, not just young adults. You should definitely pick a copy of it, if you haven't already. Jennifer Shaw Wolf is such a delightful person to get to know and she has super awesome taste in music, it's almost like she snagged a look at my own playlist. I have so much LOVE for Shinedown's, If You Only Knew. C'mon, show some awesome support for such an amazingly phenomenal new debut. :D
❝The Watchword Featuring❞

Jennifer Shaw Wolf
What type of writing environment or space do you typically do most of your writing in?

My favorite place to write is on my living room couch, in front of a roaring fire. There I'm close enough to be part of what's going on in my house with my kids and husband, but still able to work. But I don't really have a typical writing space. I envy writers who have an office with a bulletin board covered in plot maps, pictures, and inspirational sayings. With four busy kids, I write wherever and whenever I can. My laptop, nicknamed "my precious" goes with me everywhere. I've written on road trips (thank goodness I don't get car sick), while I'm waiting for my kids to finish piano, soccer, football, or play practice. I've written at the gym thanks to a shelf that fits on the treadmill, I've even written in a bathroom at a campground, (it was the only place where there was an outlet to recharge my batteries).

Is there any specific way you go about researching materials you use when writing your book, that inspired you to write this novel? Did you create a playlist that helped you set the mood for your writing, mediums or genres?

When I was working on BREAKING BEAUTIFUL I spent a lot of time exploring the coast here in Northern Washington. I love poking around in the little caves or just walking along the shore. The sea stacks and volcanic formations at places like Ruby Beach are so cool. I based the beaches in BREAKING BEAUTIFUL on that area. My husband is a photographer and he took a bunch of pictures at the beach. I went through those pictures sometimes when I needed ideas.

Music is also a huge inspiration to me whenever I write. When I get ready to write a book, I plot/outline the whole story in my mind and then play the scenes over and over again like a movie in my head, especially when I go running.

Running with music that reminds me of my story helps me to put scenes together. Some of the songs that I listened to when I wrote BREAKING BEAUTIFUL were "According to You," by Orianthi, "Since U Been Gone," by Kelly Clarkson, and Daughtry's "Life After You." I wrote the climax of the book to the song, "If You Only Knew" by Shinedown. I listened to that one over and over and it still brings back those images every time I hear it.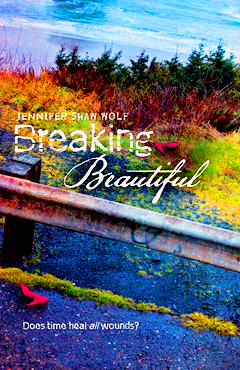 Breaking Beautiful
By Jennifer Shaw Wolf
Publisher: Walker Childrens
Publish Date: April 24, 2012
Format: Hardback, pp 368
Age Demographic: Young Adult
amazon // barnes&noble

Allie lost everything the night her boyfriend, Trip, died in a horrible car accident—including her memory of the event. As their small town mourns his death, Allie is afraid to remember because doing so means delving into what she's kept hidden for so long: the horrible reality of their abusive relationship.

When the police reopen the investigation, it casts suspicion on Allie and her best friend, Blake, especially as their budding romance raises eyebrows around town. Allie knows she must tell the truth. Can she reach deep enough to remember that night so she can finally break free? Debut writer Jennifer Shaw Wolf takes readers on an emotional ride through the murky waters of love, shame, and, ultimately, forgiveness.

*Summary taken from Goodreads.
❝Check out the trailer for Breaking Beautiful❞
Want to purchase a copy of Breaking Beautiful?❞
You can do so by visiting my Amazon Store and adding them to your shopping cart. While you're there, feel free to look around, you might find something else you want. I hope you enjoyed the review and the book, if you've already read it. If you haven't, then I definitely suggest you pick up a copy for yourself or even for someone else, if you think they'll like it.
Amazon
|
Barnes&Noble
BooksAMillion
|
Book Depository
Thank you, so much Jennifer Shaw Wolf for stopping by the blog and for sharing this wonderful guest post and an amazing playlist with the rest of us. I wish you a ton of success with Breaking Beautiful as it was such a beautiful heartwrenching read that captivated me from start to finish with its mysteries. To the rest of my fellow bloggers, I urge all of you to definitely pick up a copy of this book and read it and encourage other's to read it as well.