Valerie over at Stuck In Books arranged this EPIC AMAZING book tour for the next incredible book in Jennifer Armentrout's Covenant series, PURE. And the best part is, that I get to be a part of it. So, I have a couple of things for you today, first is a book review for PURE and the second is a giveaway of some swag related items to the Covenant series.

First...the review.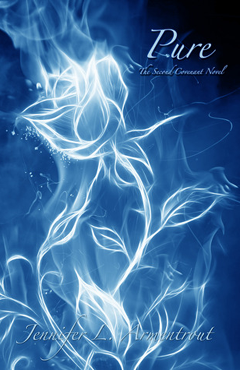 Pure
by Jennifer Armentrout
Publisher: Spencer Hill Press
Expected Publication: April 2, 2012
Pages: 320
Age Demographic: Young Adult
amazon | b&n


There is need. And then there is Fate...

Being destined to become some kind of supernatural electrical outlet isn't exactly awesome--especially when Alexandria's "other half" is everywhere she goes. Seth's in her training room, outside her classes, and keeps showing up in her bedroom--so not cool. Their connection does have some benefits, like staving off her nightmares of the tragic showdown with her mother, but it has no effect on what Alex feels for the forbidden, pure-blooded Aiden. Or what he will do--and sacrifice--for her.

When daimons infiltrate the Covenants and attack students, the gods send furies--lesser gods determined to eradicate any threat to the Covenants and to the gods, and that includes the Apollyon... and Alex. And if that and hordes of aether-sucking monsters didn't blow bad enough, a mysterious threat seems willing to do anything to neutralize Seth, even if that means forcing Alex into servitude... or killing her.

When the gods are involved, some decisions can never, ever be undone.

* Summary taken from Goodreads.
❝My Thoughts❞
Pure is filled with amazing heart pounding action, mystery, and intrigue. The plot thickens wonderfully, the characters are more developed, and Armentrout expounds on new mythology that involves furies with killer instinct bred into them and horrendous barbaric Covenant politics. Need and fate, seem to be two reocurring themes in this adventure filled novel. The world and mythology that Armentrout continues to craftily build, is vivid with blazing imagery, beautifully inspired by Greek mythos with such an original flare that gives it an amazing modern edge.

It is just so intensely gripping and compelling, that it will leave readers breathless in anticipation of what's to happen next. It's crazy emotional, filled with shocking twists and turns, that are completely unexpected. So much more territory is explored and readers are treated to such a tantalizing and breath taking love triangle taking place between Aiden, Alex, and Seth. Armentrout has written the perfect balance of romance and humor, in the midst of all of the chaos, action, and imminent danger. It will have leave readers wondering who they would like to see Alex actually end up with.

Alex is even more amazing, ballsy, and kickass than ever before. She's such a super amazing character filled with so much strength, resilience, and an incredibly feisty attitude. She's a stubborn fighter who absolutely refuses to be taken down or bow to the whim of the barbaric rules the Covenant insists on shoving at her. With no regard for rules and not afraid to stand up to the pure bloods in any away, she is extraordinarily kickass. Even more so, than in Half-Blood, and it's incredibly fun to watch her in action.

Alex has to train with Seth to catch up on her fighting skills, so that she can protect herself and other's from daimons. Seth is such a swoon worthy, arrogant, determined, and somewhat sensitive character in his own way. For me, personally, he's one of the greater highlights of the novel. It is so interesting getting to know Seth and more about him, witnessing how much he cares about Alex, and proving that he's always going to be there for her. He's definitely made his feelings known and it's wonderful to see the connection between him and Alex slowly build throughout the book. It's amazingly developed and takes place during the smaller moments and a couple of bigger ones later on. Alex, of course, continues to discourage him because her heart is with Aiden.

Aiden, on the other hand, is a pure blood and it's not permitted that they mix with anyone who isn't. This is part of the reason he keeps Alex at arms length a good portion of the time. Alex, will sacrfice a lot for him and he will do the same for her, showing how much he does in fact care a great deal for her. He's torn between his loyalty and what he actually wants. He really is a fantastic character and definitely worthy of her heart, but I can't help but wonder.

Pure is such an epicly driven, emotional roller coaster of compelling action, super intriguing mystery, and breath taking romance that will set anyone on fire. It sparks life and love, duty and loyalty, destiny and life altering decisions. It will not disappoint and will keep reader's engaged and on the edge of their seats until the last page has been turned.

Okay, so you know the part where I said there would be a giveaway?! Well this is your lucky day then, yeah. I've got a blog-sponsored giveaway of some pretty cool super awesome swag related items. All you have to do is fill out the Rafflecopter form below and viola, you're done.
a Rafflecopter giveaway
There are tons more awesome surprises, excerpts, reviews, and giveaways to come, all you have to do is check out the tour info.

Stuck In Books and A Cupcake and a Latte are hosting their own giveaways for a copy of this super intriguing and exciting book. All you have to do is leave a comment here on my blog and then go over to their blogs with this link to complete your entry. Easy-peasy!

There's also a Twitter Giveaway going on too.


{ This ARC was provided by Spencer Hill Press, in exchange for an honest review which I have provided. No money exchanged hands, I review books for fun because I love to read. I am not interested in monetary gain. Any piece of this ARC that was/wasn't quoted, is not part of the finished product and should not be perceived as such.}