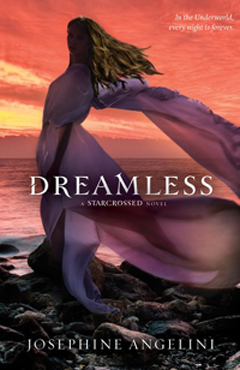 Dreamless
by Josephine Angelini
Publisher: HarperTeen
Expected Publication: May 29, 2012
Pages: 496
Age Demographic: Young Adult
amazon | b&n


Can true love be forgotten?

As the only Scion who can descend into the Underworld, Helen Hamilton has been given a nearly impossible task. By night she wanders through Hades, trying to stop the endless cycle of revenge that has cursed her family. By day she struggles to overcome the fatigue that is rapidly eroding her sanity. Without Lucas by her side, Helen is not sure she has the strength to go on.

Just as Helen is pushed to her breaking point, a mysterious new Scion comes to her rescue. Funny and brave, Orion shields her from the dangers of the Underworld. But time is running out—a ruthless foe plots against them, and the Furies' cry for blood is growing louder.

As the ancient Greek world collides with the mortal one, Helen's sheltered life on Nantucket descends into chaos. But the hardest task of all will be forgetting Lucas Delos.

Josephine Angelini's compelling saga becomes ever more intricate and spellbinding as an unforgettable love triangle emerges and the eternal cycle of revenge intensifies. Eagerly awaited, this sequel to the internationally bestselling STARCROSSED delivers a gritty, action-packed love story that exceeds expectation.

* Summary taken from Goodreads.
❝My Thoughts❞
Hades and Persephone has always been a personal favorite of mine, as far as classic Greek mythology goes. It's such an interesting myth with fascinating possibilities and what if's that I've always turned over in my mind, which is why I have really come to enjoy Josephine Angelini's portrayal of the Greek gods and goddesses. She adds a whole new dimension of dynamic and originality to them and the world she has crafted so wonderfully. The way that she's had Helen deal with the furies so far, has been handled so flawlessly and amazingly well. Her characters have experienced wonderful character growth and have been developed exceptionally well, making them likable and easy for readers to connect with.

Orion, I'd have to say, was my personal favorite added to the cast. His personal tragic history and intriguing powers havd a way of making me extremely protective of him. I loved how he possessed wonderful humor and bravery, as he protected Helen from the very dangers of the Underworld. I could definitely understand how Helen could feel an inkling of something stirring - for him. Their connection was both interesting and pleasing to witness. There was a level of trust and care that could have potentially been turning into something else there between the two of them and it was quite enjoyable to read.

The romance added wonderful dynamic to the book and was beautifully written. There are so many possibilities that could happen by taking the story this route and I'm very pleased to see that Josephine Angelini hasn't disappointed me yet, with it. Although, watching Lucas and Helen having such a tough time trying to stay away from each other sort of pulled at my heart and made it ache just a bit. It's heartbreaking to witness especially after Lucas tried to make Helen hate him in such an unappealing and unflattering way. I'll admit, that even I was a bit annoyed by that part.

One of the most interesting things I found about Dreamless and the story that Josephine Angelini is wonderfully crafting, is that she implemented sleep deprivation as the cause of what's killing Helen. She has to travel to the Underworld to deal with the furies and trust the help of Orion to navigate her through the dangers that await her there. She's not physically sleeping, which means that she's not sleeping at all and that is detrimental to her health and is taking its toll on her. Despite a couple of minor drawbacks here or there, I found that the story being told was timeless, beautiful, and filled with gritty action packed danger. It's perfect for fans of Meg Cabot's Abandoned or Melanie Dugan's Dead Beautiful.
Want to purchase Dreamless by Josephine Angelini?
You can do so by visiting my Amazon Store and adding them to your shopping cart. While you're there, feel free to look around, you might find something else you want. I hope you enjoyed the review for Dreamless and the prior book (STARCROSSED) in the series, if you've already read them. If you haven't, then I definitely suggest you pick up a copy for yourself or even for someone else, if you think they'll like them.

ABOUT JOSEPHINE ANGELINI

Website || Twitter || Facebook || Goodreads

Josephine Angelini is a Massachusetts native and the youngest of eight siblings. A real-live farmer's daughter, Josie graduated from New York University's Tisch School of the Arts in theater, with a focus on the classics. She now lives in Los Angeles with her husband.

Starcrossed is her first novel.
Author information taken from her Goodreads.


{ This ARC was provided by ATW ARC Tours, in exchange for an honest review which I have provided. No money exchanged hands, I review books for fun because I love to read. I am not interested in monetary gain. Any piece of this ARC that was or wasn't quoted, is not part of the finished product and should not be perceived as such. Instead, you should compare and check it against a finished copy once it is released.}