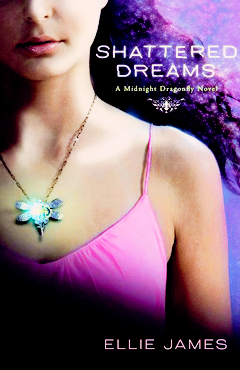 Shattered Dreams
by Ellie James
Publisher: St. Martin's Griffin
Publication Date: December 6, 2011
Pages: 352
Age Demographic: Young Adult
amazon | b&n


Sixteen-year-old Trinity Monsour wants nothing more than to live a normal life. But that isn't as easy as it seems. Trinity is different. She is special. She sees visions, and for those she's seen, it's already too late.

Trinity arrives on her aunt's doorstep in New Orleans with virtually no knowledge of her mysterious heritage. She begins settling into life at a new school and even starts making friends. But all too quickly her dreams accelerate; twisted, terrifying visions of a girl locked in a dark room. And when the head cheerleader, Jessica, goes missing, Trinity knows she has no choice but to step forward with what she's seen.

But people believe that Trinity has information about Jessica's disappearance not because of a dream, but because she is involved. She is kind-of dating Jessica's ex-boyfriend, Chase, and Jessica did pull a nasty prank on Trinity. Revenge seems like the likeliest scenario.

Nothing prepares Trinity for the dark odyssey that ensues while searching for Jessica, including the surprising romance she finds with Chase, or the shocking truths she learns, not just about the girl who has gone missing, but the past that has been hidden from her.

* Summary taken from Goodreads.
❝My Thoughts❞
Shattered Dreams is a beautifully written engaging mystical paranormal, sure to please fans of this genre. Brimming with suspense, intrigue, and magical romance it's an enchanting and delightful read. Ellie James simply pulls out all of the stops with this debut novel. The world building is creative and amazingly stunning, the characters are interesting and likable, and the blossoming romance is sweet and charming. The visual imagery and sultry location of this novel is entrancing and sets the tone right away for a wonderfully compelling story of betrayal, love, mystery, and vicious pranks pulled.

Trinity is a delightfully brave, intuitive, and caring young herione. She's sweet, charming, wonderfully funny, and wants to be normal most of all. She gets these mysterious visions of people and by the time she gets them it's too late to really do anything about them. As the story progresses, her dreams start to become more twisted and haunting, as images of a young girl locked in a dark room begin to push their way to the surface. It isn't until Jessica, the head cheerleader of her school, goes missing that Trinity has no other choice but to come forward with the information on what she's been seeing in her dreams.

Because Trinity is dating Chase, Jessica's ex-boyfriend and knows that Jessica has pulled a nasty prank on her, it seems like revenge is the likely scenario. People start to believe that Trinity has more information on Jessica's whereabout's and could possibly be involved in her disappearance, because she's trying to get back at her for pulling such a nasty prank on her. Although she may not be prepared for the hard truths that she uncovers about her heritage, the surprisingly sweet romance that blossoms between her and Chase, or the shocking secrets she discovers Trinity has an amazingly tough exterior and isn't afraid of being disliked and will stand up for herself and others against the popular crowd. While it may seem like Chase is a bit possessive, broody, and incredibly mysterious he is still sweet, caring, and brave when it comes to Trinity. He's willing to stand by her through everything and protect her, as much as he can. It's sweet and charming to watch the connection grow and and flourish between these two.

The deep symbolism in the cross that Chase wears, Trinity's dragonfly necklace, and her name was an interesting aspect of the story. The characters are well developed and the writing is strong and enjoyable. Shattered Dreams is full of unexpected twists and turns that readers will not be expecting. The only qualms that I personally may have had with it, is that sometimes the plot twists may have a tendency to leave readers a little confused at times. Other than that, Ellie James pens a highly engaging murder mystery with a touch of paranormal that will leave readers craving more. I would recommend this to anyone who enjoys young adult paranormal mystery and romance novels. It's a promising debut with an even more promising sequel on the way that readers will not want to miss out on.

Want to purchase Shattered Dreams by Ellie James?
You can do so by visiting my Amazon Store and adding them to your shopping cart. While you're there, feel free to look around, you might find something else you want. I hope you enjoyed reading my review of Shattered Dreams. I definitely suggest you pick up a copy for yourself or even for someone else, if you think they'll like it.
ABOUT ELLIE JAMES

Website || Twitter || Facebook || Goodreads

Ellie James believes in dreams, destiny, and possibility. A native of south Louisiana, she grew up immersed in legend, surrounded by history and drenched in mystery. She penned her first work of fiction at six, turning to suspense three years later with Jacquie and the Swamp. Even before graduating from the LSU Manship School of Journalism, Ellie always had a tragic poem, tender story, or intriguing mystery for her friends, a trait that has continued as her fascination with danger, adventure, love, and the unexplained has grown.

Ellie now splits her time between exploring story worlds and creating her own adventures with her husband and their two children.

You can visit Ellie James at her blog
Author information taken from her Goodreads
.