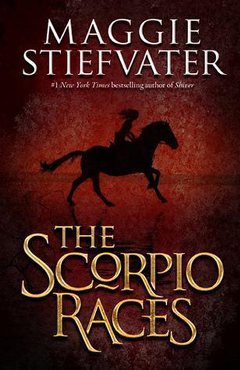 Scoprio Races
by Maggie Stiefvater
Publisher: Scholastic
Publication Date: October 18, 2011
Pages: 416
Age Demographic: Young Adult
amazon | b&n


It happens at the start of every November: the Scorpio Races. Riders attempt to keep hold of their water horses long enough to make it to the finish line. Some riders live. Others die.

At age nineteen, Sean Kendrick is the returning champion. He is a young man of few words, and if he has any fears, he keeps them buried deep, where no one else can see them.

Puck Connolly is different. She never meant to ride in the Scorpio Races. But fate hasn't given her much of a chance. So she enters the competition — the first girl ever to do so. She is in no way prepared for what is going to happen.

* Summary taken from Goodreads.
❝My Thoughts❞
The Scorpio Races is a thrilling and captivating journey of adventure and unexpected moments. There are incredible challenges and odds to overcome and extreme pulsating tension that will pull readers into the story keeping them glued to the edges of their seat. Maggie Stiefvater pens a beautifully written tale of magical and realistic atmosphere with stunning visual imagery that tugs and pulls at readers emotionally. The world of The Scorpio Races is wonderfully breath taking and full of mystical creatures such as the Capaill Uisce, that possess a deep connection to the water. The imagery is quite stunning and amazingly creative, while being original and unique. This is a book that is very different and definitely appealing in a refreshing light, in what it has to offer readers.

The Scorpio Races definitely holds mystery and intrigue well enough to keep readers captivated, putting them right into the adventure through brilliant imagery and wonderful character development. They are wonderfully unique, multi-faceted individuals that are fascinating and likeable. Maggie Stiefvater writes them in such a way that readers will be able to sympathize with them. Puck is an incredibly determined, slightly vulnerable, and scared young heroine. She's fueled with so much grit and fire, that she has nothing else to lose except possessing the amazing tenacity to survive going with two brothers out on their own. Her super fiesty attitude matched with her undeniable strength makes her an inccredly strong and relatable character that readers will easily be able to connect with an a realstic basis. Sean, is an orphan who has been working at the local stable as ahorse trainer for quite some time. He seems to have this magical pull or connection that he shares with the horses, especially the Capaill-Cor.

It was enderaing to see how both Puck and Sean have such a special bond with their horses. It was also charming to see how well the supporting characters stood out and had a voice of their own that was just as important to the story, as well. I personally found Puck's younger brother Finn, to be such a refreshing and delightful character to get to know. It was sweet to witness just how much he cares for his sister and the bond that they share with one another. It seemed to add a whole other element to the story. The Scorpio Races delivers some wonderful complex characters with intriguing personalities of their own. It's filled with terror, adventure, sadness, joy, and the importance of relationships.

The island of Thisby is absolutely gorgeous and breath taking, readers can only imagine how amazing it would be to actually see it come to life before their eyes. From start to finish, The Scorpio Races is brilliantly excuted, well thought out, and completely imaginative. Both Puck and Sean are beautifully written heart wrenching noble characters that readers will fall in love with. It is definitely a must read and I would recommend it to anyone who has enjoyed Maggive Stiefvater's prior novels. This, by far, is quite possibly her best written one.

Want to purchase a copy of the Scorpio Races by Maggie Steifvater?
You can do so by visiting my Amazon Store and adding them to your shopping cart. While you're there, feel free to look around, you might find something else you want. I hope you enjoyed reading my review of Scorpio Races. I definitely suggest you pick up a copy for yourself or even for someone else, if you think they'll like it.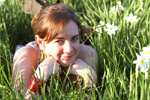 ABOUT MAGGIE STIEFVATER

Website || Twitter || Facebook || Goodreads

All of Maggie Stiefvater's life decisions have been based around her inability to be gainfully employed. Talking to yourself, staring into space, and coming to work in your pajamas are frowned upon when you're a waitress, calligraphy instructor, or technical editor (all of which she's tried), but are highly prized traits in novelists and artists. She's made her living as one or the other since she was 22. She now lives an eccentric life in the middle of nowhere, Virginia with her charmingly straight-laced husband, two kids, two neurotic dogs, and a 1973 Camaro named Loki.
Author information taken from her Goodreads
.
{ This ARC was provided by Scholastic, in exchange for an honest review which I have provided. No money exchanged hands, I review books for fun because I love to read. I am not interested in monetary gain. Any piece of this ARC that was/wasn't quoted, is not part of the finished product and should not be perceived as such.}