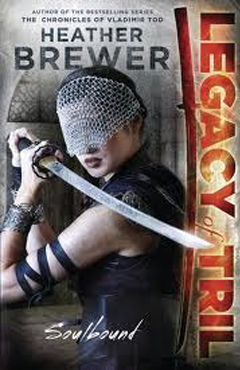 Soulbound
by Heather Brewer
Publisher: Dial
Expected Publication: July 19, 2012
Pages: 304
Age Demographic: Young Adult
amazon | b&n


What's worse than being blackmailed to attend a hidden school where you're treated like a second-class citizen? How about nearly getting eaten by a monster when you arrive? Or learning that your soulmate was killed in a centuries-old secret war? And then there's the evil king who's determined to rule the world unless you can stop him...

Meet Kaya, a young woman with the power to heal and the determination to fight. But struggle as she will, she remains tied to three very different men: a hero who has forsaken glory, a tyrannical ruler who wants to use Kaya, and a warrior who's stolen her heart. Kaya learns the hard way that some ties can't be broken...and blood is the strongest bond of all.

* Summary taken from Goodreads.
❝My Thoughts❞
Soulbound is a wonderfully entertaining world with captivating peril and danger. Heather Brewer's world is crafted beautifully and full of mystery and intrigue. The adventure and twists in plot will keep readers on the edge of their seats, stunned and amazed at how well the story plays out and the characters bring the world to life. The level of detail and plot fleshed out, is both refreshing and gives the story its own unique spin and originality. The concept of Healer's and Barron's being soulbound to one another was intresting and gave new meaning to the term "soulmate," which I enjoyed a great deal.

Kay was definitely my favorite character in the novel. She was incredibly brave, determined, and amazingly kickass in so many ways. I loved that she bucked the status quo the better portion of the time and refused to just sit back and let her Barron save her as if she were some damsel in distress. She was adamant in wanting to learn how to fright, so that she could protect herself ownself and not have to rely on someone else. Although, her rebilliousness can and does seem to get her into trouble often enough, but it still makes her realistically likable and easy for readers to connect with.

I also enjoyed the fact that the love story didn't play that much of a leading role in the story, giving us more information on the Council, the mythos between the Healers and their Barrons whom they are "soulbound" to, and the more intriguing aspects of the world that Heather Brewer has crafted wonderfully well. Soulbound is an incredibly action packed novel filled with dangerous twists and turns, heartbreak and beytrayal, and sacred duties all wrapped into an awesomely fierce novel that readers will be unable to put down. It is definitely a must read for anyone who enjoys fantasy and action, as well as mystery and intrigue. It's a pretty amazing ball of wow, from the beginning to the end that just doesn't quit, and leaves readers with a jaw-dropping never-see-it-coming cliffhanger that they won't quite be prepared for. It is enough to keep them eagerly anticipating the sequel for sure.
Want to purchase a copy of Soulbound by Heather Brewer?
You can do so by visiting my Amazon Store and adding them to your shopping cart. While you're there, feel free to look around, you might find something else you want. I hope you enjoyed my review for Soulbound by Rebecca SerleI definitely suggest you pick up a copy for yourself or even for someone else, if you think they'll like it.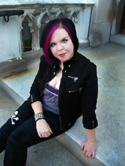 ABOUT HEATHER BREWER

Website || Twitter || Facebook || Goodreads

Heather Brewer was not your typical teen growing up. She wore black, danced under full moons and devoured every book in sight.
She hasn't changed much.

Today, Heather can be found writing in her funky, black Happy Bunny jammie pants, dancing under the full moon, devouring every book in sight, and attending Renaissance Festivals in costume (and in character).

When Heather's not writing, dressing up, dancing and reading, she's answering email, which she LOVES to get. You can email Heather by using the contact form on the right. But before you do, make sure you check the FAQ to see if your question has been answered there. Unfortunately, Heather cannot respond to all emails, as doing so would take up valuable writing time (and we wouldn't want that, would we?), but you can always reach her by commenting on her blog or her Facebook, or by following her on Twitter.

Author information taken from her .
{ This ARC was provided by ATW ARC Tours, in exchange for an honest review which I have provided. No money exchanged hands, I review books for fun because I love to read. I am not interested in monetary gain. Any piece of this ARC that was or wasn't quoted, is not part of the finished product and should not be perceived as such. Instead, you should compare and check it against a finished copy once it is released.}