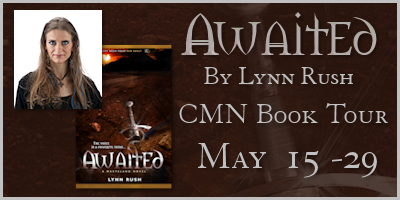 I was lucky enough to get to be a part of the AWAITED CMN BOOK TOUR through Charisma Media Network and I'm very excited to have a couple of things going on - on the blog today that include a guest post featuring the definition of AWAITED and a free download for a copy of Prelude To Darkness. So, guys...help me make Lynn Rush feel right at home on A Soul Unsung.
Awaited
by Lynn Rush
Publisher: Crescent Moon Press
Publication Date: May 1, 2012
Pages: 272
Age Demographic: Young Adult
amazon | b&n


The voice is a powerful thing…

Russell Leonard is a centuries-old Guardian who's lost faith in his purpose. So when he's charged with procuring the first female Guardian in over two centuries, he can only hope it's the red-headed beauty who's been haunting his dreams for months. And if it is, he intends to claim her as his. But when he finds his dream woman, Annabelle is mute and bears no Guardian's Mark.

He soon realizes she's been tainted by an ancient evil. Russell must somehow release the secrets trapped within this delicate soul to help her tap into the only weapon powerful enough to silence a millennia-old demon—her voice.

* Summary taken from Goodreads.
Guest Post: The Definition of Awaited
by Lynn Rush
AWAITED: Yes, it's the title of my newest release, but the title itself is an interesting topic. The definition of the word itself is, be in store for (someone).

However, when I first went to the dictionary to look up the "official" definition, I got frustrated by its first definition: "wait for."

Ugh! You shouldn't be able to define the word you want to learn the meaning of in the definition … it is so not right!

So that's why I liked the second part: be in store for.

Now that's perfect. Be in store for. They went on to put in parenthesis (of a person) be in store for.

Yummy!

I LOVE romances where either the hero or heroine (or both for that matter) have had a premonition, dream, or hint of some kind about someone they'll meet.

There's just something utterly romantic about that in my mind. It's not for everyone, I know that, but I love it.

But are you supposed to sit around and wait for your awaited?

That'd be a BIG NO! What fun would that be? That's the part I love about writing … Figuring out what obstacles to throw in the paths of the characters. All of the fun twists and turns … And don't forget the romance!! That part's super fun
For a free download of Prelude

To Darkness visit Lynn Rush's Website
Prelude To Darkness
Prequel to Wasteland Series
Lynn Rush
Publisher: Crescent Moon Press
Published: May 2012
Format: E-Book

For a slave, hope is a dangerous thing.

Margaret Rousseau dreams of freedom from a life of servitude. When a mysterious woman saunters into the servants' tavern promising the impossible, Margaret dares to hope she could win the heart of the one man she has secretly coveted since she first wore a corset...

The Prince.

Margaret desperately grasps for the opportunity to change her bleak destiny by placing faith in a woman who is not as forthcoming as she seems. Blinded to the stranger's dark motives, Margaret surrenders herself to gain her heart's desires.

But her choice may bring forth a darkness that could destroy all she holds dear.
Want to purchase a copy of

AWAITED by Lynn Rush?
You can do so by visiting my Amazon Store and adding them to your shopping cart. While you're there, feel free to look around, you might find something else you want. I hope you enjoyed reading the guest post and getting to know a little more about AWAITED. I definitely suggest you pick up a copy for yourself or even for someone else, if you think they'll like it.
ABOUT LYNN RUSH

Website || Twitter || Facebook || Goodreads

"When I started out on this writing journey, it felt like such a far away dream. I constantly asked myself, 'Really? Me? A writer?' Then when I was published I still asked, 'Really? Me? An author?' Along the way things inspired me, obstacles shot up, and doors both opened and closed…but through my faith, family, and friends, I found motivation to continue on my dream - dreams of something bigger than all of us. Whether it's writing, music, dancing …"


Author information taken from her Goodreads.