I was lucky enough to get to be a part of the SUMMER LOVIN' BOOK BLOG TOUR through Sourcebooks and I'm very excited to have some fun things going on - on the blog today that include a guest post featuring a look into Katherine Grace Bond's world as a teenager (sort of a self-discovery), an awesome giveaway for a copy of The Summer of No Regrets and review for the book. So, guys...help me make Katherine Grace Bond feel right at home on A Soul Unsung.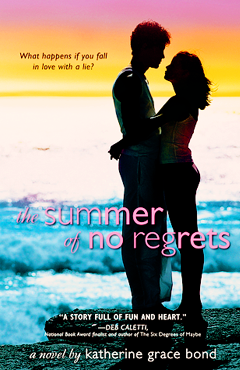 The Summer of No Regrets
by Katherine Grace Bond
Publisher: Soucebooks Fire
Publication Date: May 1, 2012
Pages: 304
Age Demographic: Young Adult
amazon | b&n


The day Brigitta accidentally flings herself into the lap of a guy she's never met, her friend Natalie is convinced he's Trent Yves, egotistical heartthrob-in-hiding. When the boy, who calls himself Luke, is nearly eaten by a cougar, Brigitta finds herself saving his life, being swept into his spectacular embrace and wondering if she wants Natalie's fantasy to be true.

As the two spend the summer together raising orphaned cougar cubs, Brigitta still can't be sure of his true identity. But then again, since her grandparents' death, her father's sudden urge to give away all their possessions and become a shaman, and her own awkward transition from girlhood into a young woman, she isn't sure of anything. What is the truth? More importantly, can she accept it?

* Summary taken from Goodreads.
❝My Thoughts❞
Katherine Grace Bond pens a wonderfully poingant story of a young woman on the cusp of finding herself. The Summer of No Regrets is an inspiring story of self discovery that is powerfully moving and full of wonderful emotion. It's an adorable journey of putting aside ones selfisness and learning to see life through the eyes of someone or rather, something else. The cougar cubs that both Brigita and Luke find together, represent this for her. She starts to face up to what is actually going on in her life, through the act of caring for those cubs and discovering what that summer of no regrets truly holds for her.

It's a uniquely thoughtful and charming story filled with wonderful character personality, witty humor, and sweet romance that readers will enjoy. It's irresistable and filled with hints of beauty throughout. The Summer of No Regrets is a fast paced summer read that is sure to add joy and excitment to any readers summer. It's perfect for curling up with on a light warm sunny day and slipping between the pages. Katherine Grace Bond writes such a delightfully charming and incredibly irresistable novel that is hard to put down once you start reading. I would definitely recommend it to anyone who enjoys contemporary reads.

Guest Post: Finding The Real Me
by Katherine Grace Bond
Sometimes I feel, as far as social groups are concerned, that I'm sort of a minor hello and goodbye part.
Diary, 3-29-77
As teens read THE SUMMER OF NO REGRETS, I've been reading my teenage diary. REALLY embarrassing, but it has to be done. How else will I know whether I've actually grown up?

I shopped a lot, but thought I looked terrible in the "in" clothes (which included something called "gauchos".) I went to a folk dance convention, was dumped by my best friend, fought with my mother. My dad yelled a lot. I almost got to be an exchange student in France. I asked a boy named Lyle for his picture every single week.

What strikes me, as I read these awkward entries, is that I expected other people to tell me who I was.

That was the year I followed puppy-like after friends who treated me shoddily, hoping I'd become worthy

I glowed under the praise of teachers and knew I was smart.

I longed to shake off my parents' overprotectiveness so I'd be mature.

I was certain my life would be "so great" if only fill in boy's name here liked me. Then I'd be pretty.

Once, when a brand new song came on the radio, my best friend asked, mid-song, whether I liked it.

"Do you like it?" I asked.

"I'm not going to tell you," she replied, and I faced the ultimate dilemma: Should I love it? Should I hate it? I couldn't know until I got her opinion; I didn't have one of my own. The still, small voice inside me had gone missing.

Though Brigitta in THE SUMMER OF NO REGRETS, hides the "real she," she's still more self-possessed than I was. But I did eventually find the "real Katherine," and I've learned a few things about going from fake to real.

1) Create, create, create: write, sing, sculpt, build. What you create is uniquely yours. The more you create, the more comfortable you become in your own skin.

2) Pay attention to your body. That feeling in the pit of your stomach may be telling you to get out of a bad situation. That exhilaration in your lungs may be telling you, "I should come here more often." Your body knows your likes and dislikes—usually better than your friends do.

3) Love boldly. Notice what you care about and act on it. Homeless kids? Volunteer at the shelter. Poetry slams? Start an open mic. Your grandmother? Pick up the phone.
Be an encourager. I'm more myself when I encourage—"calling out" someone's gift can be life-changing. One of my sweeter diary entries read, "Mary wrote my poem on the front of her notebook. She said, 'Don't erase it! I think it's so beautiful.'" Mary, now a librarian, always encouraged my writing. Now, through TEENWrite, I get to do the same.

And as it turns out, I'm more than a hello and goodbye part. And so are you.
Want to win a copy of The Summer of No Regrets by Katherine Grace Bond?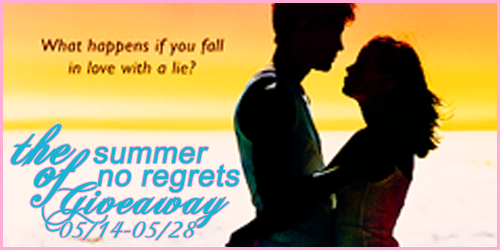 Thanks to Sourcebooks and Katherine Grace Bond, I have one copy of The Summer of No Regrets to be added to the top of your summer to-be-read book pile. You'll really enjoy this beautiful tale of love and embracing yourself. The only rules are that you at least be 13 years or older, from US or Canada only, fill out the Rafflecopter below, and then reply to the email notifying the winner if you are chosen within 48 hours.

That's it, easy-peasy. Gotta have that book now, dontcha?!
a Rafflecopter giveaway
Want to purchase a copy of The Summer of No Regrets by Katherine Grace Bond?
You can do so by visiting my Amazon Store and adding them to your shopping cart. While you're there, feel free to look around, you might find something else you want. I hope you enjoyed reading my review of The Summer of No Regrets. I definitely suggest you pick up a copy for yourself or even for someone else, if you think they'll like it.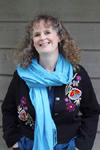 ABOUT KATHERINE GRACE BOND

Blog || Twitter || Facebook || Goodreads

Katherine Grace Bond is the author of THE SUMMER OF NO REGRETS (Sourcebooks, 2012) and of the bestselling LEGEND OF THE VALENTINE (Zondervan, 2002), a story of the civil rights movement. She often finds herself in the woods escaping from giant cats and shadowy figures in cloaks. The creator of TEENWrite acting/writing workshops, where participants come as their characters, she lives with her husband in a dimension populated by younger people, some of whom resemble her.


Author information taken from her Goodreads.



{ This ARC was provided by Netgalley, in exchange for an honest review which I have provided. No money exchanged hands, I review books for fun because I love to read. I am not interested in monetary gain. Any piece of this ARC that was/wasn't quoted, is not part of the finished product and should not be perceived as such.}