Dream Casting for Kings&Qeens
by: Courtney Vail
It's hard to pick Majesty, but on my website I picked Lucy Hale. I could see her in a more kick-butt, tomboy role, just to break out of the type she normally plays. She's so pretty and she's usually glammed up on Pretty Little Liars, but I'll bet she can also rock a more low-maintenance style too and look really girl-next-door.


So easy. No contest. Matt Lanter. Drool. Back when I was still editing the book, I saw him on this episode of CSI, and that was way before his more notable roles in 90210 and Vampires Suck, and I was like, uh, Oh! My! Gosh! That's him! That is totally Derek. I didn't know his name and had never seen him before, so I had to hunt down the episode and I finally found his name. There were some pics of him already in IMBD and I was nodding and nodding. I'm like, yes, that is Derek all the way.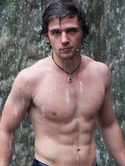 Tim Urban. Yes, the American Idol contestant who got trashed at nearly every turn, but is actually very talented, in case you don't know. You must check out his youtube channel to see what I mean. He is too flippin' adorable and his cover tunes on iTunes are melt worthy. Not only does this dude look like Alec, his personality is an exact match. It's very creepy. Alec has golden brown hair, and that's really the only difference. But, the charm, the smile, the muscles, the sweetness … that's Alec in the flesh.


I have Erik Von detten on my site, but he's really too tall in reality, but if we're going on face looks and body, yeah, him. He needs to look more cute-faced than typical, cocky jerk, but someone wh could swing either way, and I think Erik is a good match for that.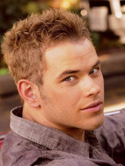 I'm going to go with Kellan Lutz. He has the steely eyes. I don't really describe Blake more than that, but he's a close match to what I see in my mind's eye.


It's hard to find a goth who is cool, intense and nerd all at the same time, but I think Michael Pitt is a pretty good combination of that.
About Kings and Queens
By Courtney Vail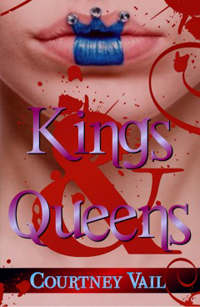 Seventeen-year-old Majesty Alistair wants police to look further into her father's fatal car wreck, hopes the baseball team she manages can reclaim the state crown, aches for Derek...or, no...maybe Alec...maybe. And she mostly wishes to retract the hateful words she said to her dad right before slamming the door in his face, only to never see him again.

All her desires get sidelined, though, when she overhears two fellow students planning a church massacre. She doubts cops will follow up on her tip since they're sick of her coming around with notions of possible crimes-in-the-works. And it's not like she cries wolf. Not really. They'd be freaked too, but they're not the ones suffering from bloody dreams that hint at disaster like some crazy, street guy forecasting the Apocalypse.

So, she does what any habitual winner with zero cred would do...try to I.D. the nutjobs before they act. But, when their agenda turns out to be far bigger than she ever assumed, and even friends start looking suspect, the truth and her actions threaten to haunt her forever, especially since she's left with blood on her hands, the blood of someone she loves.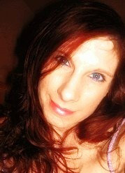 ABOUT COURTNEY VAIL

Website || Twitter || Facebook || Goodreads

COURTNEY VAIL is the author of Kings&Queen, and she writes totally twisted YA and adult suspense. She enjoys braiding mystery, suspense & romance with some kind of weirdness. Her addictions to crazy coffee concoctions, Funny Bones, Ben & Jerry's, and bacon keep her running and writing. She currently lives in New England with a comedian stud and a wild gang of kidlets.

If you like weird books or you're interested in learning more about Kings&Queens, you can follow Courtney at: Kings&Queens.


Would you like to purchase a copy of Kings&Queens?
Amazon
||
B&N
||
Smashwords
Author information taken from her Goodreads
.