TOP TEN TUESDAY: JUNE 19, 2012
TOP TEN BEST SUMMER READS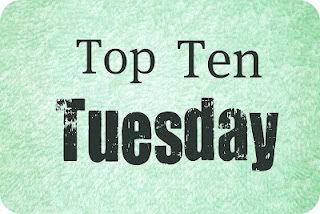 Top Ten Tuesday is a meme that was created by The Broke and The Bookish. Each week there will be a new topic and a linky, for you to share your lists with everyone one else.
This week's topic is the topic that I got mixed up and should have been posted last week. It's "best summer reads" and instead I posted "best beachy reads", but it's all good because it pretty much runs along the same theme, I just flipped 'em up a bit. Anyway, these are some of the BEST.SUMMER.READS. that I've read so far.
Anna and the French Kiss
by Stephanie Perkins.
I bought this book just a few days after it was released and I absolutely fell head over heels for the story that it had to tell. I love it and Lola so much that I am always chatting anyone up that I can persuade to buy this book, take it home, and love it just as much as I do!
Perfect You
by Elizabeth Scott.
I adore Elizabeth Scott, I've read a couple of her books so far and this one just seems like it would be a wonderful summer read. I have no doubts that it would be just as good as the other two I've read and maybe even better.
Catching Jordan
by Miranda Kennaeally.
I read this book in one sitting at the bookstore on the day of my friend's first chemotherapy treatment. It was so good that it didn't take me no more than three hours to get through with it and I wanted to re-read it again! It was that good!!!
Along For the Ride
by Sarah Dessen.
Anything Sarah Dessen writes is worth reading, enough said!
Sometimes It Happens
by Lauren Barnholdt.
I could talk hordes about this book, because I really loved it. It's one that I wasn't expecting to like, because I don't normally enjoy stories where cheating is involved, but somehow Lauren Barnholdt seemed to write it in a way that was both realistic and enjoyable at the same time. I like the name of the book "sometimes it happens" because it sort of mirros the actions and gives you another take on the whole situation. It definitely shifted my perceptions a little bit for sure.
Endless Summer
by Jennifer Echols.
This is definitely one that I need to get my hands on, because I've heard so many great things about it that I don't mind recommending it as a perfect summer read. The name practically screams it out at you, plus it's JENNIFER ECHOLS!!! Need I say any more than that?!
Waiting For You
by Susanne Consalati.
I read this book about a month or so ago and absolutely fell head over feet in love with it. It's such a sweet tender romance and wonderful teen drama full of cute moments and loveable characters with potential.
Starcrossed
series by Josephine Angelini.
I love Josephine Angelini's take on Greek mythology and the beautiful parallels that she draws and the breath taking romance that doesn't take away from the story. The characters are lovable, the story is beautiful, and the imagery will definitely draw you in. It's perfect for a wonderful summer read that you just want to get lost in.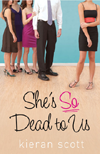 She's So Dead To Us
series by Kieran Scott.
I sort of came into this series a little backwards, but it has definitely grown into one of my favorites on my growing summer list of books. The characters and their stories are just so much fun, plus it's the perfect blend of teen angst done right and light summer romance.
Gossip Girl
series by Cecily Von Ziegesar.
This is such a fun series to get into, lots of wacky hijinx to be had on the Upper East Side of Manhattan, where B and S play around a lot.
What books are some of your favorite summer reads?