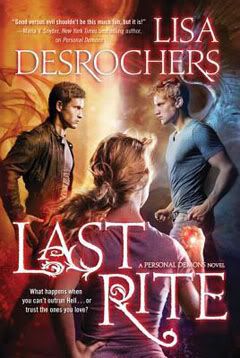 Last Rite
by Lisa Desrochers
Publisher: Tor Teen
Expected Publication: May 8, 2012
Pages: 368
Age Demographic: Young Adult
amazon | b&n


In this final installment of the thrilling, edgy Personal Demons series, the battle between Heaven and Hell has become critical, and Frannie Cavanaugh is right at the center of it.

With the help of the powerful angel Gabe and demon-turned-mortal Luc, Frannie has been able to stay one step ahead of the forces of Hell. But when the demons killed Frannie's best friend and destroyed her brother, they raised the stakes. If Frannie wants to keep her family and friends safe, she knows she has no choice but to go on the run.

Their best defense is the power Frannie has been struggling to master, but her attempts to hone her skill go horribly awry. If Frannie doesn't learn fast, the consequences could be devastating--even apocalyptic.

What happens when you can't outrun Hell...or trust the ones you love?

* Summary taken from Goodreads.
❝My Thoughts❞
In Lisa Desrochers Last Rite, Frannie Cavanaugh finds herself right smack in the center of an all-out-epic battle of good versus evil between Heaven's angels and Hell's demon spawn. Yet, with the help of both Luc and Gabe, she finds herself having to stay two steps ahead of the forces of Hell that are hot on her heels. When she loses her best friend and her brother Matt is destoryed by the demons, it definitely raises the stakes even higher than they were before, and all bets are pretty much off the table. In a last ditch effort to protect her close friends and loved ones, Frannie knows she has to go off the grid this time.

Their best defense to the demons offense is Frannie's power. She's been grappling with it all this time, trying to get it under control and master her ability, but it doesn't seem to be working for her too much. She's under the gun and is going to have to learn pretty quick to or there could be some dire consequences if she doesn't.

Lisa Desrochers Personal Demons trilogy is a dark beguiling mass of chaos and destruction, that is dangerously seductive. The world she has crafted is so full of intense emotion and turmoil, pain and loss, betrayal and lies, and steaming hot romance enough to hook anyone right from the beginning and keep them there to the end. She fills the pages flawlessly with determination, epic adventure, and tackles the romance head on in t his fascinating conclusion to this amazing series. Everything seems to be amped up to the tenth degree and it just does not disappoint. It all leads up to a surprise ending that readers will not see coming their way.

Lisa Desrochers has taken this series to new explosive heights with this final novel. She's delivered new and interesting characters, while developing her more complext main characters over time throughout the series. I personally felt like she has breathed new life into young adult paranormal fiction with this stunning and gorgeous thrilling series.

Fans of Rachel Vincent's Soul Screamer's trilogy or even Lauren Kate's Fallen series will findselves falling head over feet for this epicly amazing series.

Want to purchase

Personal Demons by Lisa Desrochers?
You can do so by visiting my Amazon Store and adding them to your shopping cart. While you're there, feel free to look around, you might find something else you want. I hope you enjoyed the review for Personal Demons If you haven't read it yet, then I definitely suggest you pick up a copy for yourself or even for someone else if you think they'll like them.
ABOUT LISA DESROCHERS

Website || Twitter || Facebook || Goodreads

Lisa Desrochers lives in central California with her husband and two very busy daughters. It was her oldest daughter's love of books that first inspired her to write for young adults. There is never a time that she can be found without a book in her hand, and she adores stories that take her to new places, and then take her by surprise.

Growing up all over the country has inspired wanderlust and she loves travel, which works out well because she lectures internationally on a variety of health care topics. She has a Doctorate in Physical Therapy and maintains a full-time practice in California.

Her YA debut, PERSONAL DEMONS (Tor Teen/Macmillan) is in bookstores everywhere and the sequel, ORIGINAL SIN, releases July 5, 2011. It's the second in the Personal Demons trilogy.

Author information taken from her Goodreads.


{ This book was provided by Tor Teen/Macmillian, in exchange for an honest review which I have provided. No money exchanged hands, I review books for fun because I love to read. I am not interested in monetary gain.}