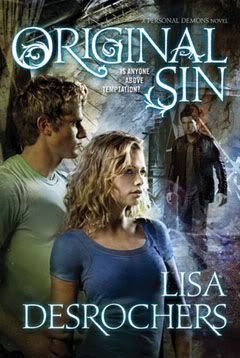 Original Sin
by Lisa Desrochers
Publisher: Tor Teen
Expected Publication: July 5, 2011
Pages: 400
Age Demographic: Young Adult
amazon | b&n


Luc Cain was born and raised in Hell, but he isn't feeling as demonic as usual lately—thanks to Frannie Cavanaugh and the unique power she never realized she had. But you can't desert Hell without consequences, and suddenly Frannie and Luc find themselves targeted by the same demons who used to be Luc's allies.

Left with few options, Frannie and Luc accept the protection of Heaven and one of its most powerful angels, Gabe. Unfortunately, Luc isn't the only one affected by Frannie, and it isn't long before Gabe realizes that being around her is too…tempting. Rather than risk losing his wings, he leaves Frannie and Luc under the protection of her recently-acquired guardian angel.

Which would be fine, but Gabe is barely out the door before an assortment of demons appears—and they're not leaving without dragging Luc back to Hell with them. Hell won't give up and Heaven won't give in. Frannie's guardian exercises all the power he has to keep them away, but the demons are willing to hurt anyone close to Frannie in order to get what they want. It will take everything she has and then some to stay out of Hell's grasp.

And not everyone will get out of it alive.

* Summary taken from Goodreads.
❝My Thoughts❞
In Lisa Desrochers Original Sin, readers find out more about Luc Caine, who is a demon that was born and raised in the firey hollows of hell. Although lately, he's been feeling a little less demonic that his true nature is, thanks to Frannie Cavanaugh and the unique power she's discovered that she posseses. However, deserting Hell doesn't come without some catastrophic consequences that will keep them on the run and could ultimately destroy anyone who is close to Frannie. The pair of them have essentially become targets by the very same demons who once used were Luc's allies.

Much to Luc's chargrin, he and Frannie find themselves having to accept protection from Gabe, the angel of Heaven. It's then that Gabe starts to realize that being around Frannie is a little too tempting, so he opts out leaving both her and Luc under the protection of her newly acquired gaurdian angel. There in starts a bit of a love triangle of interesting proportions as Heaven just won't give in and Hell refuses to back down. An interesting variety of demons start to show up on a mission to drag Luc back to Hell where he apparently belongs. the absolutely refuse to leave without him in their tow.

As Frannie's newly acquired gaurdian exhausts all of his powers trying to keep the demons at bay, it doesn't look like it's going to be enough to do the trick. These determined evil beings are hell bent on hurting anyone or anything close to Frannie as a means of getting exactly what they want...Luc.

It will take every bit of what she's got and all of her strength to stay out of Hells grasp. Not everyone will make it out with their lives still in tact, so be prepared for some definite twists and turns that will keep you on the edge of your seat.

At this point in Original Sin Frannie finds herself a little torn between two guys on oppossite sides, as she's learning how to control and manipulate her new found power. Readers are introduced to a new character that they will either like or not like, her brother Matt, who turns out is her new gaurdian angel. He can be a bit on the immature side of things to a degree and in my personal opinion, he's not exactly what I was expecting. Gabriels realizing that his attraction to Frannie, as impure as it may seem to Heaven, is incredibly too hard for him to bear so he leaves her in the custody of Matt. Luc is slowly discovering and learning to accept his new found humanity thanks to Frannie. He seems to be grappling with it quite well, though he still possesses a great deal of his devlish bad boy charm thrown in for good measure.

Lisa Desrochers surprises fans of the series with a wickedly exciting and daring sequel to Personal Demons. It will have them gasping at the unexpected twists to come. The biggest drawback for me, personally, was the lack of Gabe's presence in the story. I would have enjoyed seeing him trying to succeed at protecting both Frannie and Luc, while grappling with his "tainted unpure" feelings he's developed for her. That would have only added to the suspense and conflict of the story. A little less Matt would have been even better, but the introduction of the new and interesting characters like Lilith, only added more depth and strengthened the plot. I am excited to see the potentially bigger role she will take on in Last Rite, the final installment to the trilogy. It can only be as amazing as I'm speculating it to be.

If readers enjoyed the previous novel in this series, then they will definitely not want to miss out on this one for sure. It's more intense, packed with unpredictable twists and turns that will have them grasping the edge of their seats, and a burning triangle of pure steam. What paranormal fan wouldn't want to read this novel?

Want to purchase

Personal Demons by Lisa Desrochers?
You can do so by visiting my Amazon Store and adding them to your shopping cart. While you're there, feel free to look around, you might find something else you want. I hope you enjoyed the review for Personal Demons If you haven't read it yet, then I definitely suggest you pick up a copy for yourself or even for someone else if you think they'll like them.
ABOUT LISA DESROCHERS

Website || Twitter || Facebook || Goodreads

Lisa Desrochers lives in central California with her husband and two very busy daughters. It was her oldest daughter's love of books that first inspired her to write for young adults. There is never a time that she can be found without a book in her hand, and she adores stories that take her to new places, and then take her by surprise.

Growing up all over the country has inspired wanderlust and she loves travel, which works out well because she lectures internationally on a variety of health care topics. She has a Doctorate in Physical Therapy and maintains a full-time practice in California.

Her YA debut, PERSONAL DEMONS (Tor Teen/Macmillan) is in bookstores everywhere and the sequel, ORIGINAL SIN, releases July 5, 2011. It's the second in the Personal Demons trilogy.

Author information taken from her Goodreads.


{ This book was provided by Tor Teen/Macmillian, in exchange for an honest review which I have provided. No money exchanged hands, I review books for fun because I love to read. I am not interested in monetary gain.}