TOP TEN TUESDAY: JUNE 12, 2012
TOP TEN BEST BEACHY READS
Top Ten Tuesday is a meme that was created by The Broke and The Bookish. Each week there will be a new topic and a linky, for you to share your lists with everyone one else.
This week's topic is "best beachy reads" I thought I'd change it up a little bit and pick the books that I'd love to have in my bag for a day at the beach/lake/pool side. We all have those books that we like to read during the summer, ya know the light fun, sweet summer romance ones. These just happen to be a few of mine.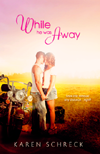 While He Was Away by Karen Schreck.

I immediately fell in love with the beauty of this book, it was a sweet romantic and poignant story that captured me heart and soul from beginning to end. This will definitely for sure be in my bag this summer and it should be in everyone else's too!

Bittersweet by Sarah Ockland.

I haven't read any books by her so far, but I've heard so many great things about Twenty Boy Summer, that I am definitely wanting to read it and also this one this summer hopefully. This one, I know, for sure is on my Summer To-Be-Read list.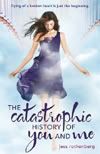 The Catastrophic History of You and Me by Jess Rothenberg.

Oh my gosh! I have been dying to read this book for quite some time now, most especially since it comes so highly recommend by my best friend and fellow blogging fantatic, Molli @ Once Upon A Prolouge. I'm definitely going to have pick up a copy of this to cart off in my bag with me.

Goddess Interrupted series by Aimee Carter.

I absolutely fell in love with this book, it was such a fun romantic read filled with beautiful Greek mythology, interesting characters, and just so much suspense and mystery. It's definitely a worthy beach read to be at the top of your "summer to be read" lists.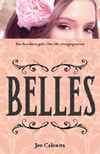 Belles series by Jen Canolita.

Oh wow! I'm not sure if I have the words to say how much I truly enjoyed reading this book. It was such a light, fun, and romantic read that you can easily immerse yourself in and get lost between the pages. I absolutely cannot wait until has been released, the second novel in this amazing series.

When you Were Mine by Rebecca Serle.

I loved this book so much that once I finished reading it, I immediately purchased an e-copy of it as a gift for my best friend and fellow blogger conspirator, Molli @ Once Upon A Prolouge because I just didn't want her to miss out on the goodness of it either!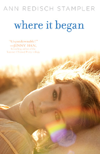 Where It Began by Ann Redisch Stampler.

This book has such a pretty cover, that it's hard to resist wanting to read it over the summer. I'm going to have to find a way to work it into my budget, as well as my "Summer To-Be-Read" list too. If I save and shop just right, I may be able to pull it off without a hitch. lol. I'm hoping to anyway, because I know I've been wanting to read it for quite some time. It looks like it's going to be a beautiful story.

Wake series by Amanda Hocking.

I really enjoyed reading this book earlier this year, it was such a fun and easy read that had a pretty romance and some wonderful under-water Greek mythology plus the right amount of mystery and conspiracy. You know how there are just some author's whom you'll read anything that they write? Amanda Hocking is definitely on my list of "will read anything by" for sure, she's that talented and stories are so wonderfully written and interesting that it's hard not to get lost between the pages and come away wanting more!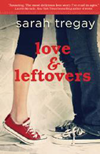 Love & Leftovers by Sarah Tregay.

I have been so magnetically drawn to this book for a good while now and I almost can't believe that I haven't read it, yet. But, I know for sure, this will be the summer that it gets read. Hopefully. I'm going to do some haggling with the budget and see what I can do about making it happen. It just looks so good!

My Life Next Door by Huntley Fitzpatrick.

This is definitely among my Top 5 Favorite books that I've read so far this year, that I've been wanting to read it again because it was just that good. It's sweet, charming, and filled with the right amount of teenage angst and drama, with a wonderful romance that will leave you breathless and wanting more. How could you pass this one up!?
What books are you throwing in your beach bag?