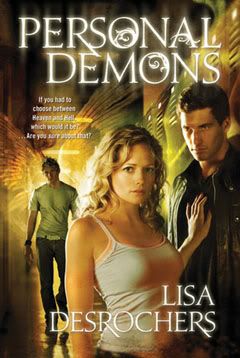 Personal Demons
by Lisa Desrochers
Publisher: Tor Teen
Expected Publication: September 14, 2010
Pages: 365
Age Demographic: Young Adult
amazon | b&n


Frannie Cavanaugh is a good Catholic girl with a bit of a wicked streak. She has spent years keeping everyone at a distance---even her closest friends---and it seems as if her senior year is going to be more of the same . . . until Luc Cain enrolls in her class. No one knows where he came from, but Frannie can't seem to stay away from him.

What she doesn't know is that Luc is on a mission. He's been sent from Hell itself to claim Frannie's soul. It should be easy---all he has to do is get her to sin, and Luc is as tempting as they come. Frannie doesn't stand a chance. But he has to work fast, because if the infernals are after her, the celestials can't be far behind. And sure enough, it's not long before the angel Gabriel shows up, willing to do anything to keep Luc from getting what he came for. It isn't long before they find themselves fighting for more than just Frannie's soul.

But if Luc fails, there will be Hell to pay. . . for all of them.

* Summary taken from Goodreads.
❝My Thoughts❞
In Lisa Desrochers Personal Demons, Frannie Cavanagh is presented as the good little Catholic school girl persona, with a bit of a wicked spark in her. While being an extremely likable and interestingly complex character, she has her flaws at best. For instance, she has this tendency to keep her close friends and even her family at arms length, for her I think it's personally a defense mechanism to protect herself from getting hurt or potentially hurting someone else unintenionally. As Luc Caine mysteriously enters the picture, though readers aren't quite sure why or how just yet, Frannie seems to be drawn to him almost in a deeply hypnotic way.

Luc, is a demon from Hell, sent on a mission to possess Frannie's soul and all he has to do in order to succeed, is to find a way to get her to sin and he has the mysterious bad boy swagger that Frannie finds so appealing to do it with. The catch is that he has to work pretty fast in order to succeed before the infernals or celestials catch up to him or come after her. Gabriel (Gabe), on the other hand, is an angel from Heaven that shows up to thwart all of Luc's plans to succeed in taking Frannie's soul back to Hell with him. He will stop at absolutely nothing to prevent this from happening. However, it's not long before either of them end up fighting for more than just Frannie's soul, making the book even more intriguing and mysteriously full of enjoyable suspsense and steaming hot chemistry.

The whole story hinges on whether or not Luc fails in his mission, which could mean there could definitely be more than hell to pay for the three of them.

Personal Demons is jam packed with mysterious intrigue, powerful tension thick it could choke, tension filled pages, passionate romance, and so much more to offer than your normal standard young adult paranormal novel. It's certianly enough to quench any paranormal fans thirst for intriguing twists and turns, action packed fast moving plot, and interesting likable characters. Lisa Desrochers pens an incredibly imaginative and wonderfully creative piece of fiction sure to wow any reader.

Frannie is an amazing character on so many levels that makes her likable and easy to connect with. She's one super feisty chick who doesn't seem to want to play by the rules at all. She pretty much does what she wants to do and doesn't really act like she should most of the time. Frannie has this pretty awesome mind of her own, which can sometimes lead to a bit of trouble if she's not careful. I found myself personally enjoying the age old conflict and battle between good and evil versus the angels and the demons. Lisa Desrochers gives a unique and interesting spin, which makes it even more refreshing and easy to become invested in the story being told.

Her writing style is beautifully captivating and comes alive on the pages inviting readers into the story itself. Luc's devilish ways and charm is what makes him so darn appealing to Frannie and interesting to readers as well. Their romance sparks to life and sizzles on the pages. It's so passionate that it's hard not to root for them as they grow and change over the course of the story itself. Personal Demons possesses a wonderfully charged and brilliant stealthily surprising subtle creep factor all its own. Readers will delight in its mystery, suspense, and will be absolutely surprised to find out just how well some demons are easy to like.

This is most definitely a book that will hook readers like crazy and keep them craving more in the aftermath of the conclusion to the first installment of this fiercely amazing series. It is such a poingnant tale of love and redemption that will literally blow their minds. If readers are looking for a far more grown up version of young adult paranormal fiction, then they won't have to look any further. Lisa Desrochers has them covered ten times over with Personal Demons.

Want to purchase

Personal Demons by Lisa Desrochers?
You can do so by visiting my Amazon Store and adding them to your shopping cart. While you're there, feel free to look around, you might find something else you want. I hope you enjoyed the review for Personal Demons If you haven't read it yet, then I definitely suggest you pick up a copy for yourself or even for someone else if you think they'll like them.
ABOUT LISA DESROCHERS

Website || Twitter || Facebook || Goodreads

Lisa Desrochers lives in central California with her husband and two very busy daughters. It was her oldest daughter's love of books that first inspired her to write for young adults. There is never a time that she can be found without a book in her hand, and she adores stories that take her to new places, and then take her by surprise.

Growing up all over the country has inspired wanderlust and she loves travel, which works out well because she lectures internationally on a variety of health care topics. She has a Doctorate in Physical Therapy and maintains a full-time practice in California.

Her YA debut, PERSONAL DEMONS (Tor Teen/Macmillan) is in bookstores everywhere and the sequel, ORIGINAL SIN, releases July 5, 2011. It's the second in the Personal Demons trilogy.

Author information taken from her Goodreads.


{ This book was provided by Tor Teen/Macmillian, in exchange for an honest review which I have provided. No money exchanged hands, I review books for fun because I love to read. I am not interested in monetary gain.}