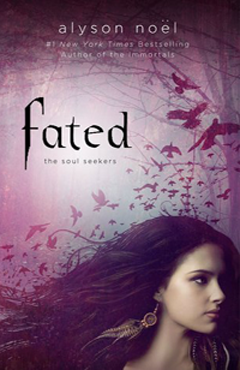 Fated
by Alyson Noel
Publisher: St. Martin's Press
Expected Publication: May 22, 2012
Pages: 368
Age Demographic: Young Adult
amazon | b&n


Lately strange things have been happening to Daire Santos. Animals follow her, crows mock her, and glowing people appear out of nowhere. Worried that Daire is having a nervous breakdown, her mother packs her off to stay in the dusty plains of Enchantment, New Mexico with a grandmother she's never met.

There she crosses paths with Dace, a gorgeous guy with unearthly blue eyes who she's encountered before...but only in her dreams. And she'll get to know her grandmother—a woman who recognizes Daire's bizarre episodes for what they are. A call to her true destiny as a Soul Seeker, one who can navigate between the worlds of the living and the dead. Her grandmother immediately begins teaching her to harness her powers—but it's an art that must be mastered quickly. Because Dace's brother is an evil shape-shifter who's out to steal her powers. Now Daire must embrace her fate as a Soul Seeker and find out if Dace is one guy she's meant to be with...or if he's allied with the enemy she's destined to destroy.

* Summary taken from Goodreads.
❝My Thoughts❞
Fated is a mysteriously intriguing novel about a young girl who discovers she has the power to walk between the world of the living and the dead. Daire Santos has noticed some strange happenings around her, crows have been mocking her, animals have started following her around a lot, and people have started showing up mysteriously out of nowhere. When her mother starts taking notice of these weird things and starts worrying after her daughters mental well being, she decides that it might be better for Daire to send her off to stay with her grandmother she's never met before, to live in Enchanted New Mexico. Once out there, Daire meets Dace, a sweet and charming guy with unearthly blue eyes that seem familiar to her, only in her dreams. As Daire becomes closer to Paloma, her grandmother, she soon learns the truth of her destiny.

Daire Santos is a Soul Seeker who is able to traverse between the world of the living and of the dead. Almost as soon as she discovers this hidden gift, she is tasked with learning how to harness her new found powers. This is something that Daire has to master pretty quickly because Dace's brother, an evil shapeshifter, is vying for her power and will stop at nothing to claim it for his own. Daire has no choice, but to embrace her power and seek the answers to whether or not Dace is the one she's meant to be with or if he's with the enemy she's meant to destroy. The story that develops between these two quickly starts to turn into a story of love and trust.

At first glance of the premise for Fated, the story itself seems to be quite promising. Alyson Noel's idea behind the Soul Seekers is intriguing and definitely attention grabbing, if nothing else. Readers will find themselves wanting to gobble up as many details as they can, regarding the history and the mythology behind how the Soul Seekers came about and what exactly they can and can't do with their powers, and why it's important to never let evil shapeshifters steal them. Daire is a likable and easy character to connect with. It was admirable to see how brave and determined to take on her destiny of being a Soul Seeker, despite the few annoying flaws she did possess.

Dace is a wonderfully developed and charming character, of his own merit. He has such a warm and likable disposition about him and it's endearing to see just how much he does does really care for Daire. Their romance is sweet and fun to read about and readers will either enjoy them or not. Cade, on the other hand, had this alluring bad boy swagger going on that appealed to me on a more personal level. There's just something about a swoon worthy and irresistably bad boy that gets my blood to pumping.

Those who found themselves enjoying Alyson Noel's previous paranormal romance series The Immortals, are sure to enjoy this novel quite a bit as it explores new territory and brings a whole new world of mythology to the table in the form of animals and spirits. It is chalked full of wonderfully fun mystery, interestingly developed mythology behind the Soul Seekers making them and the Native Americans one of the more interesting aspects of the novel, and beautiful magical enchantment. It is quite an enjoyable and light read, for those who are looking for something easy to read.

Want to pre-order a copy

of Fated by Alsyon Noel?
You can do so by visiting my Amazon Store and adding them to your shopping cart. While you're there, feel free to look around, you might find something else you want. I hope you enjoyed the review for Fated and you decide to give it a chance. If you haven't read it, then I encourage you to pick up a copy for yourself or even for someone else, if you think they'll like it.
ABOUT ALYSON NOEL

Website || Twitter || Blog || Goodreads

Alyson Noël is the #1 New York Times best selling, award-winning, author of FAKING 19, ART GEEKS AND PROM QUEENS, LAGUNA COVE, FLY ME TO THE MOON, KISS & BLOG, SAVING ZOË, CRUEL SUMMER, FOREVER SUMMER (a LAGUNA COVE/CRUEL SUMMER 2-in-1), the IMMORTALS series including: EVERMORE, BLUE MOON, SHADOWLAND, DARK FLAME, NIGHT STAR, and EVERLASTING, the IMMORTALS spin-off, RILEY BLOOM series including RADIANCE, SHIMMER, DREAMLAND, & WHISPER (04.26.12), with short stories appearing in the anthologies FIRST KISS (THEN TELL), KISSES FROM HELL, & DEAR BULLY. She is currently working on a new series for teens, SOUL SEEKERS, including: FATED, ECHO, MYSTIC, & HORIZON. Book 1, FATED, is set to debut in May 2012.

Author information taken from her Goodreads.


{ This audiobook and ARC was provided by Macmillian Audio and ATW ARC Tours, in exchange for an honest review which I have provided. No money exchanged hands, I review books for fun because I love to read. I am not interested in monetary gain. Any piece of this ARC that was or wasn't quoted, is not part of the finished product and should not be perceived as such. Instead, you should compare and check it against a finished copy once it is released.}