Today, I'm lucky enough to be sharing an awesome excerpt from an amazing book that I think you guys will fall in love with, Pack of Lies by Staci Weber and Sara Dailey. It's Book #1 of the Red Ridge Pack and it looks like it's going to be a super phenomenal paranormal brimming with wow factor! So, if I were you guys (and I will be) I would totally check this out.

Did I mention there's a giveaway?! lol. Because, one lucky follower will be receiving an e-copy of Pack of Lies.
Pack of Lies
by Staci Weber & Sara Dailey
Publisher: Boroughs Publishing Group
Expected Publication: April 6, 2012
Pages: 204
Age Demographic: Young Adult
amazon | b&n


The last thing Allison Wright ever expected when she moved to Red Ridge, New Mexico was to come muzzle to muzzle with the wolf of her dreams.

Seventeen-year-old Allison Wright is convinced she's losing her mind. Uncontrollable mood swings, hot flashes, and the urge to punch anyone who gets in her way are suddenly becoming everyday occurrences. Before her erratic behavior gets out of hand, Allison's mother finally comes clean about her dark secret. Mom is a werewolf, and soon Allison and her brother Aiden will suffer the same fate. When Allison reaches her breaking point, the family leaves their life in Texas to move to Red Ridge, New Mexico where they rejoin the pack that Allison's mother left behind almost 20 years ago.

Unfortunately, not everyone in Red Ridge is thrilled about Allison's arrival, especially when she attracts the attention of the very handsome, very taken, soon-to-be alpha, Cade Walker. Little does Allison know, her mere presence is causing a rift in a once unified pack. Not only has Cade been forbidden from being with Allison by his father, the pack's alpha, Cade's girlfriend, Kendall Stuart, will stop at nothing to get Allison out of the picture. Well on her way to becoming the next alpha's mate, Kendall expects to rule the pack by Cade's side even if it means teaming up with a rogue werewolf with an agenda of his own. Determined to get rid of Allison permanently, when Kendall and the rogue join forces, all hell breaks loose and no one in the pack is safe, especially not Cade and his true mate.

* Summary taken from Goodreads.
Book Excerpt

by: Staci Weber & Sara Dailey
Excerpt:



I picked up on a scent that stopped all thought, all movement, leaving me standing completely still, breathing in a smell that I would never forget. A mix of earth, and musk, and honeysuckle, and sandalwood filled my senses leaving me with a need, a need to find this thing that was suddenly making me salivate, suddenly making me ache with desperation.

Without hesitation, my nose hit the ground as I began to track the enticing smell. I didn't look up. I didn't stop moving. I didn't stop to think about what I might find. None of it mattered. I needed to find the source of that wonderful scent.



In the near distance, I heard a rustling in the brush, which ceased the mission that had held me spellbound. I stopped dead in my tracks and looked around, spooked by what I might find, but what I saw was the last thing I expected.



Peering out from behind a tall oak, a wolf was watching me. We just stood still, staring at each other, neither of us moving a muscle. His amazing green eyes were in sharp contrast to his deep, dark fur. He was a much bigger wolf than me, strong and lean, and the glint in his eyes told me that he was no ordinary wolf.
Giveaway!!! Giveaway!!! Giveaway!!!
a Rafflecopter giveaway
Want to purchase

Pack of Lies by Staci Weber & Sara Dailey?
You can do so by visiting my Amazon Store and adding them to your shopping cart. While you're there, feel free to look around, you might find something else you want. I hope you enjoyed the excerpt from Pack of Lies by Staci Weber & Sara Dailey. If you haven't read it yet, then I definitely suggest you pick up a copy for yourself or even for someone else if you think they'll like it. You definitely can't go wrong with such a thrilling and supsenseful paranormal that is sure to get your blood racing and your heart pumping.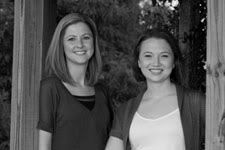 ABOUT STACI & SARA

Website || Blog || Facebook || MySpace

Both Sara Dailey and Staci Weber are avid readers, English teachers, friends, wives, and soccer moms. They have been teaching together for the past eight years, and writing together for four. Pack of Lies is the second young adult novel for this duo.

Author information taken from her saraandstaci.com.


This is a release day all reviews blog hop, so make sure you visit each one of the blogs on the hop for interesting reviews on Pack of Lies by Sara Dailey & Staci Weber.

Follow this awesme tour for more chances to win Pack of Lies and be sure to leave comments along the way. We LOVE IT when you share YOUR THOUGHTS with us!