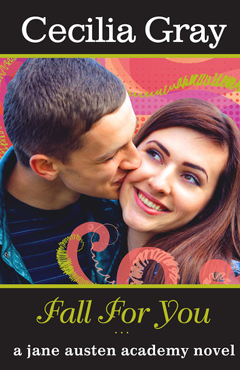 Fall For You
by Cecilia Gray
Publisher: Amazon Digital Services
Pages: 104
Age Demographic: Young Adult
amazon | b&n


To say Lizzie and Dante are polar opposites is the understatement of the century. He's a snooty Exeter transfer with more money than Google. She's a driven study-a-holic barely keeping up with tuition. It's obvious that Dante thinks he's way too good for Lizzie. And Lizzie knows Dante is a snob with a gift for pushing her buttons.

But things are changing fast this year at the Academy. And when Lizzie's quest to stop those changes blows up in her face, taking her oldest friendship with it, she has nowhere else to turn but to Dante, with his killer blue eyes, his crazy-sexy smile, and his secrets... Secrets Lizzie can't seem to leave alone, no matter how hard she tries.

* Summary taken from Goodreads.
❝My Thoughts❞
Fall For You written by Cecilia Gray is a bright sweet and sassy new hip modern re-telling of Jane Austen's Pride & Predjudice. It catapults readers headlong into a sweet charming un-expected romance, introduces them to a world of interesting and likable characters, and a thrill seeking ride full of secrets that are dying to see the light. It's sort of like Jane Austen's version of what Pretty Little Liars would be, if she were to have written it or created the television show itself. What isn't to love about a young modernized version of an old classic story told in such a fun and enjoyable realstic way that is sure to captivate readers as they flip through the pages?

Lizzie is a delightfully bright and fun character, written in such a sassy realstic and honest way that makes it easy for readers to connect with. She has this overwhelming thirst for knowledge and a curious brand of wit. She's incredibly stubborn to a fault (which, can prove to work in her favor occassionally) and a bit immature in other area's. Throughout the book, however, she does experience some wonderfully written character growth that will have readers really connecting with and enjoying her character.

Dante, knows how to push her buttons quite well, and he does so pretty much on a regular basis. Still, though, he's this charming, snobby, rich kid who has a bit of a gaurded personality with secrets of his own that she goes digging for. The two of them have this magnetic charm that pulls them together and sparks with intensity and desire. He's incredibly sweet with her and comes to care a great deal for Lizze as the book progresses. Together, these two are so much fun and enjoyable.

Fall For You is probably one of the best Jane Austen re-tellings I've read so far this year. It was filled with compelling intrigue, mystery, and sweet romantic charm that would indulge any readers fantasies. The secrets and twists, were even more suspenseful than I had personally thought it would be, and proved to keep me on the edge of my seat. I would definitely recommend this book highly to anyone who enjoys re-tellings in general.





Want to win an e-copy of Fall For You by Cecilia Gray?





a Rafflecopter giveaway







Want to purchase a copy of Fall For You by Cecilia Gray?





You can do so by visiting my Amazon Store and adding them to your shopping cart. While you're there, feel free to look around, you might find something else you want. I hope you enjoyed reading my review of Fall For You. I definitely suggest picking up/ordering a copy for yourself or even for someone else, if you think this is the type of book they'll love.




ABOUT CECILIA GRAY





Website || Twitter || Facebook || Goodreads





Cecilia Gray lives in Oakland where she reads, writes and breaks for food. She also pens her biographies in the third person. Like this. As if to trick you into thinking someone else wrote it because she is important. Alas, this is not the case.

Cecilia has been praised for "instilling a warmth and weight into her characters" (Romancing The Book Reviews) and her books have been praised for being "well-written, original, realistic and witty" (Quills & Zebras Reviews).

Several of her titles - including A Delightful Arrangement (The Gentlemen Next Door #1) and An Illicit Engagement (The Gentlemen Next Door #2) - have spent, in her view, a shocking amount of time on bestseller lists for romance, historical romance and regency romance in the US, UK, Italy and Spain.

Her latest release, FALL FOR YOU, the first in a series of young-adult contemporary Jane Austen retellings, received a starred Kirkus review and was praised for being a "unique twist on a classic" and offering "a compelling action of action, drama and love."

She's rather enamored of being contacted by readers and hopes you'll oblige.


Author information taken from her Goodreads.



AVAILABLE FOR PURCHASE





Website || B&N || Apple || Kobo || Google









{ This E-Book was provided by Cecilia Gray, in exchange for an honest book review which I have provided here in this post. No money has exchanged hands. I review books for fun, simply because I love to read and share my thoughts on books with other's. I am not interested in receiving any monetary gain.}