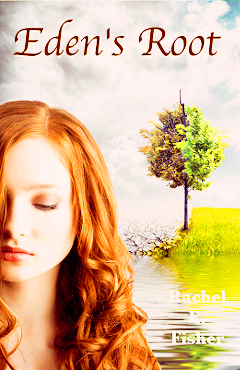 Eden's Root
by Rachel Fisher
Publisher: CreateSpace
Publication Date: April 8, 2012
Pages: 376
Age Demographic: Young Adult
amazon | b&n


The year is 2033 and the world hovers on the edge of explosion as unexplained crop deaths lead to severe global food shortages. In the United States, the Sickness is taking lives slowly, creeping its way into every family. Fi Kelly has already faced the Sickness in her own family, toughening her beyond her years. But a shocking confession from her dying father will push her toughness to its absolute limits.

Saddled with an impossible secret and the mission of saving her little sister, Fi sets out to transform herself into the warrior that she must become to survive the coming collapse. Along the way, she will discover that evil can be accidental and that love can be intentional.

* Summary taken from Goodreads.
❝My Thoughts❞
Eden's Root is an explosion of the unexplainable, which makes it an wonderfully intriguing read right from the get-go. The world Rachel Fisher depicts is one of the cusp of dying out, as in the Sickness slowly taking the lives of many, crops mysteriously dying out, global food shortages, and several other events and incidents that can't exactly be explained. The outlook for survival is gritty at best and the struggle to stay alive and live another day amidst all of the confusion, proves to be even harder to do. Rachel Fisher's main character, Fi Kelly, bears the weight of an impossible deep seeded secret that is powerful enough to cause her to crumble under the pressure, yet she still remains strong in the face of adversary. She will go to any lengths necessary to protect her little sister, no matter the cost to her. She knows in order to survive, she must become the warrior she was meant to be.

The plot of this suspenseful and darkly haunting dystopian thriller, is fast paced and well developed. It's filled with fantastic character's that reader's will enjoy reading about and will find are easy to connect with. The post-apocalyptic world Rachel Fisher has built is dark and dismal and written in such a realstically terrifying way that will stay with reader's long after they've turned the last page. Eden's Root is a provacative young adult dystopian that is sure to spark an interesting book conversation amongst any young adult book club.

Eden's Root possesses the power to stun and wow reader's as they flip the pages. It is un-put-downable. I would recommend this book to anyone who enjoyed Dan Wells Partials for sure. This is a book that you will not want to miss out on. The character's are brave and strong, the evil is terrifyingly realistic that it chills to the bone, and the love for family and survival is breath taking and powerful.

Guest Post: Favorite Quotes from Eden's Root
by Rachel Fisher
In this hopeless place there was only one goal, one vision, one thought, one feeling…survival.

The air filled with song as more birds joined the dawn chorus. Fi was comforted for a moment. There was still beauty in the world.

The march of the millions slowed to a simple listless shuffle, a dirge written with the steps of exhausted feet. A steady stream of people marched across every bridge and through every tunnel that led toward the mainland. The people of New York no longer wanted to be an island.

"Be realistic, Asher," Jeff said. "The sword does not come into the need category."

Sean used to think of her affectionately as "his Fi," but when he watched her now, he realized that she was never "his" and that she was barely "Fi."

"Tell me," Asher asked her, his tone suddenly curious. "Don't you want not to be the Leader anymore?"

Fi smiled sadly. "Well, forgive the darkness of my sense of humor these days, but it seems like our ambition to be better than yeast in a petri dish somehow led us back there anyway."
Rachel Fisherhas just released the second book in her exciting young adult dystopian Eden's Root trilogy and you can find more information on it below.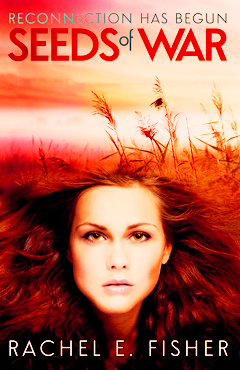 Purchase Seeds of War: Amazon || Smashwords

The mission of Eden must be fulfilled and Eden's best Seekers are needed. Forming a new group they dub the Seeders, Fi, Asher, and Sean are joined by a new addition as they set out to bring hope and support to the Topsiders in the form of radios and heirloom seeds. Their experiences Topside prepare them for the threat from marauding gangs they call Lobos, but it is a different, less obvious sort of threat that takes them by surprise.

As radio broadcasts begin to reconnect Eden and the Topsiders, the Seeders stumble upon mysterious broadcasts from unknown stations. When two of their own new radio stations go silent within days of each other, Fi and her companions realize that something is terribly wrong. Eden finds itself pitted against a growing and unknown force as their very mission lights the flames of war.




Want to win a copy of Eden's Root or a signed copy of Seeds of War by Rachel Fisher?





Thanks to Rachel Fisher, I am offering tour wide a 16 e-copies and 2 signed paperbacks of Eden's Root, as well as two signed copies of Seeds of War to be added to the top of your summer to-be-read book pile. The only rules are that you at least be 13 years or older and fill out the Rafflecopter below.

That's it, easy-peasy. Gotta have that book now, dontcha?!




a Rafflecopter giveaway







Want to purchase a copy of Eden's Root by Rachel Fisher?





You can do so by visiting my Amazon Store and adding them to your shopping cart. While you're there, feel free to look around, you might find something else you want. I hope you enjoyed reading my review of Eden's Root and Rachel Fisher's favorite quotes from the book. I definitely suggest picking up/ordering a copy for yourself or even for someone else, if you think this is the type of book they'll love.





ABOUT RACHEL FISHER





Blog || Twitter || Goodreads



I am a wife and entrepreneur living and working in Florida. I am also a graduate of Mount Holyoke College, where I majored in Biology. It was always my assumption that I would end up making research my life. Though it did not work out that way in the end, my passion for Biology remains intact.

I have always loved biology-based science-fiction and the young adult genre. It is in this vein that I offer my work.
Author information taken from her Goodreads.



{ This E-Book was provided by Rachel Fisher, in exchange for an honest book review which I have provided here in this post. No money has exchanged hands. I review books for fun, simply because I love to read and share my thoughts on books with other's. I am not interested in receiving any monetary gain. Any piece of this book that was, was done so with direct permission from the author herself, Rachel Fisher.}