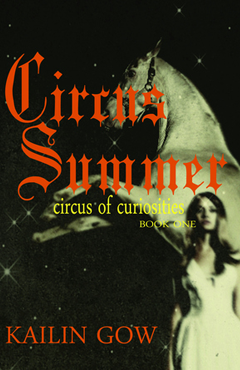 Circus Summer
by Kailin Gow
Publisher: theEDGEbooks.com
Expected Publication: July 2, 2012
Pages: 272
Age Demographic: YA Dystopian Fantasy
amazon | b&n


In post-apocalypse America, every season, the Circus of Curiosities visits the city, bringing with it the most fantastic circus acts that are beautiful, majestic, curious, and death-defying. Every season performers for these acts are chosen from the young men and women in each town, trained, and sent to perform in a live grand performance, performed literally to the death. Two performers from Sea Cliff, a beach town at the outskirts of The Center find themselves chosen to be in this Summer's Circus Act. Both must win at any cost, but could they ignore their feelings for each other?

Leela Sinclair needs to win in order to get to The Center where she can get medical help from the best physicians for her ailing mother, plague with a condition no one have heard of. For Zachary Nile, his reasons for becoming a performer at the Circus is more mysterious.  Only the ringmaster and the Circus of Curiosities owner Dex Hightower (Dr. Dex) knows what the touring Circus is really about amidst the magic and splendor.  Despite the Great War and the poverty surrounding the land except for the towns fortunate enough to be near the Center, Dr. Dex and the Circus performers all know, "The show must go on."

* Summary taken from Goodreads.
❝My Thoughts❞
Kailin Gow's Circus Summer is a chilling world steeped in haunting darkness and curiosities unbidden. She writes with such fervor and passion, that the world reaches out and ensnares reader's in its tangled web of confusion and wonder. The imagery is stunning from the onset and pops to life so vividly, that the rich darkness is tempered wonderfully against the light of the Circus. This book is such a grand majestic fantastic world of death defying acts sure to mystify readers keeping them fully engaged and captivated. The romance and intrigue is breath takingly beautiful and exsquisite, set against the backdrop of the traveling Big Top Circus.

There's a gorgeous air of mystery and suspense that haunts the pages, beckoning reader's to continue the story. The danger-filled action and the brave souls that set out to excite and entertain the crowds (some for their own personal reason's) are enough to make this book such a delectable read. Leela and Zachary are wonderfully rich developed characters that reader's will absolutely fall in love with. They are incredibly likable, have secrets of their own, and are written in such a way that it's easy to connect with them. Their romance blossoms to life and pops and crackles with sizzling chemistry, as they try and push it aside both knowing what the cost would be if they give into the temptation.

If reader's are looking for a dark enchanting rich world full of wild twists and turns, dangerous violence, and beautiful shining romance temepered against scary outcomes then this amazing dark gothic dystopian fantasy is a must read.

Excitement & Buzz for Circus Summer
Guys! This fabulous dark beguiling world of fantasy and curiosity is definitely a MUST READ for anyone who enjoys dystopian fantasy and captivating death-defying acts!!!

Seriously, I'm totally encouraging you all to pick up/order a copy. And if you have a snazzy E-Reader then you can order a digital copy on Amazon and have a chance to be a winner in an awesome giveaway (Kindle Edition only, sorry) for $100 Amazon Gift Card that can be found actually inside the pages of an e-copy of Circus Summer.

Also, you totally have a chance to HELP ME OUT, whenever you purchase a copy of Circus Summer by Kailin Gow. All you have to is email your receipt to info@theEDGEbooks.com with a comment in the body that says who you are and which blog you heard about this awesomely fabulous book from. The host with the most buzz created for this book will be eligible to win a $75 Amazon Gift Card, as well. ;P

Sounds awesome for both you and me, huh?! So, let's get crackin' and create TONS OF BUZZ for this amazing book!!!
Want to purchase a copy of Circus Summer?
You can do so by visiting my Amazon Store and adding them to your shopping cart. While you're there, feel free to look around a bit. You might find something else you'd like to read. I hope you enjoyed my review for Circus Summer. I recommend picking up a copy for yourself or even for someone else, if you think they'll like it.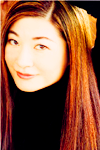 ABOUT KAILIN GOW Blog || Twitter || Facebook || Goodreads Kailin Gow has won multiple awards from the International Book Awards and the Green Book Festival. Selling over half a million books, Kailin Gow has been a bestselling author of over 100 distinct books which includes the Desire Series, PULSE, Wicked Woods, and the Frost Series. She has been professionally published since 2001. She was one of the first authors for young readers to write books for girls with supernatural elements. Her first book series about extraordinary girls guided by an angel in 2001, was a success, selling thousands of print copies in days, and inspiring girl book clubs around the U.S. In 2003, she came out with more series, including The Fairy Rose Chronicles, about fairies in Feyland. Her Bitter Frost Series, PULSE Series, and other book series are being developed into MMO Games by SEE GLOBAL ENTERTAINMENT, one of the foremost entertainment developers in the world, known for developing world-reknown blockbuster films into games. The Frost Series and PULSE MMO Games are set to release late 2013 or early 2014. Author information taken from her .
{ This ARC was provided by Kailin Gow, in exchange for an honest review which I have provided here. No money exchanged hands, as I review books for fun simply because I love to read them and share my thoughts on them with other's. I am not interested in monetary gain. Any piece of this ARC that was or wasn't quoted, is not part of the finished product and should not be perceived as such. Instead, you should compare and check it against a finished copy once it is released.}