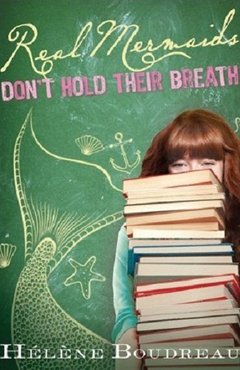 Real Mermaids Don't Hold Their Breath
by Helene Boudreau
Publisher: Soucebooks Jabberwocky
Publication Date: May 1, 2012
Pages: 240
Age Demographic: Young Adult
amazon | b&n


Jade begins her summer confused. Yes, there's that whole "will this be a leg-day or a tail-day" kind of confusion, but Jade's got even bigger problems: It's been three weeks since Mom returned to the ocean with no news of her whereabouts. Plus, it's been twenty-one days since Jade first kissed her mer-boy Luke and now-nothing.

Will Mom find the enchanted tidal pool that will allow her to become human? And why is Luke acting so weird?

The SEAquel to H l ne Boudreau's critically acclaimed Real Mermaids Don't Wear Toe Rings is as energetic and fresh as a salty sea breeze.

* Summary taken from Goodreads.
❝My Thoughts❞
Real Mermaids Don't Hold Their Breath is an extremely fun and quirky summer read that anyone is sure to enjoy. Jade's world is a massive ball of entwined confusion based on whether or not she'll be walking or swimming that day. There's wonderful suspense as she navigates the watery mystery of figuring out how to get her mermaid mother back on dry land, all while experiencing the coming-of-age angst that typical teenagers deal with on a daily basis. Things such as manuevering through the course of trying to figure out boys to dealing with her sparkling new tail and how to use it are implemented into the story in such a wonderful way. Helene Boudreau has penned an incredibly charming and delightful story with stunning imagery that sparks to life vividly and sparkles as beautifully as the deep blue ocean waters on a warm summer day.

Jade is such a loveable character in so many fantastic ways. She's practical and shows some amazing character growth, while also still being a typical teenager at heart that reader's will be able to connect with easily. Even though it may appear that she's going crazy in her head with all of the things that life has thrown at her, she still remains as calm as she can on the outside, which shows her as a more mature and determined young woman. She's just this wonderful ball of quirkiness wrapped in wonderfully written teenage complexities and insecurities that makes her incredibly relatable. What teenage girl wouldn't absolutely fall in love with this character?!

The romance is sweet and charming, the action and suspenseful mystery is entertaining, and the writing is so fun and light that reader's will be captivated from beginning to end. The story that Helene Bourdeau tells in this second installment of the Real Mermaids series sparkles with vibrancy and takes on a life of its own beckoning anyone who enjoys re-living their young and awkwardness with figuring out boys to sit down and read it.

Guest Post: Top Five Summer Splashin' Activities
by Helene Boudreau
Discover Hélène's favorite summer activities – all involving water of course. Make sure to get your swimsuit ready!

I grew up on a small island surrounded by the Atlantic Ocean so splishy-splashy summer activities are some of my favourite things to do. Here are my top five summer splashin' activities!

1. SURFING

I am so bad at surfing and have only ever managed to stand on my board about three times in my life but it is so much fun to get out there and catch a few waves even if you're like me and all you can manage is getting up on your knees. This day, it was only 13 C/ 55 F and the water was even chillier. Thank goodness for wet suits!

2. SAND CASTLE BUILDING

My family and I stay at an ocean side cottage every summer and try to schedule our stay during the annual Sandcastle Building Competition. We came in FIRST last year and plan on defending our title again this summer. Jade the mermaid has even been known to make an appearance!

3. WHALE WATCHING

Creatures of the sea have always amazed me (obviously!) so if you ever get the chance—don't pass up an opportunity to go whale watching. It's so magical!

Last time, we even discovered a sea cave. I wonder what's hiding in there…

4. RACE!

I joke that I once came in 141st in a race with 140 competitors and that's not very far from the truth. I am slow. VERY slow. But I love competing in races at least once a summer. These days I usually do walking half marathons (my best time is 3:01 hrs—a glacial pace) but I've also been known to do short triathlons. Swimming is probably my worst leg of the race but it's a great way to cool down for the biking and running part. This is my 'I'm so glad THAT'S over' face.

5. SNOWBALL FIGHTS

Yup, you read that correctly. When you live within driving distance of a dozen hockey arenas like I do, there's nothing like loading up the back of the truck with Zamboni snow and dumping it in your front yard for an instant pile of chilly summer fun. Snowball fight!
Want to win a copy of Real Mermaids Don't Hold Their Breath by Helene Boudreau?
Thanks to Sourcebooks and Helene Boudreau, I have one copy of Real Mermaids Don't Hold Their Breath to be added to the top of your summer to-be-read book pile. You'll really enjoy this super fun and romantic tale of figuring the weirdness of boys and the trials of being an "aqua-phobic mer-girl". The only rules are that you at least be 13 years or older, from US or Canada only, fill out the Rafflecopter below, and then reply to the email notifying the winner if you are chosen within 48 hours.

That's it, easy-peasy. Gotta have that book now, dontcha?!
a Rafflecopter giveaway
Want to purchase a copy of Real Mermaids Hold Their Breath by Helene Boudreau?
You can do so by visiting my Amazon Store and adding them to your shopping cart. While you're there, feel free to look around, you might find something else you want. I hope you enjoyed reading my review of Real Mermaids Hold Their Breath. I definitely suggest you pick up a copy for yourself or even for someone else, if you think they'll like it.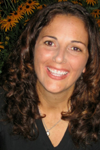 HELENE BOUDREAU

Website || Twitter || Facebook || Goodreads

Hélène Boudreau writes fiction and non-fiction for children and young adults. She is also a compulsive walker, a chicklet wrangler and a lover of cheese and cheap chocolate.

Her tween novel REAL MERMAIDS DON'T WEAR TOE RINGS is a 2011 Crystal Kite Member Choice Award Finalist.


Author information taken from her Goodreads.



{ This book was provided by Soucebooks Fire, in exchange for an honest review which I have provided. No money exchanged hands, as I review books for fun simply because I love to read and share my thoughts on them with other's. I am not interested in receiving any monetary gain at all for my thoughts.}