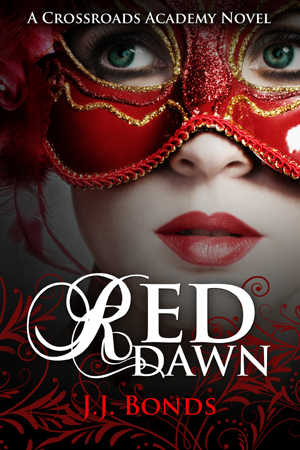 RED DAWN: CROSSROADS ACADEMY BOOK #2
Author: J.J. BONDS
Expected Publication: August 2012
Website
|
Blog
|
Twitter
|
Facebook
|
Goodreads
Katia's done running. She's fought fiercely to protect her identity, her secrets, and those she loves most. And while it hasn't been easy, she's finally making peace with the past. Katia's even looking forward to the start of a new school year at Crossroads Academy.

Too bad things at Crossroads are going to be a little different this fall. There are new rules, new students, and new relationships. Katia quickly discovers that navigating the halls of Crossroads is as complicated as ever.

When a friend's life is at stake, Katia will be forced to choose between the safety of Crossroads and an enemy more dangerous than any she's ever faced. Will Katia have the courage to risk it all -including her life- for a friend?

*Summary taken from Goodreads.

The very cool and awesome Rachel @ Parajunkee has teamed up with the amazing JJ Bonds to bring you guys an intriguing paranormal giveaway of shiny awesome!!!

You interested?! Pssht!!

You know you are! So, let's get crackin'...the giveaway is for one digital copy of Crossroads or one digital copy of Red Dawn by JJ Bonds. It's your choice, which means it's totally up to you, which one you want if you're the lucky duck winner. This giveaway is another fabulously wonderful international giveaway, too. So, that means everyone gets to be a part of it. All you have to do is fill out the Rafflecopter below, then sit back and wait to see if you're the winner.

Easy enough, huh?!
a Rafflecopter giveaway
ABOUT: JJ BONDS
J.J. Bonds is an independent author who writes young adult speculative fiction. Her debut novel, Crossroads, was released in fall of 2011. It is the first in the Crossroads Academy series. J.J. lives in Carlisle, Pennsylvania where her love of all things paranormal keeps life interesting. She lives with her husband, daughter, and two rambunctious dogs.
This Cover Reveal was brought to you by the ever so awesome Parajunkee!!!