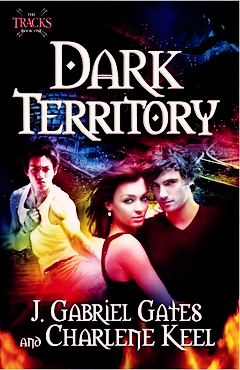 Dark Territory
by J. Gabriel Gates & Charlene Keel
Publisher: HCI Teens
Publication Date: July 1, 2012
Pages: 504
Age Demographic: Young Adult
amazon | b&n


Star-crossed love, supernatural evil, and martial arts meet at the abandoned tracks in the deceptively quaint village of Middleburg . . .

When Ignacio Torrez moved from the rough streets of Los Angeles to a small town dead smack in the middle of nowhere, he never expected to find himself in the midst of a gang war. But, he soon learns, these are no ordinary gangs. The wealthy, preppie Toppers on one side of the tracks and the working-class Flatliners on the other adhere to a strict code of honor and use their deadly martial arts skills, taught to them by the wise Master Chin, to battle one another for pride, territory, and survival.

When Raphael, leader of the Flatliners, falls forAimee, a Topper girl, the rival gangs prepare for a bloody, all-out war. The only hope for peace between them lies within the dark territory of the abandoned train tunnels where the tracks cross. Under the direction of the mysterious and frightening Magician, the awesome power within the crossing sends the rivals on a terrifying mystical quest to fight the malevolent force that threatens the existence of Middleburg-and quite possibly, the world.

* Summary taken from Goodreads.
❝My Thoughts❞
Dark Territory is a seductive beguiling wonder reminicent of West Side Story. It has a sweet seductive way of pulling readers into the story and landing them right smack in the middle of all the action and romance. It's bright, cleverly original, and packs a powerful punch that will leave readers stunned and in awe, of such amazing awesome. J. Gabriel Gates is one hard man to disagree with, when it comes to this wonderfully delicious novel. It is virtually impossible not to fall in love with this sizzling story and all of the exciting character's.

With vividly entrancing imagery, stunning originality, and a host of pretty amazing and captivating characters, Dark Territory will leave readers breathless in anticipation of its sequel, Ghost Crown. Who doesn't love forbidden romance, rival gangs from the wrong side of the tracks, and intriguing mystery so supsenseful that readers will be left dangling from the edge of their seats? It has it's own flavor of paranormal Kung-Fu power that's incredibly gripping, mind-blowing intense drama skulking in the background, and an epic blend of sci-fi fantasy. Any paranormal, sci-fi, fantasy fan will be screaming and begging for more.

All of the characters seem to have their own place in this story and none are too little or shorted any on backstory, which makes Dark Territory even more engaging and intriguing. This amazing dynamic author duo, have taken care to write them all in the most realistic and enjoyable way, making them extremely likable and easy to connect with. They're all fresh and poppin' with their own personalities, quirks, and interesting fascets. It's refreshing to see such detail paid to such a large cast of characters. None of them seemed to get lost in the forray and they each pretty much held their own, in their own ways adding to the story in different and fun ways.

Rapheal and Aimee were inredibly mind-popping swoon worthy and full of forbidden passion and romance that sizzles off the pages. Starcrossed lovers, who weren't meant to be, yet they shine so brightly it's hard to want to see the flame exstinguished. Readers will want it to burn as hot and brightly as it does. They're just full of so much wonder, beauty, and excitement that it's hard not to want to see them together despite all of the obstacles standing in their way. It doesn't take over the overall story that's being told, which is refreshing in a sense. It knows its place and the dynamic author duo has done a superb job of blending into the story, by adding emotionally intrigued and beautiful layers to the story itself.

Raphael, on his own, is hot, handsome, intelligent, caring, and incredibly badass. Aimee, is sweet and likable too, although there's not much in the way of backstory developed for her. Readers are just told that she's changed for the better and it's left at that. It would have been nice to have gotten a little more insight into her, to figure out who she was before she changed, instead of being told that she's changed and it's for the better. Her brother and her ex-best friend, on the other hand, are two characters that are a lot of fun to hate.

There were some other characters, that I particularly grew fond of such as, Nas and Dayton who were a lot of fun to get to know. Their brand of humor only added more depth and lightness to the story, at hand. Nas crush on Dayton was a lot of fun to read about. Kate is a really intruging character and it's going to be interesting to see what she brings to the rest of the story, with Ghost Crown. And Mr. Chin is just made of pure awesome! They bravery and loyalty of these friends and the bond they share, is just pure gold. It's wonderful to read about.

Dark Territory is a fantastic ball of epic awesome that any paranornal sci-fi fanatic will not want to miss out on. There's action, drama, suspsense, epic starcrossed romance, and friendship that readers will not want to miss out. It's all written with hip, flare, and edgey originality that will defintiely leave them screaming for more.

Want to win a copy of Dark Territory and Ghost Crown?
Thanks to HCI Books and J. Gabriel Gates, I have one copy of Dark Territory and Ghost Crown to be added to the top of your awesome mystical paranormal to-be-read book pile. You'll really enjoy this amazing magical tale of awesome. The only rules are that you at least be 13 years or older, from US or Canada only, fill out the Rafflecopter below, and then reply to the email notifying the winner if you are chosen within 48 hours.

That's it, easy-peasy. Gotta have that book now, dontcha?!
a Rafflecopter giveaway
Want to purchase a copy of Dark Territory or Ghost Crown?
You can do so by visiting my Amazon Store and adding them to your shopping cart. While you're there, feel free to look around, you might find something else that entices your appetite. I hope you enjoyed reading my review of Dark Territory. If you haven't read it yet, feel free to pick up a copy for yourself or even one for someone else, if you think they'll like it.


Website || Twitter || Facebook || Goodreads

Author J. Gabriel Gates is a native of Marshall, Michigan. The son of an English teacher, his passion for the written word began at a young age. During college, another passion – for performing – led him to get his B.A. degree in theater from Florida State University.

During his years in Los Angeles, he appeared in a dozen national TV commercials and penned several screenplays while laying the groundwork for his career as a novelist.

His first two novels are "Dark Territory: The Tracks, book 1," and "The Sleepwalkers," both published by HCI Books.

He currently lives in Southwest Michigan.


Author information taken from her Goodreads.



{ This book was provided by HCI Books and J. Gabriel Gates, in exchange for an honest review which I have provided in this post. No money has exchanged hands, as I review books for fun simply because I love to read and share my thoughts on them with other's. I am not interested in receiving any monetary gain at all for my thoughts.}