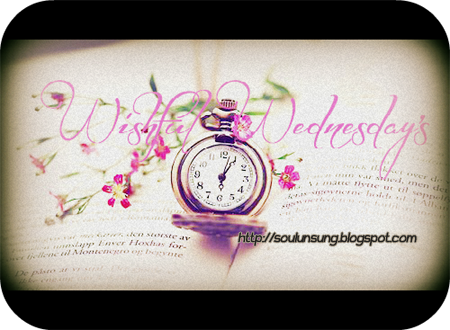 Wishful Wednesday was inspired by Waiting on Wednesday and Desperately Wanting Wednesday by Breaking The Spine and Parajunkee.
Wishful Wesnesday is my own little version of "Waiting On Wednesday". Every two weeks, I'll pick a topic or genre and list a few upcoming books (or book) that I'm anticipating the release for. This week, it's going to be a special "book spot" for What Kills Me by the awesome Wynne Channing, who was nice enough to fill in the blanks for a Speed Blast mini-interview. Stay tuned within the next week, there will be a longer more in-depth interview that she graciously participated in scheduled specifically for this blog where she talks about just how hot Andrew Skarsgard really is up close and personal, her likes and dislikes while writing What Kills Me, the transition from journalism to writing ya fiction, and so much more fun stuff!

Feel free to join in, grab the banner, and/or share your WoW or Desperately Wanting Wednesday lists with me.



Speed Blast Featuring

Wynne Channing
Eric Northman or Bill Compton? Evil Eric Northman all the way.
Vampires or Werewolves? Vamps. Less shedding.
The Hunger Games or Twilight? The Games.
Red or Black? Red!
Socks or No Socks? I hate socks. My toes need freedom!
Pepsi or Coke? Neither. I like my root beer.
Fairytales or Urban Legends? Fairytales. The original ones by The Brothers Grimm were so scary.
The X-Files or Fringe? X-Files.
Day or Night? Night.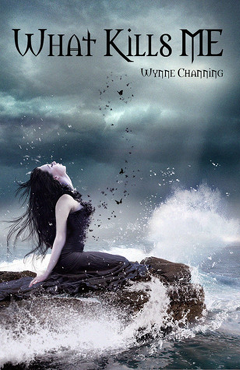 What Kills Me
by Wynne Channing
Publisher: Jet & Jack Press
Expected Publication: June 6, 2012
Pages: 219
Age Demographic: Young Adult
amazon | b&n


An ancient prophecy warns of a girl destined to cause the extinction of the vampire race.

So when 17-year-old Axelia falls into a sacred well filled with blood and emerges a vampire, the immortal empire believes she is this legendary destroyer. Hunted by soldiers and mercenaries, Axelia and her reluctant ally, the vampire bladesmith Lucas, must battle to survive.

How will she convince the empire that she is just an innocent teenager-turned bloodsucker and not a creature of destruction? And if she cannot, can a vampire who is afraid of bugs summon the courage to fight a nation of immortals?

* Summary taken from Goodreads.
Want to purchase

What Kills Me by Wynne Channing?
You can do so by visiting my Amazon Store and adding them to your shopping cart. While you're there, feel free to look around, you might find something else you'll like. I hope you enjoyed the "book spot" and Speed Blast from What Kills Me by Wynne Channing. If you haven't read this amazing book yet, then I definitely suggest you pick up/order a copy for yourself or even for someone else if you think they'll like it.
ABOUT WYNNE CHANNING


Website || Twitter || Facebook || Goodreads


Wynne Channing is an award-winning national newspaper reporter and young adult novelist. She started writing horror/fantasy tales as a girl. She still has the first novel that she wrote when she was 10. It's (unintentionally) hilarious.

Wynne loves telling stories and as a journalist, she has interviewed everyone from Daniel Radcliffe and Hugh Jackman to the president of the Maldives and Duchess Sarah Ferguson. The closest she has come to interviewing a vampire is sitting down with True Blood's Alexander Skarsgard (he didn't bite).

She briefly considered calling her debut novel "Well" so then everyone would say: "Well written by Wynne Channing."


Author information taken from her .
{ This copy of What Kills Me by Wynne Channing was provided by Wynne Channing, in exchange for an honest review which will be forthcoming on the blog. No money exchanged hands. I review books for fun simply because I love to read. I am not interested in monetary gain.}