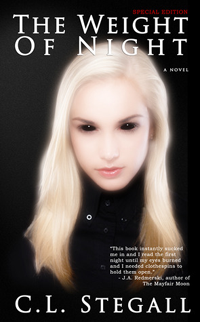 The Weight of Night by C.L. Stegall
Published: June 5, 2012
Publisher: Dark Red Press
Age Demographic: YA Paranormal Mythos
Pages: 301

When her mother is taken from her in a terrible accident, 18-year-old Alexis finds herself facing some previously unknown truths. Her best friend, Keats, is her only confidante when she is faced with an apparent stalker who claims that Alexis' entire life is built around a lie. Keats keeps the leap-before-you-look Alexis grounded as they are suddenly thrown into a whirlwind world of danger and secret agendas and the viciously deceitful lives of demigods and ancient Greek deities.

When a conniving, self-righteous god decides that Alexis is his best hope for retrieving a powerful artifact, she finds herself on the self-discovery journey of a lifetime - tracking a killer and a kidnapper - and facing twisted and dangerous foes along the way.

With lives in the balance, Alexis will have to come to grips with who she truly is and just what she might be capable of. Growing more and more dangerous herself, she will have to try and survive long enough to save the one person in the world for whom she cares most.

The Special Edition of The Weight Of Night also includes:

Trinkets And Arrows - Life is not simple for Lily Abrams, a seventeen year old thief living in Encino. When her reputation derails her living arrangements, she knows what she has to do. She takes a job to steal a bag of rare coins from a suburban home, unaware of the danger lying within. Secrets as old as Ancient Greece are kept hidden in the middle of Los Angeles. After Lily crosses the wrong man, stealing his prized belongings, she makes a deadly enemy and pays the price. Rescued from death by none other than the actual Greek god, Apollo, Lily is manipulated into making an unbreakable deal with a god. He will teach her everything she needs to know about who she is, and what she is capable of; but, first, she must face a vengeful enemy.

Soldier Boy - In St. Anne's Care Facility, in upstate New York, a son of the Greek God of War tells the story of his one true love to a girl who cannot even remember his name.

Aaron Richardson has just been released from the army when, at the train station in New York, he literally runs into Rose, a 15 year old girl with a sharp tongue and an even sharper mind. It is immediately evident that he has met his match. In learning who they are to each other, Aaron and Rose face emotional turmoil and terrible tragedy. In the end, the tale is told and the truth will be revealed. Can love truly conquer all?
Guest Post: Mythology Inspired

The Weight of Night

by: C.L. Stegall
The origins of the novel, The Weight Of Night, are as simple and complex as the very mythology upon which it is based and by which it is inspired.

In 2003, I was a member of an online writing community called Arcane Artistry. Once in a while I would enter one of their writing contests, and such a contest led to my writing the then-named short, A Darkness In Avenhale. It was a pre-titled contest, meaning that the site chose the title and the entrants wrote to that title. I swear I wasn't planning on writing about Greek mythology when I sat down to begin my entry.

What came from that initial story was a picture, a snapshot, of a young girl faced with traumatic events in her life, learning that she is one of a number of children born of the ancient Greek gods thought to be only myth. Since the story had just flowed from me without much thought or planning, I was astounded to see it take top prize in the contest. The overwhelming response was that folks wanted more.

Thus began years of research into the characters, heroes, gods and monsters of Greek and Roman mythology. Even if I think about it now, I cannot tell you why Alexis was the daughter of Nyx and not some other, better-known god. Believe me, there are a lot from which to choose.

The first thing I discovered in researching Nyx was that there was not a lot ever written about her. She is mentioned only sparsely in ancient writings of Hesiod and Homer. In Hesiod's Theogony, she is noted as mother to several distinct gods, but really only resides in the shadow world and hardly ever seen. Homer does describe a specific interaction Nyx has with the Olympic gods (this is spoken of in The Weight Of Night as a certain motivation factor), and is described as both terribly powerful and wondrously beautiful.

With so little information, I was left to my own (writer's) devices when developing the character of Nyx.

On the other hand, there is much information on so many of the other gods of the Theogony. I spent some time working out what would be the motivations of gods, rather than the petty goals of mortals – so to speak. I found that to be a bit of a challenge, but an exciting one nonetheless.

Some of the ancient Greek gods stood out as perfect characters to drive a story – Apollo, for instance, is a grandiose, arrogant god with a talent for seeing things in the future, and therefore he provides wonderful fodder for tales. Still, I did not want the gods, themselves, to overshadow the main human and demigod characters who are the foundation of the story. So, further tweaking was required.

Some of the gods that you will see pop up in the tales of the Progeny range from the typical (?!) Olympics gods such as Apollo and Zeus and Hephaestus, to peripherals such as the gods of death and retribution, as well as more ancient deities like Nyx. I will also throw in a few that will hopefully come as a surprise!

I absolutely loved doing all the research for the book. I have always had a fascination with the Greek and Roman mythologies, so intertwined they are. I love that, as a writer, I get to educate as well as entertain – in the proper portions, of course. There was so much that I learned that I wanted to share with the reader; however, the one thing that will drive me away from a story is information overload. So, as I went along, gathering more and more notes and research, writing about Alexis and Keats and Lily and Apollo, et al, I knew there could be so much more than one novel, here.

With so much fun and interesting information, I came to the realization that not only did I have enough for a trilogy, I had stories that could stand alongside those books. Short stories, novelettes, novellas, they were all forming in my head. Now, to find the time to bring all these gods and goddesses and demigods to life for all to see!

I hope you enjoy The Weight Of Night and, if so, I promise there will be many more adventures in the world of The Progeny.

Thanks for reading!

a Rafflecopter giveaway
ABOUT C.L. STEGALL
Website || Twitter || Facebook || Goodreads
C.L. Stegall is a Dallas-based author. He was born in North Carolina but will always call southern California home. He spent ten years in the U.S. Army, as both an engineer and a linguist for Military Intelligence. He has written innumerable short stories and novellas. His latest novel is a Special Edition of "The Weight Of Night", which contains two additional tales of the Progeny, "Trinkets And Arrows" and "Soldier Boy."

He is also the Editor of - and author in - 4POCALYPSE: Four Tales Of A Dark Future.
Giveaway banner designed by the ever amazing Rachel @ Parajunkee.Com