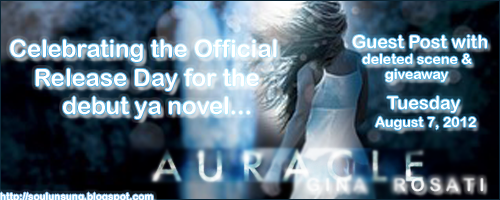 Auracle
Author: Gina Rosati
Published: August 7, 2012
Website || Twitter | Facebook | Class of 2K12
16 year old Anna Rogan has a secret she's only shared with her best friend, Rei; she can astrally project out of her body, allowing her spirit to explore the world and the far reaches of the universe.

When there's a fatal accident and her classmate Taylor takes over Anna's body, what was an exhilarating distraction from her repressive home life threatens to become a permanent state. Faced with a future trapped in another dimension, Anna turns to Rei for help. Now the two of them must find a way to get Anna back into her body and stop Taylor from accusing an innocent friend of murder. Together Anna and Rei form a plan but it doesn't take into account the deeper feelings that are beginning to grow between them.

*Summary taken from Goodreads.
ABOUT: Gina Rosati
I have a husband, an 18 year old son and a 13 year old daughter who are very patient and understanding...it's not easy to live with a writer. I used to be a secretary. And a cake decorator. And a PTA mom. And I still volunteer at the middle school library one day a week because I love it there. On August 7, 2012, I can officially add 'author' to my resume...my debut YA paranormal romance, AURACLE, will debut from Roaring Brook Press/Macmillan.

I am forever grateful to my literary agent, Andrea Somberg (Harvey Klinger, Inc.) and my editor, Katherine Jacobs (Roaring Brook Press/Macmillan). AURACLE is a far better story because of their help and guidance! I'm not a fan of politics or organized religion, but I love dogs. And cats. And guinea pigs and bunnies and other fuzzy stuff. I used to drink too much sugary soda (32 oz/day.) When I gave it up, I lost 20 pounds and kept it off.

Now I drink too much diet soda. I should drink water. From a reusable container. Blue jeans, T-shirts, hoodies, fuzzy socks and sneakers...I'd rather be comfy than classy. As part of my research for AURACLE, I got a tattoo. Now I have 3 and counting...

I cannot astrally project. I tried. But I am excellent at procrastinating! I collect glassy things. And fairy things. And rocks. I believe!
GIVEAWAY & OFFICIAL BOOK BIRTHDAY CELEBRATION POST COMING SOON...