You guys! I am incredibly excited and ecstatic to be a part of the WAKE BLOG TOUR!

Today, I have a special DELETED SCENE FROM WAKE to share with you!




Kain
"You're blocking the light," Penn said without looking up. Gemma stood in front of her, casting a shadow across her back.
"I need to talk to you." Gemma crossed her arms and stared down at them.
"Hey, Gemma." Lexi turned to look back at her and used her hand as a visor from the sun. "You look great today."
"Thanks, Lexi," Gemma said offhandedly but kept her focus on Penn. "Did you hear me?"
"Yeah, you need to talk." Penn still hadn't moved on the towel. "So go ahead. Talk."
Gemma glanced around. People were doing activities, like tanning or reading or building sand castles, so it wasn't like they were just sitting and staring at the sirens. Yet they were too close, too crowded together, and they kept looking over, unable to ignore the sirens for any amount of time.
"Not here," Gemma said, lowering her voice.
"Then I guess we'll talk later," Penn told her.
"No. I need to talk now."
"Well, I'm busy now." Penn finally lifted her head to glare up at her. "So it will have to wait, won't it?"
"No." Gemma shook her head. "I'm not going anywhere unless you go with me."
Thea sighed loudly. "Penn, just go talk to her. We won't get any rest until you do."
"If I'm going, we're all going." Penn cast a look to Thea, who scoffed and rolled her eyes."
Here's the scoop on THE WATERSONG SERIES!
This series is so much fun to dive head first into. Amanda Hocking brilliantly pens an intriguing mystery full of suspsenseful adventure, brilliant shining mythology calling enamored readers out to sea, love, danger, and beautiful imagery that any reader is sure to fall for.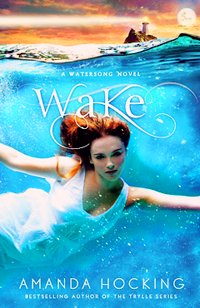 In WAKE, Gemma seems to have it all—she's carefree, pretty, and falling in love with Alex, the boy next door. He's always been just a friend, but this summer they've taken their relationship to the next level, and now there's no going back. Then one night, Gemma's ordinary life changes forever. She's taking a late night swim under the stars when she finds Penn, Lexi and Thea partying on the cove. They invite her to join them, and the next morning she wakes up on the beach feeling groggy and sick, knowing something is different.

Suddenly Gemma is stronger, faster, and more beautiful than ever. But her new powers come with a terrifying price. And as she uncovers the truth, she's is forced to choose between staying with those she loves—or entering a new world brimming with dark hungers and unimaginable secrets.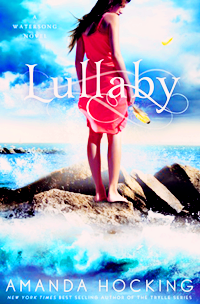 LULLABY, the second book in the Watersong series follows Harper and Gemma as they go even deeper into a dark new world. A full description for this book will be coming soon, so be on the look out for it in November to hit bookshelves near you!

In the meantime, have some fun listening to theLullaby Playlist.
❝My Review❞
Wake is a breath taking vividly imaginative magical tale of mystery and intrigue. The sweet serene world that Amanda Hocking creates, is delightful to explore filled with memorable characters who possess interesting quirks, sinister sirens who won't take no for an answer, and danger filled excitement. She has penned a wonderful blend of underwater mythology with just the right tinge of paranormal, weaving a beautiful balance of realistic contemporary issues between the two main characters. The plot is chalk full of intense drama and interesting situations that Gemma and Harper both find themselves in. There's wonderful romance and humor sprinkled throughout the novel that make it even more enjoyable and engaging.

Amanda Hocking's wonderfully crafted world building skills are strong, stunning, and will keep readers entranced. She's mixed a beautiful captivating, suspenseful feel to her story by giving an imaginative enthralling nod to Greek mythology, introducing her own original spin giving it a modern edge. It's a world that's rich and dark, full of compelling mystery, and unimaginable secrets. The mysterious girls of summer are fearless, deceptive, and dangerous. Their beauty is the kind most envy, yet they harbor a darker seductive secret of their own that affects the lives of a few of the locals gone missing. They are predators of their own disguise, sirens, that have chosen Gemma to be part of their group whether she wants to or not.

I enjoyed the atmosphere that Amanda Hocking crafted so beautifully, her sparkling descriptions reflecting Gemma's love of water. It made it easier to sink into the world and really enjoy it. Gemma is beautiful and carefree, so full of vibrant life, and tenderly falling in love with the boy next door. So full of sweet earnest vulnerability, she's such a delightful character to get to know. It was a joy to witness the honest relationship that she shares with her sister, Harper.

Harper is more practical than her sister, wonderfully strong and independent caring a great deal about her family. She tackles the role of caretaker, putting them before herself and her own needs, and being incredibly unafraid to stand up for them and unyieldingly loyal. She's made sacrifices for their benefit more than her own and even though she has her moments, she really does have her family's best interests at heart. She wants the best for them and she will stop at nothing to keep them all together and from falling apart. Though it's slow building, it is sweet to watch her start living her life, letting herself have a summer romance with a handsome swoon worthy guy on the docks that usually annoys her, and trying to save her sister's life.

Wake is full of breathless heart pounding action, mystery, and intrigue. It's intensely gripping and will keep readers on the edge of their cliffs, ending with a cliff-hanger that will have them screaming in anticipation for more. It's an epic adventure of love and survival, family loyalty, intermingled with a sprinkling of vibrant Greek mythology, and the ultimate choice of sacrifice. I would recommend this to anyone who is a fan of mythical under-water-adventures, dark compelling fantasy, and wonderful author's like Elizabeth Fama, Anna Banks, and Anne Greenwood Brown.

GIVEAWAY! GIVEAWAY! GIVEAWAY!
The details for the giveaway include:

Prize: A bright shiny ARC of Wake.
Rules: You must be at least 13 years or older, a US resident only, fill out the Rafflecopter below, and respond to the email contacting the winner within a 48 hour time frame. Good luck!!!
a Rafflecopter giveaway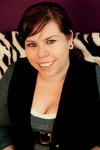 ABOUT AMANDA HOCKIN

Blog || Twitter || Facebook || Goodreads

I live in Minnesota with my dog, two cats, two fish, and my roommate/assistant/platonic lifemate, Eric. I actually live in Austin, a.k.a. SPAMTown, USA. They invented SPAM here, and the town is quite proud of it. (Here's a vlog with a fun tour of the SPAM museum: here.)

I do many things, most of them lame and boring, but the thing I get paid to do is write young adult books.

All three books in my Trylle Trilogy - Switched,Torn, and Ascend - were originally self-published, but were re-released with St. Martin's and Pan Macmillan internationally with new bonus content in early 2012. The trilogy has also made the USA Today Bestseller list, the New York Times Bestseller list, and was recently optioned for a film by Media Rights Capital with District 9 screenwriter Terri Tatchell adapting the books for screen.

St. Martin's and Pan Macmillan recently acquired my new young adult four-book series Watersong, with the first book Wake coming out in August 2012. My zombie series, The Hollows, is being adapted into a graphic novel by Dynamite.

I also enjoy Red Bull, Jim Henson, Batman, Jane Austen, Star Wars legos, and I absolutely hate long walks on the beach out of my intense fear/hatred of wet sand.
Author information taken from her Amanda Hocking
.
Well, what are you waiting for?! Check this series out NOW!!!
Blog Tour Brought To You In Part By: