You guys! I am so
excited
to be a part of the super awesome and truly amazing
AT WHAT COST BLOG TOUR!
When I got the chance to read this wonderful ya contemporary, I was totally beyond thrilled and jumped at the chance to get to see what was all about.


Okay, so confession time, maybe ... a little bit ... I'm not exactly thrilled when it comes to ya books that involve young girls pregnant, but I did really end up enjoying this book a great deal. The emotion that
J. Anderson
manage to evoke through the story told, was simply amazing. I was wholely impressed with how she tackled such a sensitive subject matter and felt myself sympathizing with Maggie almost the entire time she was trying to decide what she was going to do.


I'd like to say that I'm all about the freedom to make a choice and to stand by the decision that you've made, but even sometimes the situation may seem a bit less black and white than most. Fortunately,
J.Anderson
has a wonderful understanding of that and has written Maggie in such a relatable way, with an intelligent sense of self.
"What to expect when you're not expecting?"
Here's the scoop on AT WHAT COST by J. Anderson!
There was so much to enjoy about this book as
J. Anderson
brilliantly captivates readers with such a real and relatable story of dealing with the consequences of actions, dealing with parents who act as if they're almost non-existent, and then the pressure of her boyfriend (Justin's) easy-fix solution to their problem.
At What Cost
is definitely a novel that will take readers on an epic journey of drama and turmoil, leaving them sympathizing with Maggie and what she has ahead of her.
J. Anderson
portrays Maggie in such a way that she's a wonderfully realistic, strong, intelligent, and likable character that they'll be likely to forget any time soon. Over the course of the novel, she begins this journey of searching her heart and her mind deeply, to get to the core of who she really is. She's such an honest and realistically developed character, who is just as compelling as the story she has to tell.


Overall, this book was filled with some truly fantastic character development, wonderfully intriguing characters who will manage to tug at heart strings (Evan, in particular), and a realistically honest and raw look at what options and choices are out there for most girls facing the situation that Maggie finds herself in. It is such an incredibly touching story that I personally don't think anyone should miss out on and I would definitely suggest giving it a read.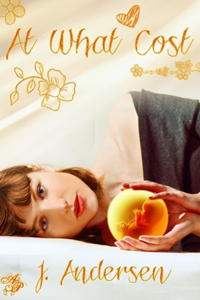 In
AT WHAT COST
,
during her junior year, sixteen-year-old Maggie Reynolds expected to shop for prom dresses not maternity clothes. Now, instead of studying for the SATs, she's reading, What to Expect When You're Expecting. Maggie's 'Mother Dearest' lives in fear that Maggie will somehow taint the family name, so Maggie can't turn to her for help. Meanwhile, her father is oblivious to anything but his 9-9 job. And her boyfriend, Justin? She's pretty sure he'll stay by her side.


While Maggie wrestles with her options, Justin offers a solution: abortion. It would solve all her problems quickly, easily, and effectively. And her parents would never know, which means they won't throw her out and cut her off like they'd always threatened if she got herself knocked up. Now Maggie must decide which choice she can live with: abortion or teenage motherhood. Either way, it'll be a tough road to travel.
The giveaway details consist of 3 e-book copies of
At What Cost
by
Jessie Andersen
(open Internationally).
a Rafflecopter giveaway
Jessie Andersen lives in a small town in Western New York with her husband and three kids. A former English teacher, she now spends her time writing while the kids are at school and the baby is sleeping. She volunteers at the local library and sings in the church band. You can find information about her books at jandersenbooks.com, and you can follow her blogs at Therabidwriter.blogspot (Personal blog) and Readbetweenthelinesbookclub.blogspot.com (Book blog).
Visit Other Tour Stops Here