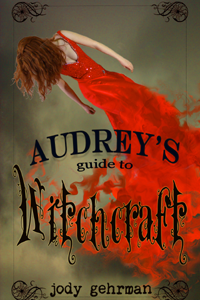 Audrey's Guide to Witchcraft by Jody Gehrman
Published
: July 9, 2012
Publisher
: Magic Genie Books
Age Demographic
: YA Paranormal
Pages
: 294
Falling in love, baking a magical cake, fighting an evil necromancer—it's all in a day's work for Audrey Oliver, seventeen-year-old witch-in-training. When her mother goes missing and her mysterious "cousin" shows up out of the blue, Audrey knows something's gone horribly, dangerously wrong. Now it's up to her to get her own magical powers up to speed before everyone she loves is destroyed by the sorcerer intricately connected to her mother's secret past.
Thoughts on Audrey's Guide to Witchcraft
By Jody Gehrman
Jody Gehrman has penned another young adult novel that is full of quirky suspense and humorous drama. She delivers another wonderfully unique and exciting read, sure to wow fans of the young adult paranormal genre. It is a fun captivating book that is full of intriguing drama and unexpected twists and turns that reader's will find interesting. The world she creates and the rich tone she sets through her brilliant imagery and prose, is a world full of dark magical forces and deeply hidden secrets that manifest themselves in sometimes terrifying ways. Her character's come beautifully developed in all shapes and fascets that lend depth and layer's to the interesting spin she puts on witchcraft and the Alchemix that she introduces.

Audrey is a fantastically brilliant heroine, who is likable in many ways. She's incredibbly protective when it comes to the people she cares about, especially her younger sister Meg. She has some wonderful realistic flaws and worries that any young girl would be able to connect with. Audrey isn't just any old witch, she comes full force with heightened super powers. She's an Alchemix and it makes things even more mysterious and intringuing. She has a lot thrown at her that she has to deal with and she does it in a pretty realistic way. Figuring out her powers, delaing with the strange dreams and hallucinations she's been having, and trying to figure out the secrets of her mother's past before it destroys everyone she loves is bound to take its toll on her at some point. One of her best qualities, though, is being able to handle diffcult situations when they arise.

Audrey's Guide to Witchcraft is essentinally a delightful entertaining read and a story rich with unexplainable things that go bump in the night. Gehrman has skillfully created a fun mystical overtone to this story, that is sure to take reader's on a magical journey they won't soon forget. The romance that develops between Audrey and Julian is white hot electric in every sense of the definition. Their attraction is palpable and sparks with intense energy sure to woo any reader. That and the action in the final page of the book, is definitely praise worthy. This is not a book to be taken lightly or dismissed as just merely amusing, it is actually a wonderfully written book with a story that has some incredible potential.

Discovering Witchcraft:
A Guide to Writing Audrey's Guide to Witchcraft
By Jody Gehrman
Audrey's Guide to Witchcraft
took me seven years, off and on, to complete. I know that sounds horribly inefficient, but some books simply refuse to be rushed. Here are few quirky facts about my very long process:
1. When I started it seven years ago it had a completely different protagonist and wasn't even written for a Young Adult audience. I had this epiphany one day out of the blue: I realized it could work really well with a teen heroine. Audrey, a seventeen-year-old girl with magical powers, replaced Sarah, a depressed divorcee in her late twenties, and
Audrey's Guide to Witchcraft
was born.
2. All of my other books have been contemporary romance, realism, romantic comedies--that sort of thing. This is my first attempt at writing about anything paranormal, unless you count a number of botched attempts that never saw the light of day. I spent many months on a book about brain-sucking sea creatures, for instance. Yeah, probably better if that one stays in my sock drawer.
3. Confession time: Although Audrey's got amazing skills in the kitchen, I'm actually a wretched chef. Well, I have potential, but I often get distracted. I tend to let things burn while checking my email. My husband does most of the cooking in our house, but I do bake on occasion. When I'm feeling especially decadent I've been known to whip up a batch of dark chocolate espresso cookies; once you've eaten a few, you can do anything!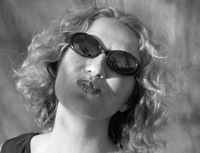 ABOUT JODY GEHRMAN
Blog || Twitter || Facebook || Goodreads
Jody Gehrman
is the author of seven novels and numerous plays.
Audrey's Guide to Witchcraft
is her most recent Young Adult novel. Her other Young Adult novels include
Babe in Boyland
,
Confessions of a Triple Shot Betty
, and
Triple Shot Bettys in Love
, (Penguin's Dial Books).
Babe in Boyland
won the International Reading Association Teen Choice Award and has recently been optioned by the Disney Channel. Her adult novels are
Notes from the Backseat
,
Tart
, and
Summer in the Land of Skin
(Red Dress Ink). Her plays have been produced in Ashland, New York, San Francisco, Chicago and L.A. She and her partner David Wolf won the New Generation Playwrights Award for their one-act, Jake Savage, Jungle P.I. She is a professor of English at Mendocino College.
Author information taken from her Goodreads
.
Well, what are you waiting for?! Check out this awesome ya paranormal book NOW!!!
Blog Tour Brought To You In Part By: