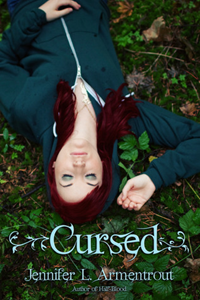 Cursed by Jennifer Armentrout
Published
: September 18, 2012
Publisher
: Spencer Hill Press
Age Demographic
: YA Paranormal
Pages
: 312
Dying sucks-- and high school senior Ember McWilliams knows firsthand. After a fatal car accident, her gifted little sister brought her back. Now anything Ember touches dies. And that, well, really blows.

Ember operates on a no-touch policy with all living things--including boys. When Hayden Cromwell shows up, quoting Oscar Wilde and claiming her curse is a gift, she thinks he's a crazed cutie. But when he tells her he can help control it, she's more than interested. There's just one catch: Ember has to trust Hayden's adopted father, a man she's sure has sinister reasons for collecting children whose abilities even weird her out.

However, she's willing to do anything to hold her sister's hand again. And hell, she'd also like to be able to kiss Hayden. Who wouldn't? But when Ember learns the accident that turned her into a freak may not have been an accident at all, she's not sure who to trust. Someone wanted her dead, and the closer she gets to the truth, the closer she is to losing not only her heart, but her life. For real this time.
Dying Sucks!!! For real this time.
Jennifer Armentrout never fails to amaze me with her brilliancy in creating a vibrant world full of intriguing mystery and intelligently written world building skills woven into the very fabric of her stories. The imagery alone is astounding, as is the intense emotion that she packs into many of her wonderfully memorable characters. The integrity of the stories they have to tell are never compromised and are always blended in so flawlessly, that I usually find myself in awe of the world that she has created. For me, personally, getting the chance to read a book written by Jennifer Armentrout is almost like being in the presence of the Holy Grail, that is how incredibly talented I believe she is. That's why, when I was afforded the opportunity to read and review an advanced copy of Cursed, a brand new world that she has uniquely and originally created, I was more than a little ecstatic.

The world of Cursed may be vastly different from that of her Covenant Series, but it is just as imaginable and uniquely cultivated. It is a spirited story filled with intense intriguing emotion, mystery, and a thrilling dark macabre world. The character development is outstanding and her characters are richly complex and captivating in so many ways that make them interesting and likable. Some are easy to connect with, while others remain a bit of mystery, but that's the beauty in who they are and the story they have to tell. They possess hidden realistic flaws that make them exciting to read about and discover who they are, exactly.

Ember is a complex and complicated character that shines on the pages. I found her to be quite relatable on many levels, as she possesses a few flaws and quirks of her own. She's different than most characters that I've read about before, with her physical scars and death's touch. It definitely made her an interesting character to get to know. Her quick fire temper and her ability to be as resourceful as she is at times are the two things that I most identified with, as I was reading Cursed. Her intelligence, wit, and beautifully fragile and heartwarming relationship that she shares with her sister, Olivia, were incredibly charming and sweet as well. Ember is definitely a character that anyone would be lucky to have in their corner; I know that I'd love to have her in mine. She would make a pretty amazing friend and sidekick to pal around with.

Hayden, on the other hand, is a beautifully dark, mysterious, and complex character full of so much depth and layers that make him intriguing. Readers will definitely find themselves swooning over his handsome dark presence. The potentially dangerous vibe that Jennifer Armentrout cultivates, is used amazingly well and lends his character so much quality and appeal. He isn't unlikable or scary and I think that's the thing that makes him the most appealing to audiences, as well as intriguing. Cromwell is a different matter all together, though. He's what I would call, a bit of a conflicting character, of sorts. While I was curious and intrigued by his steely nature, another part of me felt a bit of a creepy vibe eminating from him where he was concerned. He came across as this mysterious smug individual that just didn't really sit well with me.

The relationship that slowly develops between Ember and Hayden over time was beautiful and incredibly touching. Armentrout did an amazing job of exploring such an honest and realistic romance shared between the two. It's beautifully illustrated and emotionally tangible, sweet, and tender in such a raw understated way that comes across in such as honest and relatable. These two are addictive and incredibly easy to fall in love with. Readers will find themselves rooting for the two of them, I have absolutely no doubts.

The twists and revelations, along with the mystery and intrigue help to create a wonderful enthralling story that is sure to captivate any reader. Cursed is a highly entertaining and richly dark compelling story that is bound to have anyone on the edge of their seat. This book will leave you breathless and anticipating more. Jennifer Armentrout doesn't disappoint! Cursed is such an exciting world to dive into and become absorbed in the pages and become wrapped up inside the character's and the stories they have to tell. It is incredibly un-put-downable!
To Purchase Jennifer's Books Visit Amazon.Com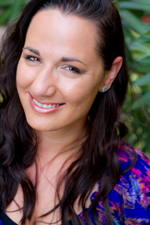 ABOUT JENNIFER ARMENTTROUT

Jennifer Armentrout lives in West Virginia. All of the rumors you hear about her state aren't true. Well, mostly. When she's not hard at work writing, she spends her time, reading, working out, watching zombie movies, and pretending to write. She is the author of the Covenant Series (Spencer Hill Press), the Lux Series (Entangled Teen), Don't Look Back (Disney/Hyperion) and a yet untitled novel (Disney/Hyperion). Jennifer also writes adult romance under the pen name J. Lynn.
W
ell, what are you waiting for?! Check out this super awesome phenomenal book NOW!!!
{This ARC was provided by Spencer Hill Press, in exchange for an honest review which I have provided. No money exchanged hands, I review books for fun because I love to read. I am not interested in monetary gain. Any piece of this ARC that was/wasn't quoted, is not part of the finished product and should not be perceived as such.}