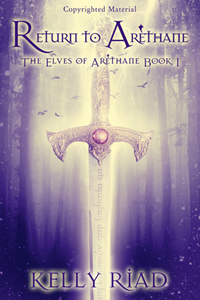 Return To Arethane by Kelly Riad
Age Demographic
: YA Fantasy
16-year old Emily has accepted her fate with each weakening beat of her heart, but after her best friend's brother and sister arrive in town and turn out to be more than what they appear, Emily's life is turned upside-down. When their friendship includes confronting wizards who harbor dark secrets and dancing with an elf prince, Emily discovers there are some things still worth living for.
My Thoughts on Return to Arethane
by Kelly Riad
Return To Arethane is a magically rich and splendid tale of fantasy, full of excitement, adventure, dark mysterious discoveries, and so much more to offer. The story unfolds naturally and the imagery that Kelly Riad captures with her beautiful lyrical prose, is astounding and captivating. There are truly some beautifully written fantasy elements woven into the fabric of reality that true fans of young adult fantasy fiction will find incredibly fascinating. The world Riad creates is stunningly dark, terrifying in some aspects, full of epic battles, gorgeous romantic overtones, and a Dark Elf King hell bent on besieging the kingdom. It is truly a world that reader's can get lost in.

The twists and turns will have reader's gasping and on the edge of their seats, anticipating what's to come next. The characters are brilliantly developed and easy for reader's to connect with. While most are likable, there are some that aren't so much. Those types of characters only add more depth and layer's to an already wonderful tale of mystical fantasy and mischief. There is so much that this story has to offer, that I would definitely recommend this book to anyone who enjoys fantasy novels full of wonder and excitement. It isn't a book that should be missed out on and it's such an amazing fantastic ball of wow.
Building Worlds: Creating the Mythology
by Kelly Riad
Elf mythology is one that has been well documented; people have always had a fascination with elves in all their varying forms and in spite of the overwhelming influence of Tolkien. There are still people in Greenland and Norway who blame equipment malfunctions and such on displeased elves. So finding bits of information on the creation and religion of elves wasn't difficult. What I wanted to do with what was already out there, though, was add a touch of realism to the myth.

Elves are considered highly evolved creatures - they live for immeasurable amounts of time, have incredible memories and from that, have wisdom and tolerance. But the extreme of that knowledge can push to the other side and you get someone like Karawyn who, because of having the benefit of first-hand accounts of her species' origins, is self-righteous and smug when dealing with humans and their own bumpy journies seeking enlightenment. I wanted to take the best of all believers and non-believers and embody them in these elves - like Jarrad and Dafne.

They have the gods that are the origin of their creation, but also have reverence for nature and the science of things. They are tolerant and accepting; while mirroring that with some of the extremes, like we see with Jabari. So a lot of the belief systems of the elves ultimately are analogous to what we live with everyday; or at least analogous of what we all wish we could be.
ABOUT KELLY RIAD
Blog || Twitter || Goodreads
Kelly Riad is from Texas where she lived with her husband and a house overrun by pets. She now lives in the San Francisco Bay area and is determined to bring the y'all to the West Coast. While she published her first book - a handmade pop-up titled "The Lost Puppy" - in the fifth grade to much acclaim by the first graders, she only recently picked the craft back up. "Return to Arèthane" is her second published novel.