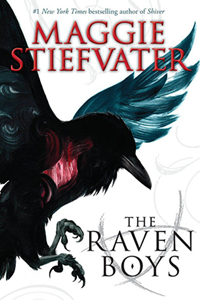 The Raven Boys by Maggie Stiefvater
Published
: September 18, 2012
Publisher
: Scholastic Press
Age Demographic
: YA Paranormal
Pages
: 416
It is freezing in the churchyard, even before the dead arrive.

Every year, Blue Sargent stands next to her clairvoyant mother as the soon-to-be dead walk past. Blue herself never sees them—not until this year, when a boy emerges from the dark and speaks directly to her.

His name is Gansey, and Blue soon discovers that he is a rich student at Aglionby, the local private school. Blue has a policy of staying away from Aglionby boys. Known as Raven Boys, they can only mean trouble.

But Blue is drawn to Gansey, in a way she can't entirely explain. He has it all—family money, good looks, devoted friends—but he's looking for much more than that. He is on a quest that has encompassed three other Raven Boys: Adam, the scholarship student who resents all the privilege around him; Ronan, the fierce soul who ranges from anger to despair; and Noah, the taciturn watcher of the four, who notices many things but says very little.

For as long as she can remember, Blue has been warned that she will cause her true love to die. She never thought this would be a problem. But now, as her life becomes caught up in the strange and sinister world of the Raven Boys, she's not so sure anymore.

From Maggie Stiefvater, the bestselling and acclaimed author of the Shiver trilogy and The Scorpio Races, comes a spellbinding new series where the inevitability of death and the nature of love lead us to a place we've never been before.
"
There are only two reasons a non-seer would see a spirit on St. Mark's Eve," Neeve said. "Either you're his true love . . . or you killed him."
Maggie Stiefvater creates a stunning new spellbinding world that captures spirit, intrigue, and beautifully crafted world building with, The Raven Boys. She weaves together, once again, a beautiful illusive tapestry of myths, legend, and psychic abilities that will eagerly draw reader's in and keep them deeply entrenched in the rich details the story has to offer. It is a wonderfully written and magnificently developed mystical ride, sure to enrapture reader's leaving them breathless and filled with anticipation. Gorgeously intense and realistically believable, The Raven Boys depicts a truly suspenseful tale sure to entertain. It is a tale that will tug at reader's heartstrings, with rich intensely vibrant and wonderful character's that come to life and leap off the pages.

Blue is the strong and sensible type of girl that reader's will be able to relate to, the most. She's likable in many ways, with a few realistic flaws of her own which makes it easier to connect with her more on a realistic level. She's done pretty well at dealing with growing up in a house that isn't anything less than unusual. Her mother and Calla, Maura, and Persephone are brillinatly colorful, bringing so much life to the pages in their own eccentric ways and personality flare. They add a lot of whimsical unusual fun to the story, enriching it in so many other details, aspects, and facets. Reader's will definitely find themselves enjoying these colorful kooky character's as they get to know them one by one.

The friendship between each one of the Raven Boys, is one of the best aspects of this wonderfully written and enjoyable novel. Each of them possesses their own painful backstory, that Maggie Stiefvater manages to gradually reveal over time. It's heartbreaking and beautiful, but it's such an amazingly touching story. These group of boys are incredibly complex and complicated to figure out at first, but once reader's get to know them along the way they will surely fall in love with each of them. Together, they each bring so much depth and layers to the story. I personally enjoyed how well compatible they were with one another, it made the story much more interesting and enjoyable.

Maggie Steifvater has managed to pen such a beautifully illustrated, deeply rich and intense, emotional story that is just as eloquent and almost lyrical at times. She never fails to set the stage or the mood, with whatever she is writing. Fans of her previous novels, will not be disappointed with The Raven Boys. It is an amazing start to what is soon to be another brilliant series on her behalf. She has truly outdone herself, by writing one of the most character driven novels full of dark beguiling beauty and intrigue.

The Raven Boys is a book that reader's will definitely not want to miss out on!
To Purchase Maggie Stiefvater's Books Visit Amazon.Com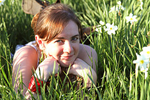 MAGGIE STIEFVATER
All of Maggie Stiefvater's life decisions have been based around her inability to be gainfully employed. Talking to yourself, staring into space, and coming to work in your pajamas are frowned upon when you're a waitress, calligraphy instructor, or technical editor (all of which she's tried), but are highly prized traits in novelists and artists. She's made her living as one or the other since she was 22. She now lives an eccentric life in the middle of nowhere, Virginia with her charmingly straight-laced husband, two kids, two neurotic dogs, and a 1973 Camaro named Loki.
Well, what are you waiting for?! Check out this amazing book NOW!!!
{This ARC was provided by ATW ARC Tours, in exchange for an honest review which I have provided. No money exchanged hands, I review books for fun because I love to read. I am not interested in monetary gain. Any piece of this ARC that was or wasn't quoted, is not part of the finished product and should not be perceived as such. Instead, you should compare and check it against a finished copy once it is released.}