You guys! I am completelyecstatic to be a part of the awesome promotional tour for WEAVING MAGIC by Mindy Hardwick! I am thrilled to get the chance to gab about this amazing and exciting new ya contemporary fantasy novel WEAVING MAGIC and to get to share it with all of YOU.

It's a beautifully written magical romantic contemporary, filled with wonderful sweeping emotion, dark illusions set in a fantasy type backdrop, and amazingly developed characters. Weaving Magic is not a book that you want to miss out on. It's a dark mysteriously intriguing drama filled world of mystical and magical elements and a beautiful romance filled with intense drama and heartaching chemistry. Who wouldn't want to sink their hooks into this novel right away and be drawn into such an epic world of intrigue and mystical forces of love, pain, and betrayal?!

Now doesn't that sound like something YOU'D want to read?!

I know I do, already. And I can't wait to get my hands on a copy of it!!!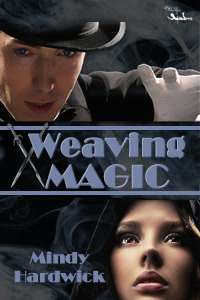 Weaving Magic by Mindy Hardwick Published

: May 2, 2012

Publisher

: MuseItUp Publishing

Age Demographic

: YA Contemp Fantasy

Pages

: 144

He loves magic. She loves romance. But the biggest illusion is the one Shantel and Christopher perform together. Sixteen- year- old Christopher fights to stay sober while fifteen-year-old Shantel struggles in the aftermath of her mother's death and seeks refuge in a fantasy world. But the unacknowledged roots of their problems refuse to stay buried and soon, the two are headed toward a deadly magic trick. Can Shantel and Christopher move beyond magical illusions to find love?




Can Shantel and Christopher move beyond magical

illusions to find love?

Weaving Magic

By Mindy Hardwick





Book Excerpt




Everything would be okay, I told myself.

Christopher was my boyfriend. I trusted him. I crunched inside the wicker basket and curled my legs underneath me. I wiped my sweating palms onto my black slacks. The audience stopped calling for an encore. They were so silent I wasn't sure anyone was still out there.

I'd barely gotten my balance before the first sword barreled into the basket with a lot more force than we'd practiced. Startled, I realized
Christopher was keyed up from the magic show performance. He was overestimating the force he was putting behind the swords.

I tried to figure out how to tell him to slow down. I couldn't very well call out to him or the audience would hear.

Before I could it figure out, the second sword zoomed past me and into the basket. The two swords crossed over my head, and I rearranged myself so I could crouch lower. As I shifted, a third sword whizzed by my left arm and peeled off a small layer of my skin. I saw the blood before I felt the searing pain.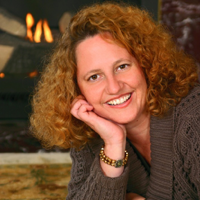 ABOUT MINDY HARDWICK
Blog || Twitter || Facebook || Goodreads
Mindy Hardwick
is the author of upper middle grade novel, STAINED GLASS SUMMER and contemporary young adult romance, WEAVING MAGIC. She facilitates poetry workshops with teens at Denney Youth Juvenile Justice Center, and is the co-editor of four of the youth's anthologies. Mindy is included on the Washington State Arts Commission Teaching Artist Roster and worked with the youth of the Tulalip Tribe in the 2011 New Directions Music and Art Prevention Program. She is one of the teaching artists included in the Reclaiming Futures Program at Denney Juvenile Justice Center. Mindy holds an MFA in Writing for Children and Young Adults from Vermont College and is a member of Seattle SCBWI.
Author information taken from her Goodreads
.
Well, what are you waiting for?! Check out this beautifully written and highly intense ya contemporary fantasy novel NOW!!!