You guys! I am so indescribably excited to get the chance to be part of the REDEMPTION BLOG TOUR!


Okay, so you're totally going to fall in LOVE with this amazingly awesome paranormal series by R.K. Ryals. If you're looking for a super intriging young adult paranormal series that is packed with a lot of mystery, demons, angels, witches, and the whole she-bang, then you've definitely tuned into to the right series.


Got your attention now?!
Here's the scoop on the REDEMPTION Series!
There is so much to love about this series as R.K. Ryals brilliantly blends romance, magic and mythology into an enticing and tantalizing dark adventure.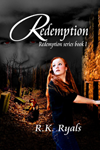 In
REDEMPTION
, Dayton Blainey is a foul-mouthed, grief stricken teenager forced to live with a religiously eccentric aunt she barely knows following the death of her parents. Often upstaged by her moral older sister, Amber, Dayton is often flung into the shadows. Little does she know that there is more to her than meets the eye.
When Dayton's Wiccan best friend, Monroe, sees a vision outside Dayton's bedroom window, a catalyst of events is set in motion that will change Dayton's life forever. She is faced with one major question: Who is she?
Dayton and her friends discover the truth behind this question is so much bigger than anyone ever imagined.
Redemption is the story of one young woman who must disentangle herself from a web of lies endangering her soul, and who discovers an attraction to a mysterious stranger that may just kill her.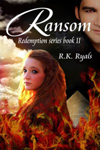 Anne once again leaves behind her ordinary life in
Ransom
Dayton Blainey is caught between two worlds: Heaven and Hell. Bound to a Demon she's beginning to care about, she is thrown into an adventure she may not survive.
But she will try.
Separated from her friends, she is forced to use powers she just discovered she had while surviving the wrath of a Demon queen.
She will be tested.
And in the search for a ring that may unbind her from Marcas Craig, Dayton will discover that the bond between an Angel and a Demon goes much deeper than blood.
She will endure.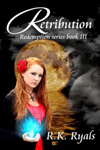 Finally in
Retribution
, It is a love that is forbidden . . .
Dayton Blainey is the only sane Naphil ever to walk the face of the Earth, and she's in love with a Demon she's been bound to by blood.
Can love triumph over fate . . .
Marcas Craig is the Demon son of Lilith and Cain. He has a destiny he has turned his back on for Dayton.
There is only one choice . . .
Kidnapped by Marcas' insane twin brother, Damon, Dayton has become a pawn in Damon's fanatical attempt at securing his own redemption. The Seal is now in the hands of a mad Demon, there is a civil war brewing in Hell, and Dayton and Marcas' love could destroy Earth.
In the end, will love conquer all?
To Purchase the Redemption Series Visit Amazon.Com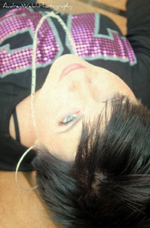 ABOUT R.K. Ryals
Blog || Twitter || Goodreads
R.K. Ryals
is
a Native Mississippian who started writing in elementary school. She was a reserved child who threw away almost everything she wrote. Later, when she was older, she discovered the crumpled pieces of her work in a box in her mother's hope chest. When she asked her why she saved the work, she replied, "What you considered trash, I considered genius."
It has been her motto ever since. Her mother passed in 2005. She is missed.
She is the scatterbrained (no lie) mother of three, and she lives in Mississippi with her husband and three divalicious daughters and a female shitszu (also a diva) named Tinkerbell.
Redemption
is a three book series following young, brash Dayton Blainey. The first two books are now available on Amazon.com for kindle and in print.
Author information taken from her Goodreads
.
Well, what are you waiting for?! Check this series out NOW!!!