You guys! I am super
thrilled
and doubly
excited
to be a part of the
THE SUNDDERING Blog Tour!

Ashley of Bookish Brunette
was incredibly awesome enough to put this tour together and organize it, with her fierce stiletto-wearing super powers of wow! You guys....this is an I N C R E D I B L E series and you should definitely check it out. I mean, what's not to love about it, right?! Right.

Megg Jensen will totally hook you with this series right away. It is just a thrilling, fast-paced, ball of epic adventure, cloud prophets, and twists and turns that you won't be expecting. I mean, how on earth do I sell this series?!

I mean, really...except to say:
READ IT!!!
And just to give you all incentive, because everyone loves incentive don't they?! Today, I have a special guest post on how
Heroines Can Kick Butt
to share with you and a super duper awesome giveaway that you don't want to miss out on!
Here's the scoop on THE SWARM TRILOGY!
There is so so so much to love about this series as
Megg Jensen
brilliantly pens an intriguing mysteriously suspsenseful adventure full of love, danger, and beautiful imagery that any fantasy lover is sure to fall in love with.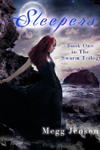 In
SLEEPERS
,
an adoptee raised in a foreign land, sixteen-year-old Lianne was content with her life as handmaiden to the queen, until a spell cast on her at birth activated. Now she's filled with uncontrollable rage and access to magic she thought had been bled from her people years ago. Even her years of secret training in elite hand-to-hand combat and meditation can't calm the fires raging inside her.

Her heart is torn between two boys, the one she's always loved and the one who always ignored her. But when the kingdom threatens to tear itself apart due to rumors surrounding the queen's alleged affair, who will Lianne protect and who will she destroy?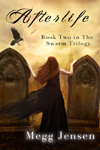 The fire inside Lianne threatened to consume her in
AFTERLIFE
,
but she fought back and won. Unfortunately the collateral damage of her decisions won't stop haunting her. She embarks on a secret trip to find Mags and return her son, but her search leads her into another nest of lies.

Everyone's safety is in Lianne's hands as the Malborn, an enemy more fearsome than her own people, looms over them. Will Lianne be able to unravel the secrets in time to save the ones she loves the most? Or will her lack of faith in her own decisions lead to disaster?

Afterlife weaves some of the favorite characters from the Cloud Prophet Trilogy (Anathema, Oubliette, and Severed) into The Swarm Trilogy as Lianne comes face-to-face with a character introduced at the end of Severed.
Now in
THE SUNDERING
,
After defeating the Malborn and losing the person she loved most, Lianne escapes to Chase's homeland. With her appearance forever marked by death, Lianne feels like a monster both on the outside and the inside. She retreats into herself, fearful of what she's become.

But she can't hide forever.

The Malborn, damaged but not broken, send a deadly message to Lianne. They are coming for her and now she's brought danger to a peaceful land that believed they'd driven the Malborn from their shores forever. Lianne must force herself to trust again and make the ultimate sacrifice to save everyone she loves. In a world ruled by whoever harnesses the most powerful magic, no one can be trusted – no one is safe.
Heroines Can Kick Butt!!!
By Megg Jensen
When I set out to write Lianne, I knew I wanted a girl who wasn't afraid to fight back. Her upbringing was hard because so few people loved her. She found her only solace learning how to spar. It wasn't a way to fight back. For Lianne, it was the only place she found peace.

It seems contradictory, doesn't it? How can someone find peace in fighting? It's a question I always had in the back of my mind until my daughter took tae kwon do. Every Saturday morning I schlepped her to a tiny, dingy, one-room park district building on the other side of town. The kids crammed into the 1970's tiled room, bare feet scooting across mats the instructors laid out and held together with duct tape. It wasn't exactly a high-class operation, but we would soon find out this one little class would forever change our lives.

Her instructor taught them on the first day that while tae kwon do was fighting, it wasn't ever to be used to hurt anyone. We parents saw the confusion on our kids' faces. It was a ragtag bunch of kids - some boys who wanted to be tougher, older kids who thought maybe this was their ticket to being sporty, and creampuff girls, like my daughter, who could use a little bulking up of their toughness.

Master Chen taught these kids that if someone insults them, they bow, and say, "Thank you." If they are insulted again, they walk away. If that bully attacks them, they use their skills only to protect themselves.

How did this class change my family's life? All four of us have achieved belts in TKD. I'm a yellow belt (but I've practiced enough with my kids to have gone just as far as they have), and my husband, son, and daughter are all blue belts. My daughter has since retired as other sports have taken precedence, but my son and husband are set on getting black belts.

Sometimes readers get frustrated with Lianne (and probably me too) because she has these incredible fighting skills, but she almost never uses them (except when she gets angry with Chase, but that's more hormonal than anything else). Why? Because I based her training, and her mentor Aric, on my kids' TKD instructor. Fighting isn't done for fighting's sake. It's used to protect yourself and the ones you love.
GIVEAWAY! GIVEAWAY! GIVEAWAY!
The tour wide details for the giveaway include:

a Rafflecopter giveaway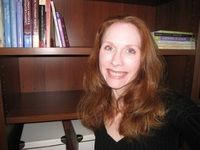 ABOUT MEGG JENSEN
Blog || Twitter || Facebook || Goodreads
Megg Jensen
has been a freelance parenting journalist since 2003 and began writing YA novels in 2009. She co-runs DarkSide Publishing, is currently a member of SCBWI, and blogs about writing while juggling freelancing, volunteering, and her family life. She lives in the Chicago suburbs with her husband, two kids, and their miniature schnauzer, Ace.
Well, what are you waiting for?! Check this series out NOW!!!
Blog Tour Brought To You In Part By: