You guys! I am super
thrilled
and definitely
excited
to be a part of the
THE TRANSCEND
Blog Tour!
Heather of SupaGirl Book Tours
was incredibly awesome enough to put this tour together and organize it. You guys....this is an
A W E S O M E
book and you should definitely check it out. I mean, what's
not
to love about it, right?! Right.
Christine Fonseca
will totally hook you with this book straight away. It is just that thrilling, and adventurous, with twists and turns that you won't be expecting. I mean, how on earth do I sell this faubulous book?!
I mean, really...except to say:
READ IT!!!
Here's the scoop on TRANSCEND BY CHRISTINE FONSECA!
There is so so so much to love about this book as
Christine Fonseca
brilliantly pens an intriguing mysteriously suspsenseful adventure full of beautiful dark gothic romance, danger, and amazing imagery that any reader is sure to fall in love with.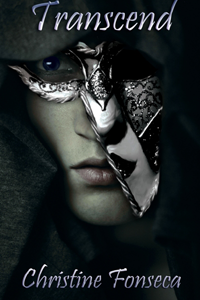 In
Transcend
, all seventeen-year-old composer Ien Montgomery desires is an escape from his family's rigid expectations for his life; someone to inspire his music. When he meets a beautiful violin-prodigy, Kiera McDougal, his life music takes on new life. With her, he imagines a future outside of his parents' control. That is, until a horrible accident tears them apart.
Sent to die in a sanatorium, Ien's obsession for Kiera grows unbearable. Tortured by thoughts he can't escape and the truth of his monstrous disfigurement, he flees, desperate to exact revenge on the people that ruined his life – his parents. But, vengeance is empty. Betrayed by those closest to him, Ien discovers that the price for his happiness may be his sanity.
Set amidst the landscape of New York's Gilded Age, and inspired by Phantom of the Opera, TRANSCEND exposes the fine line between love and madness.
Book Excerpt from
Transcend by Christine Fonseca
When Transcend was in its infancy, I played around with different stories and different points of view before really shaping the story into what it is now. One of the earliest versions featured a dual first person POV, alternating between Ien and Kiera. In this scene, we see, from Kiera's POV, Ien's accident and her reaction when she arrives on scene.
(**Note, author split the scene into three posts, see the link at the end for the next post).
Transcend Book Excerpt by Chrstine Fonseca
Praise for Transcend Includes...
"So powerful, so deep, and dark. It took me on an amazing journey into places most people fear to go...leaving me breathless."
~ Heather McCorkle, Author of To Ride A Puca


"…hauntingly dark and achingly beautiful. A story of love, loss and obsession set against the decadent backdrop of historic New York that sucked me in and wouldn't let go, from the first page until long after I'd finished."
~ Michelle McLean, Author of Treasured Lies (Entangled, 2012)


"The story is disturbing and intense and utterly unique…"
~ Ali Cross, Author of Become
"…thought-provoking and emotionally heart wrenching. I haven't felt this way after reading in quite a while!"
~ Jen from Geekygamergal's Musings
"It is such a powerful and deep story; it will leave you completely breathless."
~ Brooke from The Cover Contessa


Novel Availability
ISBN: 9780985180478
Goodreads || Amazon || Barnes&Noble
Special Edition:
Signed and numbered Hardback available for preorder NOW (ships in Decemeber) – for a limited time only, and only form the author. -
Christine Fonseca's Blog - Available Here
ABOUT CHRISTINE FONSECA
Website || Twitter || Facebook || Goodreads
Critically acclaimed nonfiction and YA author Christine Fonseca is dedicated to helping children of all ages find their voice in the world. Drawing on her expertise as an educational psychologist, her nonfiction titles address issues of emotional intensity, resiliency and giftedness. Her titles include Emotional Intensity in Gifted Students, 101 Success Secrets for Gifted Kids and The Girl Guide, releasing April 2013.
In fiction, she explores the darker aspects of humanity and delivers gothic thrillers that take you on a rollercoaster ride of emotions not to be missed. Recent titles include Dies Irae and Lacrimosa, from the Requiem Series, and the recently released thriller, Transcend. For more information about Christine Fonseca or her books, visit her website – http://christinefonseca.com or her blog http://christinefonseca.blogspot.com.
Well, what are you waiting for?! Check this totally awesome book out NOW!!!