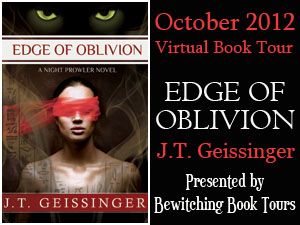 Guys! I am totally excited to be a part of the awesome
NIGHT PROWLER SERIES BLOG TOUR!
I'm seriously beyond thrilled to get a peek into this exciting action-packed paranormal thriller
EDGE OF OBLIVION
and get to see what this fabulous series is all about.
Death to all who dare betray.
Bewtiching Book Tours
and
J.T. Geissinger
are seriously feeding MY paranormal blood thirst like crazy. I was super excited to get the chance to read these fantastic books and YOU will be too, because this epic series is sure to hook
YOU
instantly!
Here's the scoop on the NIGHT PROWLER Series!
There is so much to love about this series as
J.T. Geissinger
brilliantly blends magic, wonderful mythology, beautiful world building skills, and pulsating romance sure to get your blood pumping, into an enticing adventure that is sure to wow and captivate.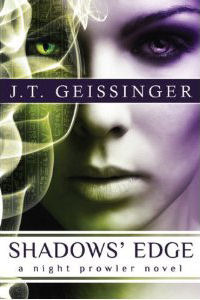 In
SHADOWS EDGE
,
Leander McLoughlin is leader of the Ikati, an ancient tribe of beautiful, savage shape-shifters who live hidden in the forests of England. Their survival is rooted in secrecy, a secrecy threatened by the very existence of one raised outside the tribe.


Charged with capturing her before she can expose their secret, Leander tracks the unsuspecting outsider to Southern California. The great warrior is prepared for a fight ? But not for the effect the courageous young beauty has on his heart.


Jenna Moore spent her childhood in hiding, on the run from an unseen enemy. Now her mother is dead and her father has vanished without a trace, leaving Jenna alone to contend with sudden strange, superhuman abilities. When handsome, enigmatic Leander McLoughlin appears, promising answers to all of her questions, she knows she shouldn't trust him. But their connection is as undeniable as the dangerous destiny drawing her home?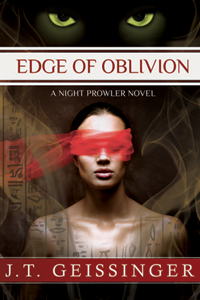 In a dark underground cell,
EDGE OF OBLIVION
Morgan Montgomery waits to die. A member of the Ikati, an ancient tribe of shape-shifters, Morgan stands convicted of treason. And Ikati law clearly spells out her fate: death to all who dare betray.

But there is a glimmer of hope. Thanks to her friendship with Jenna, the new queen of the Ikati, Morgan has one last chance to prove her loyalty. She must discover and infiltrate the headquarters of the Expurgari, the Ikati's ancient enemy, so they can be destroyed once and for all. The catch? She has only a fortnight to complete her mission and will be accompanied by Xander Luna, the tribe's most feared enforcer. If Morgan fails, her life is forfeit. Because Xander is as lethal as he is loyal, and no one—not even this beautiful, passionate renegade—will distract him from his mission. But as the pair races across Europe into the heart of Italy, the attraction blooming between them becomes undeniable. Suddenly more than justice is at stake: so is love.

J.T. Geissinger was awesome enough to share with us, a character interview with Morgan Montgomery. It's jam packed and brimming with...F U N for sure, so keep reading if you don't want to miss out on it.


Character Interview
with Morgan Montgomery
by J.T. Geissinger
An Ikati shape-shifter able to turn to vapor or panther and also having the very powerful gift of suggestion, Morgan's rebellious nature has gotten her into trouble on more than one occasion. Today we chat about food, vacations and shoes.

Question: What would most embarrass you?

Answer: (Laughing) I'm way more easily pissed off than embarrassed, so I don't know. Maybe if I had to sing in public. The thought of doing Karaoke makes me queasy.

Question: What five words best describe you?

Answer: Passionate. Tough. Hot-tempered. Complicated. Flawed.

Question: What do you loathe?

Answer: (Her face darkens at this question.) Rules. All kinds of rules. For me, a rule is always made to be broken.

Question: What do you love?

Answer: (Smiling now.) Well…I'm fond of a certain assassin named Alexander. Apart from him, I love moonlight and summer storms and shoes. God, I love shoes. Shoes are my kryptonite; I will literally become weak-kneed at the sight of a pair of Louboutin's.

Question: What's your favorite food?

Answer: Since moving to Kadavu…abalone. Xander and I devour them raw right after harvesting them from the volcanic rocks in the shallow water of the bay. Sweeter and more tender than oysters, they're divine. My second favorite food is caviar, but I haven't had that in a while! There's only one main grocery store on this island!

Question: If you could vacation anywhere in the world, where would it be?

Answer: Here! Kadavu is the fourth-largest island in the Fiji island chain, and it's got to be the single most beautiful place on earth. Crystal waters, pristine rainforest, untouched beaches…I hope I'll never have to leave this place.

Question: Driving or flying?

Answer: I'm a creature of the earth, darling. Driving, for sure. (Smirks.) Running is even better, especially in panther form.
ABOUT J.T. GEISSINGER
Blog || Twitter || Facebook
A life-long lover of reading and a self-professed "book addict," J.T. Geissinger didn't realize her dream of writing a novel until a milestone birthday forced her to take stock of her goals in life. Always believing the right time to commit to putting pen to paper would magically announce itself, it took waking up one cold January morning with a shiny new zero as the second number in her age to kick start her determination.

Starting on that very day, she wrote what would become Shadow's Edge in a little over four months and submitted it to several literary agents. Nothing happened. Thinking that was the end of that but by no means willing to give up on her dreams of being published, she began work on a second manuscript.

Marlene sold the manuscript, initially titled The Skinwalker's Daughter, to Montlake Romance who published it six months later. Hitting the #1 Amazon bestseller lists for Fantasy Romance in both the US and the UK within weeks of publication, Shadow's Edge is the culmination of the refusal to give up (some would say grow up) with the staunch belief that all good things come to those who wait, and sometimes to those who wait longest.

Book one of the Night Prowler novels, Shadow's Edge will be followed by Edge of Oblivion in October, and Edge of Surrender in spring 2013.
Well, what are you waiting for?! Check this series out NOW!!!