Bewitching Book Tours
is hosting an awesome promotional blog tour for
Dazzle
by
Amber Garza
. And, the best thing is -
I GET TO BE PART OF IT
- Yes! I get to do what I love to do best, which is talk up a new ya paranormal sort of novel and get
YOU GUYS INTERESTED IN IT
!!!
YOU GUYS!
These books look oh my gosh, so interesting and full of all kinds of supernaturally fun. Who wouldn't want to get lost in this incredibly intriguing world of mystery for like...days. (Okay, so maybe not days, but at least a few hours!) It just looks so wickedly delcious, that my bookshelf/Kindle Fire is alling out to me...buy me,
BUY ME!
, buy me - you
KNOW
you want to be
DAZZLED
by me.
To purchase this book visit:
Amazon | Smashwords
Here's a peek at the history of the book...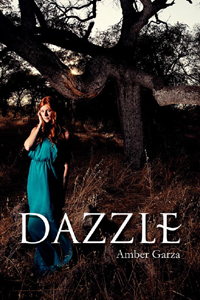 Dazzle
By Amber Garza

Sixteen-year-old Delaney Scott possesses a special gift. Ever since she was a child she has known about her calling and the duty she's expected to fulfill.
However, all Delaney wants is to be normal. That's why she is drawn to Sam. He can offer her the life she's always desired. Only Sam has secrets of his own.
Secrets that are deadly. Secrets that can change everything.
G I V E A W A Y ! ! !
.details
Tour wide Giveaway is a Prize pack which includes temporary tattoos, bookmarks, an ecopy of Dazzle as well as an ecopy of one of Amber's other books (winner's choice).
a Rafflecopter giveaway
ABOUT AMBER GARZA
Blog || Twitter || Facebook || Goodreads
Amber Garza lives in California with her amazing husband, and two beautiful children. Amber has had a passion for writing since she was a little girl, making books out of notebook paper and staples. As an adult she has worked hard to make her dream of being a published a reality.

She is the author of Christian teen thrillers- the Prowl Trilogy, and the suspense novel, Engraved.

Dazzle is the first book in her new young adult paranormal romance series.