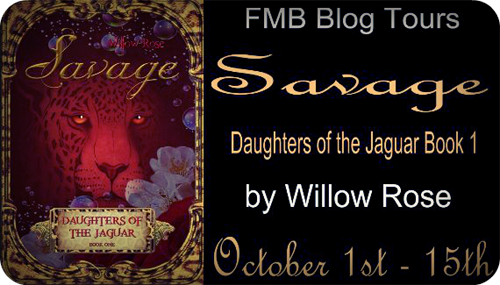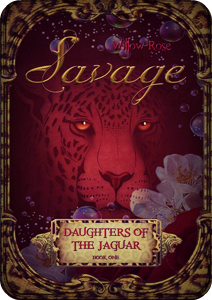 Savage
by Willow Rose
Published
: June 16, 2012
Publisher
: Independent Publishing
Age Demographic
: Adult & Mature YA
Pages
: 474
The year is 1983. Christian is 22 years old when he leaves his home in Denmark to spend a year in Florida with a very wealthy family and go to med-school. A joyful night out with friends is shattered by an encounter with a savage predator that changes his life forever. Soon he faces challenges he had never expected. A supernatural gift he has no idea how to embrace. A haunting family in the house next door. A spirit-filled girl who seems to carry all the answers. An ancient secret hidden in the swamps of Florida. One life never the same. One love that becomes an obsession. Two destinies that will be forever entangled.

Savage is a paranormal romance with some language, violence, and sexual situations recommended for ages sixteen and up.

I am totally thrilled to be sharing with you today, am excerpt from the book

Savage

by

Willow Rose

, which is a brand spankin' new paranormal romance that is sure to wow you beyond belief. This book is a must read for any fan of the paranormal genre novels in general or just for anyone in particular who enjoys romance blended together with dark forces and magical elements. This is certainly the book you should definitely be looking forward to.

I am excited to get to be part of this tour and share this wonderful goodness with you.

Book Excerpt for Savage by Willow Rose
G I V E A W A Y ! ! !
a Rafflecopter giveaway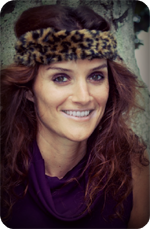 Blog
|
Twitter
|
Facebook
Willow Rose writes Paranormal Romance, mystery and fantasy. Originally from Denmark she now lives on Florida's Space Coast with her husband and two daughters. She is a huge fan of Anne Rice and Isabel Allende. When she is not writing or reading she enjoys watching the dolphins play in the waves of the Atlantic Ocean. Other books by the author: - One, Two ... He is coming for you - The eye of the Crystal ball - Beyond - Afterlife #1 - Serenity - Afterlife #2 - Endurance - Afterlife #3 Currently Willow Rose is working on the sequal in the series "Daughters of the Jaguar". It is expected to be published fall 2012.
Tour Bought To You By: