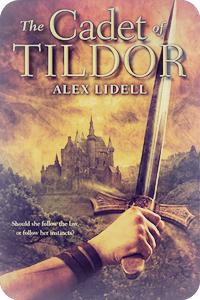 The Cadet of Tildor by Alex Lidell
Published: January 10, 2013
Publisher: Dial Books for Young Readers
Age Demographic: YA High Fantasy
Pages: 304

Tamora Pierce meets George R. R. Martin in this smart, political, medieval fantasy-thriller.

There is a new king on the throne of Tildor. Currents of political unrest sweep the country as two warring crime families seek power, angling to exploit the young Crown's inexperience. At the Academy of Tildor, the training ground for elite soldiers, Cadet Renee de Winter struggles to keep up with her male peers. But when her mentor, a notorious commander recalled from active duty to teach at the Academy, is kidnapped to fight in illegal gladiator games, Renee and her best friend Alec find themselves thrust into a world rife with crime, sorting through a maze of political intrigue, and struggling to resolve what they want, what is legal, and what is right.
To Purchase The Cadet of Tildor: Amazon

I am totally thrilled to be sharing with you today, the Meet the Trailer Cast, The Cadet of Tildor Media Kit, and the actual trailer for The Cadet of Tildor and, which is a highly anticipated brand spankin' new young adult high fantasy that will be coming out at the beginning of next year. If you enjoyed Kristin Cashore's trilogy that starts with Graceling, then you're sure to love this one just as much. Her writing style and brand of storytelling is being compared to the likes of Tamora Pierce and George R. R. Martin. This book is a must read for any fan of high fantasy novels in general or just for anyone in particular who enjoys smart saavy political medival fantasy. This is certainly the book you should be looking forward to at the beginning of the new year.

I am excited to get to be part of this trailer tour and share this wonderful goodness with you.
This beautiful epic book trailer was put together by a Medieval Reenactment Group "Liberi Lusenta" located in Italy and the trailer tour was brought to you by in part by AToMR Tours. If anything, this stunning trailer definitely makes me want to read this book even more. I'm not usually into high fantasy (although I do enjoy fantasy quite a bit - moreso on the darker side than anything and usually involving faeries, trolls, etc.) but this one looks like it's going to be such a fantastic force to be reckoned with. I mean, it comes highly praised for sure. So, it definitely makes me want to check it out.

G I V E A W A Y ! ! !
a Rafflecopter giveaway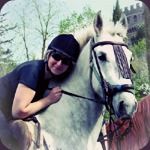 Alex Lidell

is a YA fantasy writer and author of ABNA Finalist THE CADET OF TILDOR (Penguin, 2013). Alex started writing at 2 am.

Alex's 2 am project, which she started after getting her Masters in International Peace and Conflict Resolution, was her book. THE CADET OF TILDOR - 2010 finalist in Amazon Breakthrough Novel Awards (under the title SERVICE OF THE CROWN) - tells the story of sixteen-year-old Renee, who struggles to keep up with her male classmates at a grueling military academy while facing a friend's forbidden magic and her mentor's shadowy past. CADET is upcoming from Dial Books for Young Readers (Penguin) on January, 10, 2013.

Alex Lidell is a YA fantasy author. She is also a photographer, a horseback rider, and a paramedic. The latter two go hand in hand more often than one would like.