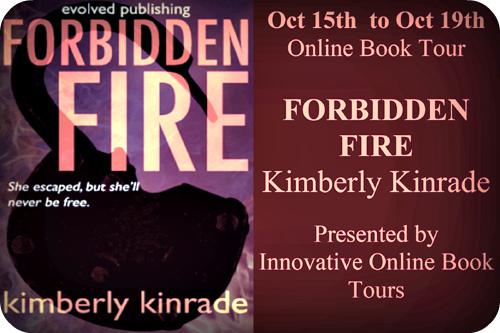 Forbidden Fire
by Kimberly Kinrade
Published
: July 15, 2012
Publisher
: Evolved Publishing
Age Demographic
: Mature YA & Adult
Pages
: 266
She escaped, but she'll never be free.

"Time held no meaning as my mind darted in and out of memories. Past and present collided to create a full-sensory collage out of my life: playing hide-n-seek with my best friends Luke—who always cheated by walking through walls when he was about to be caught—and Lucy; Mr. Caldrin critiquing my sketches and offering ideas to make them more realistic; targets changing faces, blending into the same person, their thoughts rippling through my mind like waves. Through it all, a demon stalked me from the shadows of my memories, never quite showing its face, but crouching, waiting.

And then I dreamed...."

Sam and Drake may have escaped, but they aren't free—not with a powerful Seeker after them. As Sam struggles with the ethics of her new powers and embraces a blossoming physical relationship with Drake, Lucy and Luke face challenges of their own.

With forces coalescing inside and outside the Rent-A-Kid dorms, it's only a matter of time before the fire they started forces each of them to make choices they can't undo. But will it be enough to save them?
To Purchase Forbidden Fire: Amazon

I am totally thrilled to be sharing with you today, a totally awesome and intriguing paranormal thriller, Forbidden Fire written by the wonderfully talented Kimberly Kinrade. It's definitely a novel that will get your blood pumping, your heart racing, and make you think. I am so super excited and elated to get to be part of this tour and share this wonderfully written and entertaining mature paranormal thriller and inspiring guest post with you.

Why is YA fantasy such a popular genre?
First, let's look at the YA part. Young Adult novels are popular, in part, because the themes of YA are themes we all resonate with throughout our lives. They are stories that blend archetypal symbolism with coming of age themes that we can all relate to, regardless of age.
In our society, we rarely acknowledge the rites of passage that are present throughout our lives, but as teens we get a small taste of this in sweet 16 parties, graduations, first loves and more. When we–as teens or adults–slip into the world of these characters, we get that camaraderie of shared experience that lives inside us forever.


Teens build a connection to these worlds and characters, finding their current struggles and triumphs brought to life on the page. Adults are brought back to those first moments where everything was new and the world was ready to open up before us.


But more than just taking us to our past, these stories re-cast our current life challenges in a new light. We are allowed, within those thrilling pages, to celebrate ourselves and our choices, to mourn our bitter defeats, to feel the world in all it's highs and lows beyond the mundanity of paying bills and doing dishes. It's the best blend of wish-fulfillment and validation.


YA novels are typically not muddled down in themselves, but rather the writing is crisp and exciting, more about the story than trying to impress the massive with heady, weighty prose. (Not that all adult novels do this!)

Adding Magic Makes Everything Better
If YA does all this, YA Fantasy does all this even better! Talk about wish-fulfillment! We all daydream at some point in our lives about being magical, psychic or some kind of paranormal being. There is an allure to the world beyond rationality and science that is impossible to deny.


As a YA fantasy author and avid reader of this genre, I can tell you that we are a group who never stopped believing in magic, fairytales and monsters. We write the worlds we secretly (or not so secretly) know exist somewhere.


Fantasy, as a genre, gives us a chance to escape the moral ambiguity of shades of grey and live in a more black and white reality of good and evil. The bad guys and good guys are clear, and we get to fight and even kill the bad! In modern society, there are few outlets beyond sports and war that allow us to 'fight' in this way. Fewer still that give women and girls full power to flex their fury.


As a teen I loved fantasy because it was painted with broad brushstrokes that gave us grand opportunities to engage in an epic way. I could escape into my novels and kick some evil butt with killer super powers or magical abilities. I was no longer under the restraining forces of adults when I read these novels. I was powerful, mighty and alive.


As an adult, the process is slightly different, but not by much. I still escape into these worlds where anything truly is possible and the normal rules no longer apply. There is something so stimulating about the regular societal restraints crashing down to reveal a world of magic, a dystopian future where society has collapsed, or our regular world where there's more in it than we ever imagined.


I hope this trend never fades, because I will always write in this genre. It started when I first read The Lion, The Witch and The Wardrobe as a child and will last my whole life!

.details
25 Amazon GC plus signed copy of all three books (Forbidden Mind, Forbidden Fire, Forbidden Life), bookmarks and surprise swag. Also, 2 signed copies of Forbidden Mind with swag.
a Rafflecopter giveaway

Kimberly Kinrade was born with ink in her veins and magic in her heart. She writes fantasy and paranormal stories for children, YA and adults and still believes in magic worlds. Check out her YA paranormal novels Forbidden Mind and Forbidden Fire and her illustrated children's fantasy chapter books Lexie World, and Bella World, all on Amazon.

She lives with her three little girls who think they're ninja princesses with super powers, her two dogs who think they're humans and her husband, also known as the sexy Russian Prince, who is the love of her life and writing partner.
Tour Bought To You By:
Innovative Online Book Tours