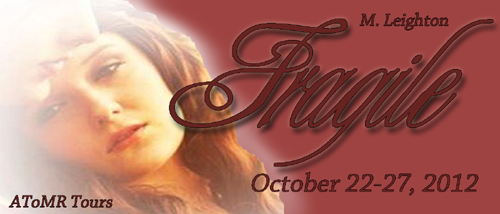 Fragile by M. Leighton
Published: April 6, 2012
Publisher: Independent Publishing
Age Demographic: YA Contemporary
Pages: 296
Her heart, as delicate as glass. His love, as strong as steel. Can either survive life and death?

Hardy Bradford is an eighteen year old football phenomenon who has the girl, the school, the town and the future in the palm of his hand. His life is all mapped out for him, right down to who he'll marry and how he'll become a professional football player. It doesn't seem to matter that Hardy would've chosen a much different life if it was up to him. But it's not. At least not until his Miracle comes along.

The first time Hardy laid eyes on Miracle St. James, he didn't know who she was, but he knew she was something different and that he'd never get her out of his head. And he didn't. Now, months later, Hardy's world is turned upside down when Miracle shows up in his class, stealing his heart and forever changing the course of his life.

Miracle's sick. Very sick. And Hardy might be losing the only thing in his life that has ever mattered. How much is too much to sacrifice for the one you love? For just a little more time? For just one more chance? Can Hardy be the hero Miracle needs? Or is it Hardy that needs saving?

Fragile is an emotionally powerful story of love, pain, loss, sacrifice that readers will find deeply moving. It's such a tenderly written and beautifully developed story of hope in the face of overwhelming odds and sacrfice for the one you love. M. Leighton doesn't disappoint, with this charming, sad, and bittersweet tale of love. It is one of the most heart-warming novels that I've personally read in the last six months. From beginning to end, Fragile is such a wonderfully thoughtful and sweet story.

The characters are beautifully developed, the story deeply moving, and the writing just as eloquent and gorgeous as the imagery. It is just a wonderfully intimate story, that is incredibly powerful enough to move readers beyond the telling. An extraordinary journey of self-discovery, Fragile will leave readers feeling a bit melancholy yet hopeful as they turn the pages. Miracle and Hardy come alive in so many magnificent ways on the pages, that it's hard not to fall in love with these two and to want to believe in them - believe for them. It's such a great story of hope and love and so many wonderful tender moments wrapped up in gorgeous prose that you definitely don't want to miss out on.


a Rafflecopter giveaway