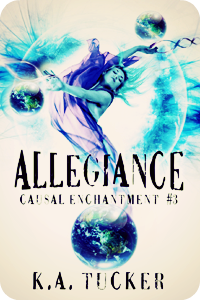 Published: September 25, 2012
Publisher: Self Published
Age Demographic: YA Paranormal Romance
Pages: 320
Evangeline finally got what she longed for – the cursed pendant off her neck and Caden in her arms - only it has come at a steep price. An unknown poison now courses through her body, slowly morphing her into something no one but the Fates can foresee. She has her suspicions though...and, if she is right, it will spell certain ruin for her and Caden. She won't last long enough to realize that though, if Viggo and Mortimer uncover the treasonous secrets she keeps from them– that Veronique is now free of her entombment and in the torturous clutches of the Witches and the Sentinel or that she is protecting a Sentinel within their very midst.

Always the naive human caught in the midst of the vampires' web of deceit, Evangeline is now weaving her own dangerous web in order to keep her friend alive, rescue Veronique, and stop a seemingly inevitable war from starting. But can her honourable nature handle the depths of duplicity for which she must go to be in league with the Vampires?

Dark and gripping, full of angst-riddled scenes, Allegiance will have readers anxiously turning pages to find out if Evangeline can survive this spiralling disaster.
To Purchase Allegiance: Amazon

ALLEGIANCE
The MYTHOS BEHIND THE CAUSAL ENCHANTMENT SERIES
Thank you to A Soul Unsung for hosting me for the Allegiance Tour. You asked me to describe the mythos behind this series. That is a very good question! When I began writing ANATHEMA, I knew I wanted magic and vampires. That was about the extent of the "world" (I wish I had a deep response but I don't. I kind of sound like a seven year old...).

From there, the universe of all universes was born. I'll try to explain the basics in the most simplest of terms because it's hard to describe 275K worth of a world into one small post J I also don't want to reveal too much about the plot.

At the very top are "The Fates" (I'll note that there are hints of a higher power but nothing has been revealed yet...). The Fates are the beings who govern over the worlds. They are all powerful but they are also bored, which makes for some not-so-nice decisions. The reader finally gets to meet the Fates in ALLEGIANCE. I think those scenes are some of my favorite in this series.

The paranormal creatures - your common vampire and werewolf - as well as the unique abominations like the Tribe and Wraith, are all created at the hands of the Fates in response to Causal Enchantment spells cast by powerful sorceresses like Sofie. These responses are typically nothing like the sorceress has requested, the Fates taking the need and twisting into something accurate but so perverse in nature that no one comes out happy. Except for the Fates, because it's one big game for them. A game where each one vies to win with their "pawns". Okay, really... that's all I'm going to tell you.

The other key to this world is that anything goes. There is no such thing as gravity, time, and finality of death when it's in the hands of the Fates. They can move people from one world to the next, they can erase memories, transplant bodies. They can even bring people back from the dead. J

If you want to know more about this world, grab the series and start reading.

Thanks for hosting me today!