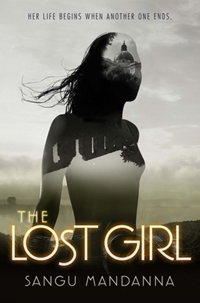 The Lost Girl by Sangu Mandanna
Publication: August 28, 2012
Publisher: Balzer + Bray
Age Demographic: YA Dystopia
Pages: 432
Eva's life is not her own. She is a creation, an abomination--an echo. She was made by the Weavers as a copy of someone else, expected to replace a girl named Amarra, her "other," if she ever died. Eva spends every day studying that girl from far away, learning what Amarra does, what she eats, what it's like to kiss her boyfriend, Ray. So when Amarra is killed in a car crash, Eva should be ready.

But sixteen years of studying never prepared her for this.

Now she must abandon everything and everyone she's ever known--the guardians who raised her, the boy she's forbidden to love--to move to India and convince the world that Amarra is still alive.

What Eva finds is a grief-stricken family; parents unsure how to handle this echo they thought they wanted; and Ray, who knew every detail, every contour of Amarra. And when Eva is unexpectedly dealt a fatal blow that will change her existence forever, she is forced to choose: Stay and live out her years as a copy or leave and risk it all for the freedom to be an original. To be Eva.

From debut novelist Sangu Mandanna comes the dazzling story of a girl who was always told what she had to be--until she found the strength to decide for herself.


The Lost Girl was a thrilling and captivating story, full or amazing originality, wonderfully developed character's, and interesting plot. Those who enjoy sci-fi and gentics, will instantly be drawn to this lovely book. Sangu Mandanna takes readers for an interesting ride, with this emotionally powerful story of life and death, dealing with the aftermath of it, and having to make hard decisions that will affect one's life. Being created for the soul purpose of carrying out the rest of someone else's life when their's is cut short, is a cruel sense of purpose to have to live with. For Eva, her life simply isn't her own and she doesn't get to have any control over it.

Eva's different, though, she wants to have control over her own life and she wants to be with Sean, one of the people who has been assigned to watch over her. Its hard for her, being hated by Amarra, though it's understandable why she would. Eva is, but an echo of Amarra's life. The Lost Girl is an emotionally gripping look at loss and greif, in one of the most profound ways. It will touch readers deeply and will stay with them, once the last page has been turned.

This story is maddening and will throw out unexpected twists at every turn. It will also take readers on a journey of choice, self-reflection, questioning, and learning how to deal with greif. It's beautifully written and richly intense, complex, and complicated. Sangu Mandanna does such a phenomenal job of creating such a beautifully cruel and heartbreaking atmosphere. Readers will definitely not want to miss out on this amazing book.