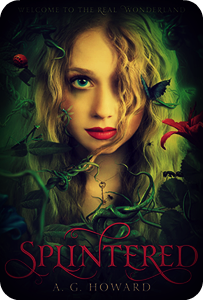 Splintered by A.G. Howard
Published: January 1, 2013
Publisher: Amulet Books
Age Demographic: YA Fantasy
Pages: 384
For sixteen years, Alyssa Gardner has lived with the stigma of being descended from Alice Liddell—the real life inspiration for Lewis Carroll's famed novel, Alice's Adventures in Wonderland. But cruel jokes about dormice and tea parties can't compare to the fact that Alyssa hears the whispers of bugs and flowers... the same quirk which sent her mother to a mental institution years before.

When her mother takes a turn for the worse and the whispers grow too strong for Alyssa to bear, she seeks the origins of their family curse. A set of heirlooms and a moth tied to an unusual website lead Alyssa and her gorgeous best friend / secret crush, Jeb, down the rabbit hole into the real Wonderland, a place more twisted and eerie than Lewis Carroll ever let on.

There, creepy counterparts of the original fairytale crew reveal the purpose for Alyssa's journey, and unless she fixes the things her great-great-great grandmother Alice put wrong, Wonderland will have her head.
To Purchase Splintered: Amazon


Splintered is a deliciously engrossing beautifully warped re-telling of Alice's Adventures in Wonderland written by Carol Lewis. Grotesquely errie and beautifully marred, this epic journey into the madness of a wickedly wonderful and beguiling Wonderland, will have readers riveted to their seats until the last page has been turned. Filled with gorgeous imagery, stunning prose, and amazing world building this is a fantasy that is sure to entice the child in anyone. From beginning to end, it is stunningly beguiling and fantastically captivating. A.G. Howard has taken such a fantastical magical world and spun it into something hauntingly dark, edgey, and simply amazing.

The imagery and all of the wonderful mystical elements that made Alice's Adventures in Wonderland so visually stunning are ever present in this mondern re-telling. Wonderland is a fascinatingly dangerous world full of dark intrigue, daring adventure, and incredible suspsense and mystery. Dark and vividly haunting, Splintered, is filled with secrets and answers to hidden questions, a deep seeded family curse, and many of the whimsical characters that made Alice's Adventures in Wonderland so appealing to readers as a child.
It is a wonderfully delicious mad read that will not disappoint even the most hardcore fantasy reader. It is truly an entrancing magical story that brings so many dark agendas and mysterious secrets to life. They have this beautiful way of dancing on the pages before the readers eyes, drawing them in, and captivating them with their intrigue. This beguiling world is intricately woven and beautifully descriptive and alive with so much dark rich haunting energy that sparks to life. It's dark, gritty, and terrifying in all of the right Wonderland should be. It is rich in character development, originality, and compelling plot twists that will have any fan of fantasy cheering.
Splintered is an unpredictable fantastical new young adult debut novel full of wonder and so many unexpected suspsenseful twists and turns that is sure to wow! It is a book that is sure to mystify any reader. There is an amazing mystical power to this story, that is sure to take readers on a magical journey they won't soon forget. It is sure to leave them both thrilled and echanted. Splintered is such a delectable treat to any fantasy lover.