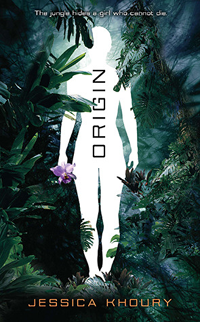 Origin by Jessica Khoury
Expected Publication: September 4, 2012
Publisher: Razorbill
Age Demographic: YA Sci-Fi Fantasy
Pages: 393
Pia has grown up in a secret laboratory hidden deep in the Amazon rain forest. She was raised by a team of scientists who have created her to be the start of a new immortal race. But on the night of her seventeenth birthday, Pia discovers a hole in the electric fence that surrounds her sterile home--and sneaks outside the compound for the first time in her life.

Free in the jungle, Pia meets Eio, a boy from a nearby village. Together, they embark on a race against time to discover the truth about Pia's origin--a truth with deadly consequences that will change their lives forever.

Origin is a beautifully told, shocking new way to look at an age-old desire: to live forever, no matter the cost

Beautifully lush and mysteriously intriguing, Origin brings to life the age old clash between science and nature. Set in the vividly imaginative jungle surrounded by gorgeous landscape, exotic terrains and animals, it's filled with breath-taking romance and incredible dangerous peril. Jessica Khoury sets out to tell an amazing action filled suspenseful shocking adventure sure to engage and captivate readers. Wonderfully bold and deliciously original, Origin is a story that will answer questions with more questions and pique interests that will stay with readers long after the last page has been turned. Evockative and thrilling, Jessica Khoury weaves together a tale that explores the moral delimma's of science versus mankind and spiritual faith, while adding in a hint of the paranormal element so delicately.

Origin's pages are filled with bravery, intrigue, and heartbreaking action filled romance sure to titilate any sci-fi paranormal fan. Khoury brings to life a wonderfully written and developed herione, sure to grab any reader's attention. Pia is an extraordinary character that is likable, easy to connect with, and interesting. It's a wonderful reading experience getting to embark on the journey of self-discovery with her, as the story unfolds revealing dark secrets that have been kept from her and a chance at possible freedom from being so incredibly sheltered for seventeen years of her life. The passion that she exuberates for what she believes is right and wrong, is just as confusing as all of the dark secrets of her true identity and origin that have been kept from her, and yet it's beautifully written and dripping with insurmountable emotion that is just as real and palpable as the air she breathes.

Jessica Khoury explores a dark and terrifying outlook on the manipulation of science to further mankind's lifespan, that is so realistic that at times, parts of the novel was gruesome and extremely dismal. She pens a powerfully stunning story that evokes as much confusion and mystery, that reader's simply won't be able to put it down. The romance is such a wonderful element that helps to lighten the darkness and to push Pia head first into freedom, forcing her to make a decision between what she believes is right and wrong. It's beautiful and wildly imaginative and dripping with suspense. I would definitely recommend this novel to anyone who enjoys well thought out plot driven novels, that explore science versus humanity, and delivers a strong female herione and exciting sub-character's who come with their own stories to tell.