Breath taking romance
and adventure, that will
leave you breathless.
I'm so excited to be a part of the blog tour for

Fractured Soul

, by

Rachel McClellan

. I got the chance to read

Fractured Light

last year and you guys, it was so good! I can't remember when I was that wowed and captivated by a paranormal story that involved aura's. Mostly it's the standard vampires, werewolves, witches, but this time it was aura's and I was just MYSTIFIED and seriously

TRANSFIXED

to my seat. I literally could NOT put this book down!

That's why, I'm excited and thrilled to share an excerpt from

Fractured Soul

with you guys and an awesome giveaway.

But first, a little background information on the

Fractured Light Series

...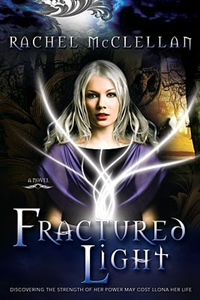 Fractured Light (Fractured Light #1)




Author

:

Rachel McClellan
Published: February 8, 2012
Publisher: Ceadar Fort, Inc.


Pages

:

313
Genre: YA Paranormal Sci-Fi


Goodreads




I'm dying, I thought. This was unexpected and not at all how I envisioned my death. I was supposed to die gardening in a flowerbed as a hundred-year-old woman, not as a seventeen-year-old trapped in a lake beneath inches of ice.

Llona Reese is used to living on the run. After the Vykens killed her parents, she knew they would eventually come for her too. She can't take any chances. But when she starts to make friends for the first time in her life, she gets careless and lets her guard down. Big mistake.

As an Aura, Llona can manipulate light and harness its energy. But if she wants to survive, Llona will have to defy the Auran Council and learn to use her power as a weapon against the Vyken whose sole desire is to take her light. Now she's caught in something even bigger than she can understand, with a power she can't wield, and no one she can trust, except, just maybe, a mysterious stranger.

In this breathtaking and romantic adventure, Rachel McClellan delivers a truly mesmerizing story that will keep you guessing to the very end.
Amazon
|
Barnes&Noble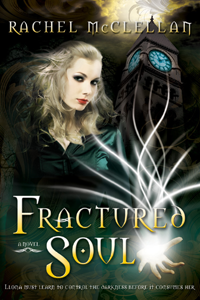 Fractured Soul (Fractured Light, #2)


Author: Rachel McClellan
Published: February 12, 2013
Publisher: Ceadar Fort, Inc.
Pages: 335
Genre: YA Paranormal Sci-Fi


Goodreads




Llona will do whatever it takes to protect her new found friends and home, but the dark plot that is threatening Lucent Academy, a school that's supposed to be a safe place for Auras, may be too powerful for even Llona to defeat. This fast-paced tale of love, loyalty, and overcoming the darkness will keep you on the edge of your seat until the last page!
Amazon
|
Barnes&Noble

BOOK EXCERPT FROM
Fractured Soul
By Rachel McClellan
The grip tightened on my chest, but it didn't hurt as much as it should've. With blood running down my gown and Christian needing help, I acted fast. Taking advantage of my shorter height, I bent forward fast, flipping the Vyken over me. He landed on his back, gasping.

Before he could do anything else, I picked up his head—the feel of his matted hair and hard skull felt like a rotten melon. I twisted hard and actually laughed when I heard one "pop" after another as his vertebrae snapped. The Vyken let out an agonizing cry of anguish and pain. While he writhed on the floor, I walked to the knife and picked it up. I felt Christian's eyes on me, but I didn't look over.

Raising the knife above my head, I said, "Ashes to ashes," and slashed the knife down into the Vyken's neck. The blade slid into his pale skin and stopped only when it hit the wooden floor. His head burst first; the ashes stuck to my blood-soaked hair. I inhaled deeply and closed my eyes, feeling like I could conquer the world.

Giveaway Detials: 10 ebooks and 5 Hardbacks-Choice between Fractured Light and Fractured Soul (INT).
a Rafflecopter giveaway

Want to follow the rest of the tour? Check it out here, for more fun entertaining guest posts, interviews, reviews, etc.